Here's How To Add Links To Instagram Stories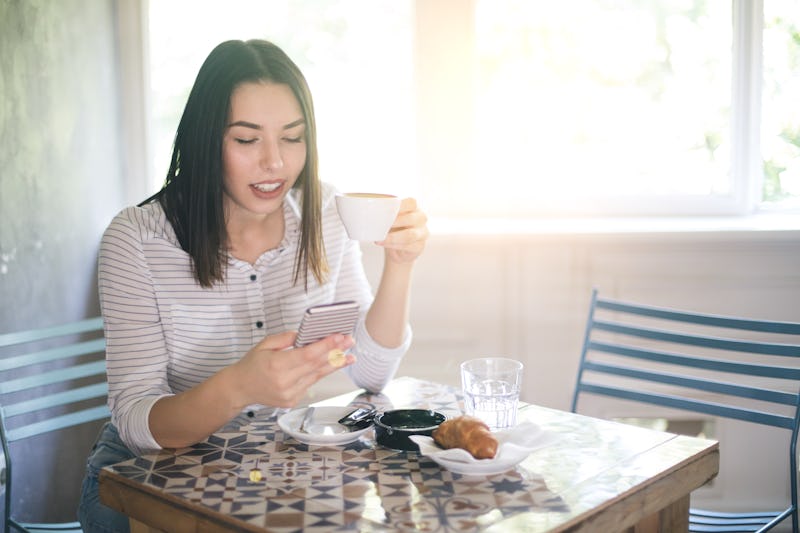 DusanManic/E+/Getty Images
Calling all social media mavens: The latest Instagram update is here with a bunch of cool new features to jazz up your Stories. Along with being able to @mention people and use Boomerang camera in Stories, soon users will be able drop links in, as well! Wondering how to add links to Instagram Stories? The process is fairly straightforward, though unfortunately this feature is currently in the testing phase. As of today, only verified accounts have the ability to insert links — but hey, at least that means you will definitely start to see them popping up in Stories published by public figures and popular brands.
With these new features, your favorite photo sharing site is about to get a lot more interactive. The new Stories features introduced on Nov. 10 make for easier navigation and exploration within the app. For those who are unfamiliar with Stories all together, the feature, which was introduced in early August of 2016, allows users to easily scan through their friends' most recent posts in the form of a slideshow of moments created by that user. By tapping on one of the circular avatars at the top of your feed, you can view the user's Stories for 24 hours. Like Snapchat's Snap Stories, though, after the 24-hour time limit is up, these ephemeral nuggets disappear forever. We've seen Insta's stories be utilized in a bunch of creative ways, and in the past few months the feature has definitely set itself apart (plus, it's perfect for showing off your vacay pics).
These updates for Instagram Stories are available as part of Instagram version 9.7, so make sure you are using the latest version of the app before trying this at home, kids.
Here is how to add links to your stories, if you're one of the lucky members of the test audience:
1. While Creating A Story, Select The Link Icon
Want your followers to be able to explore your story on a more in depth level? Adding a link directs users to related content from right inside the app — be it music, articles, fashion, or your inspiration for the post. If you are part of the testing phase, adding a link is easy. When you're creating your story, simply tap the white "link" icon at the top center of your screen (seen above, at the far right).
2. Enter The Desired URL
Selecting the link icon will direct the user to the "Add Link" page, and bring up the key board. Type in your desired website in the space under "URL." After, you have the option to "preview link" before finalizing the story, or simply hit "done" to add it directly.
3. Share!
Once the link has been entered, those who view the story and wish to continue exploring can tap the "See More" option at the bottom of the image or swipe up to view the link without ever leaving Instagram. Dropping a link in is a great way to keep the conversation flowing among users within the platform. Alas, us regular folk will have to wait a teensy bit longer before we get to utilize this tool — so be sure to keep your 'gram up to date. Also, be sure to check out the new @mention and Boomerang features, and learn more at Instagram's blog!
Images: DusanManic/E+/Getty Images; Bustle (3); Instagram