Say Goodbye To ABC's 'Wonderland'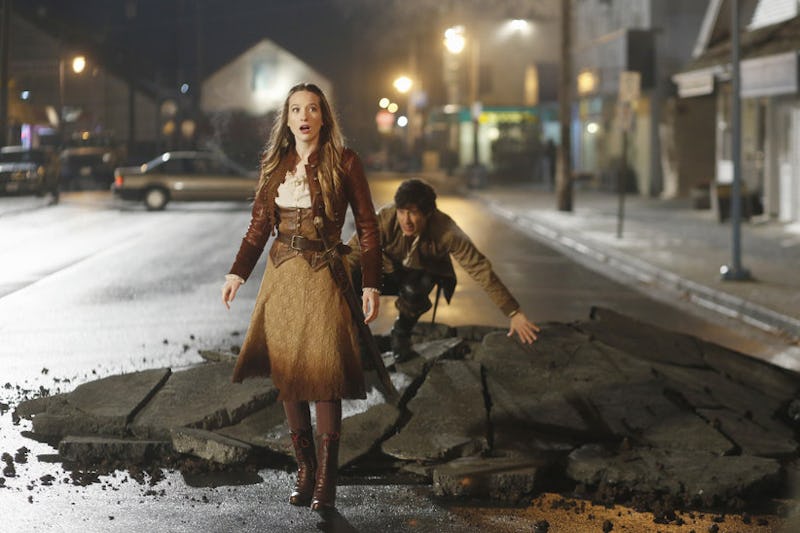 ABC's Once Upon A Time In Wonderland definitely drank the shrinking potion. On Friday, The Hollywood Reporter confirmed that the Once Upon A Time spin-off series, Once Upon A Time In Wonderland has been canceled. And apparently, there's only one episode left before we say goodbye to Wonderland — the network is advertising the series' April 3 episode as it's series finale. Not all spin-offs can be The CW's The Originals, I suppose.
Wonderland opened with low ratings when it premiered in the fall and they've consistently slid down the rabbit hole since. According to reports, Edward Kitsis and Adam Horowitz — creators of ABC's Sunday night fairytale series, OUAT — originally envisioned Wonderland to be a mini-series to bridge the gap between Once seasons. But ABC just wasn't cool with that — the network opted to run the 13-episode series this fall in it's historically problematic 8p.m. time slot on Thursdays. (It hasn't had a successful series air during that time since Ugly Betty.) At least they're admitting that they might have been wrong — ABC Entertainment Group President Paul Lee told THR in January that he took responsibility for the series flopping and admitted that they should have stuck to the original plan.
In this week's issue of THR, ABC Studios chief Patrick Moran echoed Lee and singled out Wonderland as the network's biggest disappointment this season. Moran said of the show, "I really had hoped that Once Upon a Time in Wonderland would work. It was designed to be what they call 'gap programming,' to go in between the regular season, and it probably would have fared better as that." Hindsight is 20/20, after all.
So what does this mean for your Thursday night programming on ABC — which includes the long-running Grey's Anatomy and the super-popular Scandal?
ABC plans to keep them exactly where they are and following Wonderland's series finale on April 3, they will air a Shark Tank two-night special on April 10 and 11 in its vacant 8pm slot. As for after that, we'll start calling Thursday's on ABC, "Shonda Days" — Grey's Anatomy will take over the slot with reruns leading into their new episodes at 9p.m. and Scandal at 10pm.
Watch the promo for the series finale here:
Image: ABC, Rebloggy