You Have to See This 'Office'/'BK99' Mash-Up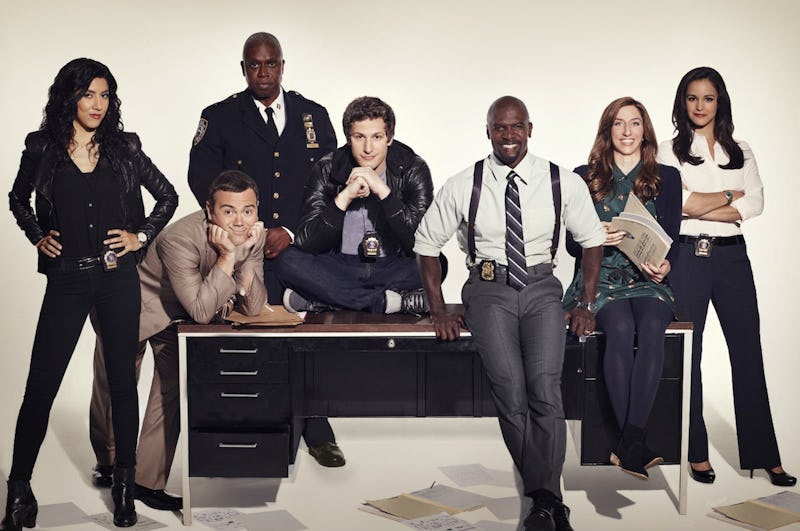 It's GIF joy time! Do you like Brooklyn Nine-Nine? Do you still cry when you think about the early days of The Office? Do you want a GIF mash-up that will make your heart burst? Check out this GIF mash-up of Brooklyn Nine-Nine and The Office of the two remarkably similar (yet different) scenes.
Thanks to this delight of a Tumblr (yay, I love you, too, Internet!), you can re-watch Jim confess his love to Pam and Jake Peralta confess his feelings towards Amy Santiago (in GIFs, of course. How else to recapture confessing love?). The two scenes —both of which totally tug at the heartstrings — are pretty similar when they're stacked together. (And there's little wonder why — The Office producer Mike Schur so happens to also be the creator of Brooklyn Nine-Nine.) Whether or not you dug the Jim-and-Pam pair-off, and whether or not you think Peralta and Santiago should be together, these scenes are still television unrequited romance at its best, ya'll.
Anyway, take this trip down a not-so-long-ago memory line (Brooklyn Nine-Nine) and a much longer-ago memory lane (The Office), and find yourself both thankful for good television, the Internet, and of course — GIFS.
Images: FOX/Tumblr