9 Front Pages On Trump's Win That Show The Global Aftershocks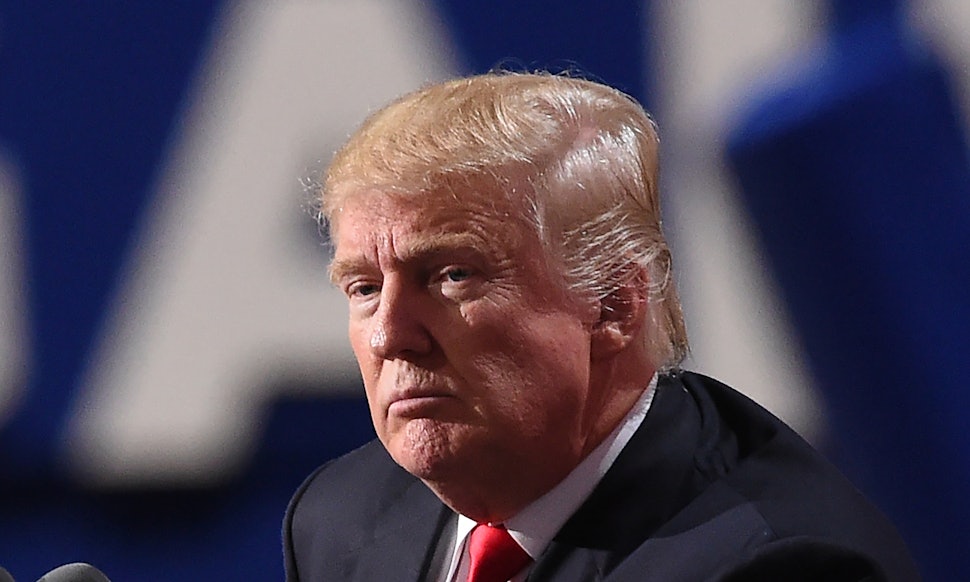 ROBYN BECK/AFP/Getty Images
With the dust still whirling on what might just be America's biggest political upset ever, the media's reaction has started to take shape through a selection of thinkpieces, insightful voter analysis graphs, and dramatic front pages on Donald Trump's win from around the world Because now the reality is setting in that Trump is the president-elect, somehow, so few of us really saw this coming — although perhaps we should have.
Media predictions were focused on a landslide victory for Hillary Clinton, the major party presidential candidate with extensive political experience, a cohesive and thoughtful set of tangible plans for the country, and an admirable amount of passion and drive. Instead, we've somehow gotten with a man whose actual plans including building a wall around Mexico and banning all Muslims from entering the United States. So many of us never imagined that this would be our reality in America, in 2016. But it is, and it's terrifying.As well as many Americans declaring their own national state of mourning post-Trump, the appointment of a U.S. President like Trump has sent social shockwaves throughout communities across the world, too. These feelings are apparent in global front pages of publications across the world. These nine are just a selection of those front pages, but the messages they send are clear: The next four years are going to be complicated.
Liberation
The French newspaper didn't mince its message with this eerie pop culture reference to Mary Harron's dark 2000 thriller, American Psycho, based off of Bret Easton Ellis' 1991 novel of the same name. The story documents the gruesome double-life of a New York City banker-turned-serial-killer. With Trump's face obscured in darkness on this cover beneath a play on the title film and novel's title, the suggestion that we too, should be very afraid of the president-elect's next move, is clear.
The New Zealand Herald
Illustrating their country's collective shock and disbelief at a Trump victory, this New Zealand newspaper sends a reminder to the States that although Hillary Clinton was not without her flaws, the impending presidency under Trump is likely to be a lot worse.
The Daily Mail
Oddly (or predictably, depending on your knowledge of the right-leaning British newspaper), the Mail has taken a very neutral stance, focusing on the drama surrounding Trump's win rather than the fact that an inexperienced reality TV star whose campaign centered around racism and misogyny won the most coveted political seat in the world.
Northern Territory News
Australia's NT News was concerned with two things post-election: Trump and the hot weather. Noting that "hell may have frozen over in the United States," the paper still superimposed Trump's face over a photo of the Sun, perhaps illustrating that no matter geographical location, the impact of America's tempestuous president-elect will reach us all.
The New Statesman
This UK political magazine must surely win the award for the most impactful thought-provoking front page, post Trump win. By merging Trump's face with the cloud of an atomic bomb, the concept is clear: Political chaos will likely ensue long after the dust has settled from the election results.
The Philippine Star
Simple but effective, the Phillipine Star simply looks to the common abbreviation of "oh my god" to illustrate their disbelief at the U.S. election results. The paper also reported the spike in American citizens looking to relocate to Canada and New Zealand as Trump's win was confirmed.
The Sun
The Sun's Simpsons-style front page demonstrates that we are now living in a stranger-than-fiction political landscape.The UK tabloid draws on the fact that, strangely, The Simpsons predicted a future with Trump as president 16 years ago: Back in 2000, the episode "Bart to the Future" featured Lisa Simpson becoming "America's first straight female president" after President Trump. As the Guardian reports, episode writer Dan Greaney said, "What we needed was for Lisa to have problems that were beyond her fixing, that everything went as bad as it possibly could be, and that's why we had Trump be president before her."
Le Figaro
One of France's oldest newspapers (it was founded in 1826, FYI) features Trump looking smugly victorious underneath a title that simply translates as, "Hurricane."
Die Welt
You can always count on the liberal German media for razor-sharp headlines and dramatic front pages, and national newspaper Die Welt is no exception. This title simply reads, "The World Is Upside Down," with a picture to match — a post-apocalyptic message.
One thing's for certain: The world is as shocked at a Trump victory as much of the United States are.