13 Friendship Quotes To Spread Thanksgiving Cheer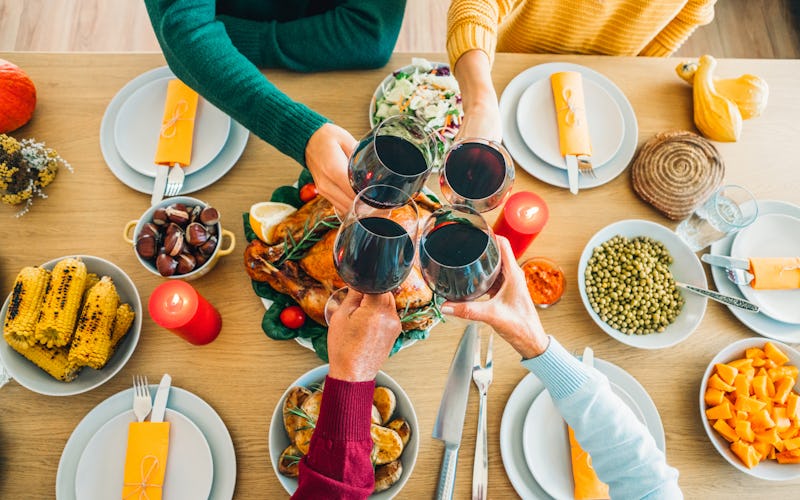 VioletaStoimenova/E+/Getty Images
How do you define the importance of a true friend? These 13 friendship quotes for Thanksgiving will help you out. From Thomas Aquinas and Muhammad Ali, the authors of these 13 quotes know what it means to be a friend and to have a friend, and none of them are taking that priviledge lightly.
Thanksgiving should inspire us all to be thankful for the most important people in our lives, and along with family, friends are certainly included in that mix. A good friend not only comforts you when you're downtrodden and celebrates with you when you're basking in success; what a good friend really does is help to turn you into the best person you could possibly be. Think about it — you wouldn't be who you are today without the people around you.
If you have some special people in your life that you would consider your best and closest companions, why not share one or two of these quotes with them on Thanksgiving when you're sending out your usual "thankful" text messages? Let your loved ones know how important they are to you this November 24, and even more significantly, how they have helped to make you into a better human being.
1. "One of the most beautiful qualities of true friendship is to understand and to be understood." — Lucius Annaeus Seneca
2. "Remember that the most valuable antiques are dear old friends." — H. Jackson Brown, Jr.
3. "There is nothing on this earth more to be prized than true friendship." — Thomas Aquinas
4. "I cannot even imagine where I would be today were it not for that handful of friends who have given me a heart full of joy. Let's face it, friends make life a lot more fun." — Charles R. Swindoll
5. "Friendship... is not something you learn in school. But if you haven't learned the meaning of friendship, you really haven't learned anything." — Muhammad Ali
6. "Walking with a friend in the dark is better than walking alone in the light." — Helen Keller
7. "Don't walk behind me; I may not lead. Don't walk in front of me; I may not follow. Just walk beside me and be my friend." — Albert Camus
8. "Rare as is true love, true friendship is rarer." — Jean de La Fontaine
9. "Friendship is always a sweet responsibility, never an opportunity." — Khalil Gibran
10. "True friendship multiplies the good in life and divides its evils. Strive to have friends, for life without friends is like life on a desert island... to find one real friend in a lifetime is good fortune; to keep him is a blessing." — Baltasar Gracian
11. "A friend is what the heart needs all the time." — Henry Van Dyke
12. "One loyal friend is worth ten thousand relatives." — Euripides
13. "Friends are the siblings God never gave us." — Mencius
Images: Getty Images (3)