What To Read For A Post-Election Distraction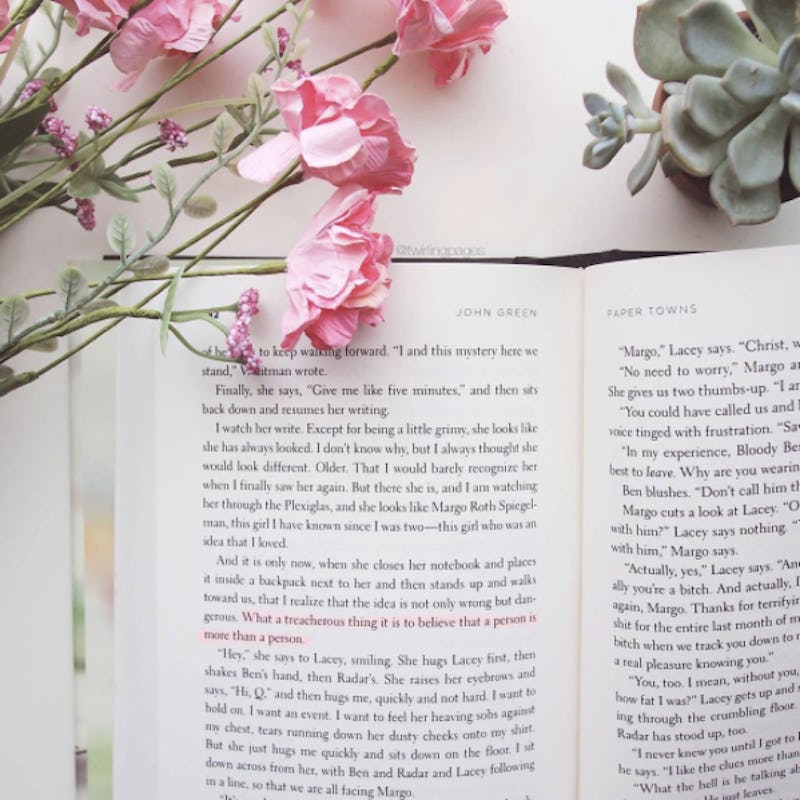 So, this week. This week, a lot of nightmares became reality. This week, the United States lived up to its worst potential. This week, a lot of us are tired, and broken, and on the floor, but we have to keep pushing forward. It's the only way out of this situation. In light of that, let's talk about books to inspire hope and strength after the presidential election. Because while it's important to face the facts, constantly engaging with the news cycle and social media is hardly a healthy choice at any point during the year; now, especially, it's vital that you practice self-care, physically and mentally. And what better way to soothe your soul than to read?
This list is a collaboration. I reached out to booksellers, friends, co-workers, relatives. These are books that have, for so many people, for years and years and years, provided hope and light and strength. These books are written by some of the best minds in a generation. They cover personal tragedies and national ones, world wars and playground fights.
But ultimately, these books are emblems of the human spirit and its ability to endure. I'm not going to compare our current situation with anything from history because, frankly, we're in unknown territory right now. And it's terrifying. What history can teach us, and does, is the importance of beauty, community, creativity, the arts, and strength.
So take some time. Do some reading. Turn off your phone and your television and your computer. Share this list, add your own favorites, lend one another books.
1. The Book Thief by Markus Zusak
A book narrated by Death is a seemingly odd choice for the first spot on a list of "uplifting" books. But trust me when I say that The Book Thief, more than any other work, has helped me come to grips with the reality of death. Liesel Meminger is a foster child in 1939 Nazi Germany. She comes to live with a new family in Munich, a couple who teaches her how to read and how to retain one's humanity during even the worst periods in human history.
2. The Neapolitan Series by Elena Ferrante
A series which spotlights, above all else, the power of fierce female friendship is absolutely needed during a time like this. Ferrante's Neapolitan series follows Elena and Lila, from their childhood spent in a poor, vibrant community in Naples, to their adulthoods in a country undergoing deep, momentous change.
3. Harry Potter and the Sorcerer's Stone by J.K. Rowling
Though every Harry Potter book is a welcome respite from reality, the first book in the series has, I feel, a particularly pure soul.
4. Hope in the Dark: Untold Histories, Wild Possibilities by Rebecca Solnit
"To be hopeful is to be uncertain about the future, to be tender toward possibilities, to be dedicated to change all the way down to the bottom of your heart." This quote is just one moment of advice from an entire book dedicated to the act of hope, to the commitment of showing up, every day, with the intent to improve and help one another stand up.
5. Wild by Cheryl Strayed
In this memoir, Cheryl Strayed charts the unraveling of her life, beginning with her mother's untimely death, as well as its recovery, as she embarks on a solo trip across the Pacific Crest Trail. Strayed's ability to treat her own shortcomings with tenderness and kindness is a lesson we all could stand to learn.
6. The Brief Wondrous Life of Oscar Wao by Junot Diaz
Oscar Wao is overweight, nerdy, terrible with girls, and very, very lovesick. As someone who is caught between two worlds - the Dominican Republic of his mother, the United States of his own reality - Oscar Wao embodies the internal division so many immigrant families face. Plus, Junot Diaz write sneakily poetic prose better than almost any other writer I can think of. Get ready to cry.
7. The Woman Warrior by Maxine Hong Kingston
Maxine Hong Kingston grew up caught between her mother's "talk-stories," in which her mother lived a former life as a prominent doctor and women are warriors, fighting for survival, and the reality of growing up first-generation Chinese-American in California. She captures, in beautiful, strong prose, the gut-wrenching pain of facing a life of few options.
8. Persepolis by Marjane Satrapi
Marjane Satrapi tells of growing up a girl (a smart, defiant, creative girl) in Tehran during the Islamic Revolution in this classic graphic novel. Unsure how to carry on your own day to day truth amidst this current cultural climate? Read this book.
9. Milk & Honey by Rupi Kaur
Rupi Kaur's poetry and prose collection is a salve for the wounded soul, the tired, beaten down spirit, the lovesick, the abused, the forgotten. It is, above all else, a song of survival. Sing it to yourself when you can't sleep.
10. The Color Purple by Alice Walker
The Color Purple charts 20 years in the life of Celie, from her abusive childhood to her equally violent marriage to "Mister," to her her ultimate life of independence. But this book is a portrait of strength, more than it is an image of pure tragedy. Celie gathers bravery and perseverance in a life that works actively to keep her down. Celie stands up, despite it all.
Images: twirlingpages/Instagram; Amazon (10)