Unique Holiday Traditions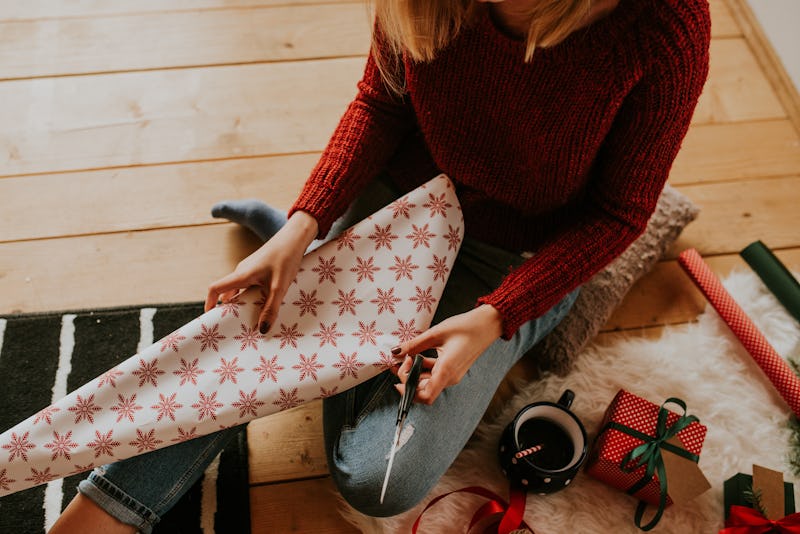 Growing up, the holiday season meant honoring long-standing traditions with your family. Maybe it was a certain holiday album you'd listen to while you decorated the tree with your parents and siblings. Or a certain treat you'd make alongside your mom to commemorate the start of the holidays. Being a kid during the holidays meant that you got to see your family every day, which made it easy to carry out those special time honored traditions. But flash forward to being a grown up living on your own, and it's possible you'll find yourself sad to miss out on all of the traditions you did each year that made the holidays feel jolly and bright.
The obvious solution? Creating new Holiday traditions with your friends to help get you into the spirit — and make spending the holidays away from your family more bearable). Plus, since you're the adult now, you can make up whatever tradition fits with your preferences and quirks. In partnership with Folgers®, here are a few out-of-the-box traditions started by groups of friends during the holidays. From shopping trips to unique ways of gifting presents for all of your besties, you're sure to be inspired to start a new tradition of your very own!
1. Seeing A Holiday-Themed Show
"Every year my BFF and I go to a holiday-themed show on Broadway instead of gifting each other presents. Since shows are kind of expensive, this allows us to not waste our money on stuff we don't need, and enjoy a fun experience together. Plus, it gives us a chance to catch up and get that much needed one on one time while still getting into the holiday spirit!" —Erin, 27
2. Pot Luck Breakfast
"I've kept up this tradition all four years of college and even now in grad school. The night before most people leave for holiday break after the last exam, I throw an all-night pajama party where we play games, drink egg nog, and watch Christmas movies. The most fun part: We all make a super-early breakfast together (some people have morning flights home) with things that everyone brings. It's ends up being a breakfast feast, with people making their favorite treats — French toast, scones, sausages, potato latkes, scrambled eggs — and of course, tons and tons of home-brewed coffee to get us through our travels home on no sleep!" —Dana, 24
3. An Ugly Sweater Soiree
"In college, my group of friends decided to throw a holiday party where we could all exchange small gifts and spend time together before we headed home to be with our families for break. To make it even more festive, we created a strict dress code: ugly Christmas sweaters. It ended up being so much fun scouring thrift stores for the ugliest, most outrageous sweaters that it stuck, and we've thrown an annual ugly sweater party every year since. Who doesn't love a good themed party?! Other essentials: holiday baked goods, seasonal cocktails, and a photo booth with funny props to document everyone's ridiculous outfit." —Brianna, 28
4. A Fancy Dress Party
"One of my closest friends threw a fancy dress party ten years ago, and it stuck. It was a major hit among friends because so many of us wanted to wear pretty dresses but didn't have an appropriate event. I think she had 80 people at the last one, and they keep getting better and better!" —Jamie, 40
5. A Secret Santa Coffee Mug Swap
"Every December, my group of friends (about six to eight of us) does a 'Secret Santa' with coffee mugs. All of us are big coffee and tea drinkers, so we find a mug that fits the personality of our Secret Santa, and then throw a holiday party where we reveal ourselves and explain why we chose that particular mug. We know each other pretty well, so a lot of thought goes into it)" —Lauren, 27
6. Friendsmas
Since a lot of my friends either don't go home for Christmas or don't celebrate Christmas, I have a Christmas Day party every year in my apartment. We eat tons of food, drink lots of champagne, and don't exchange gifts, but just do a lot of singing and hugging because we all are sappy and love each other." —Sam, 27
7. A Pre-Planned Last Minute Holiday Shopping Trip
"For 20 years this December, myself and two of my closest friends get together and do literally all of our holiday shopping on Dec. 23rd. We then go out for dinner and see what we will deduce is the worst movie at the given time. It's a hysterical day, aptly titled, 'Shopping on the 23rd.' We started in 7th grade and still keep it up today. No joke." —Mike, 33
8. A Winter Solstice Party
"Every year we have a 'Winter Solstice' party, which my friends and I started in high school because one girl had a crush on a guy who didn't celebrate Christmas! This year will be the 13th annual celebration. Our same group has been doing it since we were 15. It's a dinner party where we dress up, which has evolved from us doing so as high schoolers, to us with our significant others (who have now become fiancés and husbands). Last year we even had our first baby attend!" —Brooke, 28
9. A Christmas Birthday Celebration
"'Francismas' (named after me, Francis). My birthday falls on Christmas, and for 25 years no one ever cared about it relative to the holiday. So I started hosting my own annual celebration of me. It's a little different each year but there are some standard traditions we observe — like a puppy petting zoo." —Francis, 28
10. People Watching On Black Friday
"My best friend and I started a tradition four years ago (when we first met) to go Black Friday shopping together every year. There's just something about staying up until midnight and bracing the crowds to get some sweet deals together that has just strengthened our friendship. We also both love to people watching during the craziness of the shopping holiday. It puts everything in perspective and makes us thankful for what we have versus what we don't." —Kayla, 23
This post is sponsored by Folgers.
Images: Offset.com (Sonja Lakuzic, Anna Williams, Biz Jones, Valeria Necchio, The Good Brigade, Lumina Images, Liam Norris), Pexels (2), Unsplash (1),