11 Weird But Genius Items To Stop Sleep Sweats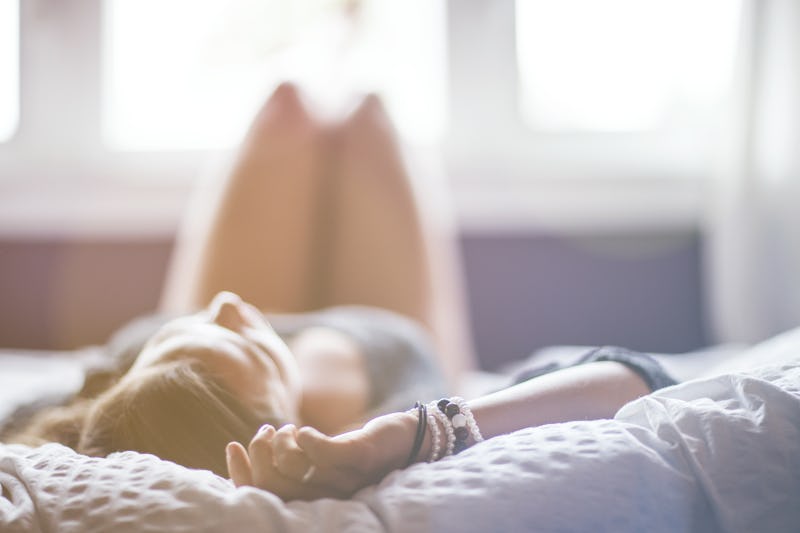 I can't stand being hot at night. When I first got back from living in Southeast Asia (where it was hot as hell, and I only had a fan), I had the hardest time figuring out how to stop sweating in my sleep. I couldn't sleep through the night because my body could not adjust to the temperature. I wish that I had hopped onto Amazon to check out the weird but genius products that keep you from sweating, as there are some seriously clever items created with a cooler snooze in mind.
It seems incredible to me that if I had invested in pajamas or some sheets made out of bamboo that I could have avoided all of those sweaty restless nights. One minute I would be freezing, the next minute I'd be super hot, and it would all usually end in me waking up drenched in sweat — and then having the hardest time falling back asleep.
I could have found a pillow or mattress topper that could regulate my body temperature, or any number of products that seem strange at first, but could really improve your sleeping habits. They'll keep you cool and ensure that you don't wake up feeling like you need to change your sheets or your clothes in the middle of the night.
1. Create A Breeze With A Bed Fan
Brookstone Bed Fan With Wireless Remote, $85, Amazon
If you want to lower the temperature at the foot of the bed, you could always invest in a bed fan. It's a great way to keep yourself cool without changing too much. Simply place the fan at the food of your bed, under your sheets, and you'll feel a nice breeze surround you. It's adjustable and has a wireless remote, so you can change the fan's speed without having to get up in the middle of the night.
2. Rest Easy With A Gel Pillow Mat
Penguin Cooling Pillow Mat, $25, Amazon
If you're a traveler who has a hard time cooling down in hotel rooms, this packable gel mat is a great tool. Pop it into a mini fridge in your room an hour before bed, and then place it on top of your pillow when you're ready to get some shut eye. It will instantly chill your body down — without leaving behind a damp spot, like a wet washcloth would do.
3. A Cooling And Comfortable Mattress Topper
Sleep Master Gel Memory Foam Topper, $45-$83, Amazon
This gel memory foam mattress topper will help you attain the best sleep ever. It's filled with natural plant oils, including green tea extract and charcoal. That means that it will absorb moisture caused by sweat, eliminate odors, and you'll be able to use it for much longer. It also has a five year warranty, making it a really great investment.
4. Wick Sweat Away With A Mattress Pad
Luxury Sealy Temperature Regulating Mattress Pads, $60, Amazon
Not wanting to be sweaty while you sleep isn't much different from not wanting to be sweaty while you work out. So why not treat it the same way? Moisture-wicking fabrics are used for workout clothes, so why not mattress pads? This one is soft, super comfortable, and will keep you dry at night as it wicks sweat away from skin.
5. A Breathable And Comfortable Gel Memory Foam Pillow
PharMeDoc Cooling Gel Memory Foam Pillow, $33, Amazon
When I'm super hot, I put something cold on the back of my neck and I instantly feel better. This memory foam pillow is great because it's made with breathable materials and it's designed to promote airflow. The gel acts as a cooling pad, that will regulate your body temperature as you sleep.
6. Temperature-Regulating Sheets, So You Can Stay Cool While You Sleep
Outlast Temperature Regulating Sheet Set, $90, Amazon
These sheets were literally designed for NASA astronauts. They have special properties that help you stay cool, and the Thermocules keep you cool by absorbing your body's excess heat. It then releases it when your skin temperature drops. Long story short, you'll have a great night of sleep.
7. A Sleep Mask That Will Help You Stay Relaxed And Feel Good Before Bed
Sweetsleeping Mask Set, $13, Amazon
Toss the gel mask in the freezer. Place it on your eyes before bed to bring your temperature down so you're ready for a good rest. Plus, it will help improve blood circulation and reduce puffiness, which is a great bonus. The eye mask will help you feel more comfortable while you get some sleep.
8. A More Relaxing Environment For Less Stress-Induced Sweat
VicTising Essential Oil Diffuser Humidifier, $38, Amazon
Did you know that when you're stressed out, your body temperature can get all out-of-whack? So naturally, you should address that issue and make your room an oasis and a stress-free zone. One way to do that is with a cool mist humidifier that doubles as an oil diffuser. You can use essential oils to fill your room with a relaxing scent and the cooling mist will keep the temperature down.
9. A Quick Cooling Facial Spritz For When The Fan's Not Enough
Evian Mineral Water Facial Spray, $17, Amazon
Need a quick fix for those nights when you can't help but wake up sweating? A breezy facial mist is a really easy and refreshing way to cool down fast. Plus, Evian facial spray is made with mineral water, so it's got a lot of beneficial properties and it relieves skin irritation. Keep a bottle by your bedside, so you can grab it if you need to.
10. Cute Bamboo Pajamas To Keep You Dry
TexereSilk Bamboo Pajama Sleep Set (Sizes XS-3X Plus), $40-$45, Amazon
Until recently, I had no idea that there was a type of fabric made out of bamboo. I also had no idea that it regulates your body temperature by pulling sweat away from your body, so that it can evaporate. That means your new (and incredibly adorable) pajama set won't stay wet if you find yourself sweating throughout the night. Plus, you can get this comfortable set in 12 different colors.
11. Blackout Curtains, So The Sun Doesn't Cause You To Sweat
Utopia Bedding Blackout Curtains, $25, Amazon
I was staying with my friend a few days ago and her apartment was freezing, so I snuggled up under a lot of blankets. But, in the morning I was sweating profusely because I was sleeping in her living room right under this giant window that faced the sun. I would have been so comfortable had there been giant blackout curtains covering that window, but sadly I was woken up with the sunrise and couldn't fall back asleep. Use blackout curtains to create an awesome sleep environment even after the sun has come up.
Images: Amazon (11); Pexels (1)
Bustle may receive a portion of sales from products purchased from this article, which was created independently from Bustle's editorial and sales departments.