Haylie Duff Has The Perfect Gift Idea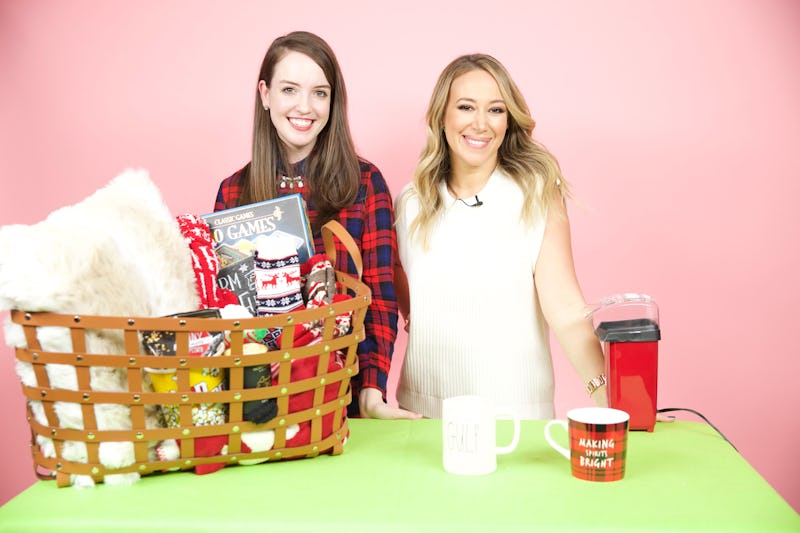 Halloween is over, and that means the return of the kids' table, warding off awkward questions from extended family members, and mass hand turkey production. Thanksgiving is almost here, with the holidays fast on its heels, and if you're already looking for the perfect gift idea, Haylie Duff has a suggestion — make a holiday gift basket. The TV host and Real Girl's Kitchen author launched this year's "Bring Back the Holidays" campaign with T.J.Maxx, Marshalls, and HomeGoods, and she knows a thing or two about the importance of making the most out of time spent with friends and family during the best season of them all.
"It's [T.J. Maxx's, Marshalls, and HomeGoods'] second year of doing it, and when I heard about them... I thought it was the most thoughtful campaign," Duff tells Bustle. The campaign, spearheaded by the big three discount department stores, sends home 10 people during the holiday season to spend time with their families.
No stranger to family time, Duff dished on the details of the campaign while showing Bustle how to pack an Insta-worthy gift basket of holiday goodies. Duff's first tip? Pick a theme! "Cozy Night In," complete with pillows, snacks, and entertainment, is one of her favorites, and it's perfect for family game nights. And, if this is the route you choose to go, she has a few ideas. Duff suggests filling a basket with some of her favorite things, including cozy socks, popcorn, board games, and most importantly the fuzziest, furriest pillow ever to be stitched into existence. A holiday candle, a few mugs perfect for seasonal sipping, and a festive blanket make for excellent additional touches. Check out her favorite picks in Bustle's video:
Not into a game night basket? Totally fine — try out other themes like a baking basket, or a movie night basket. The best part about care packages is that you can personalize them however you want.
Duff also has a few tips on what to get for someone you don't know very well (Secret Santa anyone?), as well as her go-to "emergency" gift: Floral bath salts, candles, and other cute home accents are all usually safe choices... not to mention baked goods. No one is going to say no to a plate of cookies.
Of course, the most important part of the holidays isn't the gifts, but spending time with family. Duff reflected on some of her favorite memories from the holidays, including family game night and her mom's unique main course.
"We make turducken," Duff says. "I don't make it — my mom does. But at some point l'm sure I'm going to have to learn how to do it."
A mom herself, Duff is going to have plenty more Thanksgivings to learn how to perfect her mom's recipe.
Want to get involved in "Bring Back the Holidays"? Simply tweet about how you plan on bringing back the holidays using the hashtags #bringbackholidays and #contest until Nov. 18. You could win a trip home, as well as a special care package for your family.
Images: Bustle