LORAC's Rose & Revelry Collection Is Massive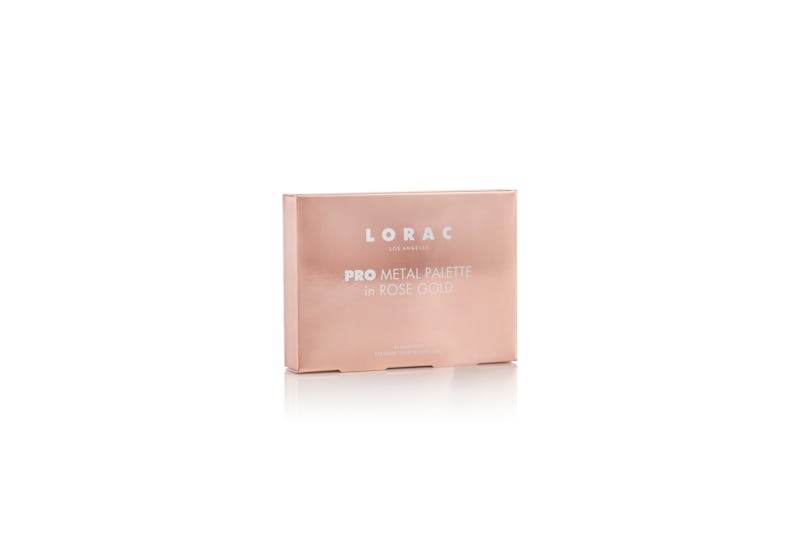 Whoa! LORAC is really going for the (rose) gold this holiday season. The beloved brand is offerings tons of holiday sets and collections that are available at different retail locales. The LORAC Rosé & Revelry collection features something old and something new. Make that plenty of somethings, since the collection is expansive. According to the press release that Bustle received, the extensive R&R set will include some of the brand's most beloved products, as well as limited edition and exclusive shades, all housed in gorgeous, also-limited rose gold packaging.
Rose gold is the color of 2016, IMO! Your eyes, lips, and cheeks are the focus of this range, as there are tons of eyeshadows, highlighters, blushes, and lippies in all textures, from matte to super shiny.
You will so "sleigh" this holiday season!
Some Rosé & Revelry sets are available only at Kohl's, while other LORAC R&R pieces are sold solely at Ulta, as those are the brand's two core retailers. Some items will be available at both locations and at the LORAC site. Let's break down what's in the actual collection. Grab a seat and bevvie, because we're going to be here for a hot minute.
There is the Pro Metal Eyeshadow Palette in Rose Gold.
It hosts eight limited edition colors, ranging from Graphite to Cobalt.
The Happy Hour Hues Alter Ego Lip Gloss Set features six glosses, three of which are LE shades. They are all full-sized.
The Mocktail Mixer is a PRO Matte Lip Color Set. All three shades are limited edition and wine-inspired in hue.
These are the Kohl's exclusives. The Social Affair Alter Ego Lipstick Collection boasts five LE shades. The Grand Gala Color Source & Light Source Duo is comprised of blush and highlighter in LE packaging.
The Evening Soiree Color Source & Light Source Duo also boasts a blush and highlighter in LE rose gold packaging.
Lastly, the Toast of the Town Pro Liquid Lipstick Set offers two limited edition colors — Nude Rose and Berry Red.
The Ulta-only sets include the Lavish Affair Alter Ego Lip Gloss collection boasts four exclusive shades. The Cue the Confetti Highlighter & Blush Palette houses three blushes and a highlighter.
The Rose & Revelry Collection also features the Mega PRO Palette 3, which an Ulta exclusive and holds 30 exclusive shades. All told, there are 16 shimmers and 16 mattes included. Whew!
There are also two Black Friday launches in the collection. There's the Black Tie Attire Eyeshadow Palette and the Tails & Top Hats Eyeshadow Palette. Each features seven pans of shadow. Black Tie is warm-toned with mattes and shimmers.
Meanwhile, Tails & Top Hats is cooler and smokier, but also features matte and shimmer shadows.
For Cyber Monday, the Dance 'Til Dawn Eye/Cheek Palette will be available and holds six matte and shimmer shadows and two matte and satin blushes.
All of these super shopping day palettes will be available exclusively at Ulta.
I'm going to pause to take a much-needed breather because LORAC's R&R Collection is massive. All of the offerings will magnetically pull you into the Ulta's and Kohl's orbits this holiday season.
Images: Courtesy of LORAC (12)