Here's Where To Shop Stila's LE Mystere Lipstick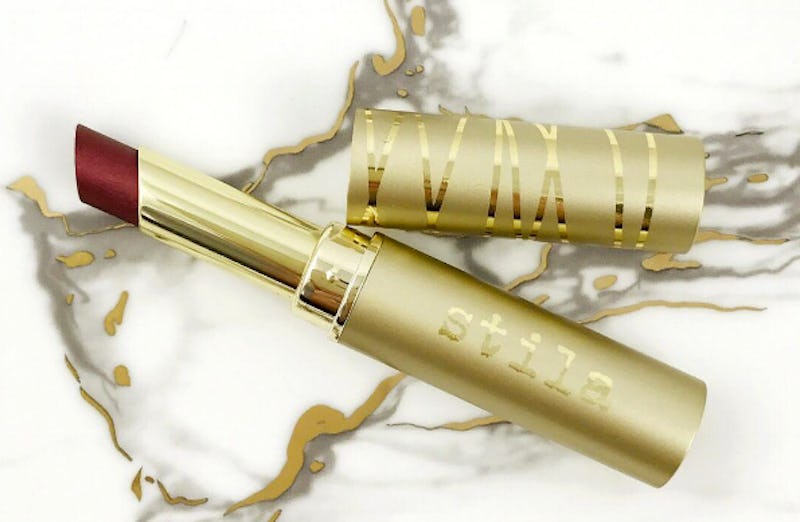 Don't say your vote didn't pay off, people. Remember when Stila had their fans choose a lip color on social media back in July? Well, the beauty results are finally in. According to Instagram, the company launched the winning color, and it's perfect for the holidays. Where can you shop Stila's Mystère Metal Matte Lipstick, you ask? There's only only place to snag it, so you better act fast.
Get those wallets ready people, because this is one holiday launch that you won't want to miss. Back in July, Stila had their fans vote on which lip color they liked the best. Slowly over the past few months they've been showing sneak peeks of the shade, but now the final product is here. Mystère is a gorgeous metallic red that dries down to a matte finish. Basically, it's the classic holiday red kicked up a notch.
The best part is that you can shop the stunning shade right now. Mystère is $22 on the Stila website, but there is a catch. The company only made 500 of the products, so you'll have to act fast if you want to add this to your makeup bag. This color won't be available anywhere else either.
How gorgeous is that! Like I said before, the best way to describe it as a classic holiday red but with a kick. The metallic finish gives an almost satin look to the shade, but it dries down just like any other matte would. It's definitely one of the best holiday products of the season, if you ask me.
As of Nov. 16 at 9:30am EST, there are still plenty of lippies to go around. There's no doubt in my mind that the limited quantity will sell out fast though. Not to mention that it's long-lasting and comfortable wear, so it's perfect for anyone on your holiday shopping list.
If you're debating buying this color, you might want to just head over to the site and go snag one. Something tells me it won't be long before this color is retired for good!
Images: stilacosmetics/Instagram (1)