DSW Black Friday & Cyber Monday 2016 Sales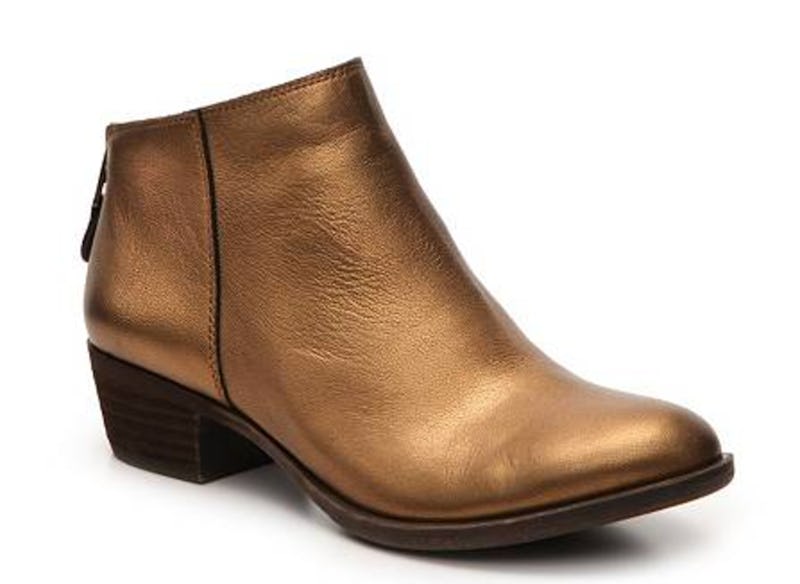 Ah, the bliss of walking into a DSW — shoes, shoes as far as the eye can see. Black shoes, leather shoes, velvet shoes — it's like Dr. Seuss went shopping. Come Black Friday, the capital "d" Deals tend to get even sweeter, so while DSW's Black Friday and Cyber Monday 2016 sales haven't yet dropped, an educated guess from 2015's sale puts the price cuts at very, very appealing.
What kind of numbers we talkin'? A cool 30 percent off two or more pairs of shoes, and free shipping on all orders with no minimum. Shoppable online and in person, according to NerdWallet last year DSW opened at 7 a.m. on Black Friday. If you're trying to get a headstart — or maybe gather your family around the computer with a shared love of deals — the sale starts online on Thanksgiving. You might not even have to venture out in person, which is the ultimate goal. All the better to give Thanksgiving a 24-hour digesting period.
DSW knows their audience's love of accessories, and last year also included a free blanket wrap with the above two or more deal. Assuming a similar situation is coming our way for Black Friday 2016, use the coming week (so soon) to decide on the shoes you'll be Internet-lunging for amid the internet fervor. A bookmark never hurt anyone, I'll tell you that much. Already have your eye on the shoes to snatch? Take advantage of your family's tryptophan naps and browse separately, in a quiet room.
1. Copper Foot
Lucky Brand Belvva Bootie, $89.95, DWS.com
An interesting cut, cool color, and actually walkable 1½ inch heel. Otherwise known as the impossible trifecta.
2. The Good Of The People
Crown Vintage Sandy Bootie, $69.95, DSW.com
The ultimate work boots that won't have you murdering bystanders on the commute from foot pain (an important quality to look for in any shoe). Hyperbolic, but the comfort, and importance, of a stacked heel and quality leather cannot be overstated.
3. Day-Makers
Anne Klein Jaffa Bootie, $109.95, DSW.com
Peak "little fancy bitch," in such a good way. A monochromatic red ensemble is not to be messed with.
4. Tried 'N' True
Unisa Tereza Wide Calf Riding Boot, $69.95, DSW.com
Riding boots for fall and winter can sometimes fall into "florals? For spring?" territory, but at the same time...ish looks good year after year. These wider calf boots are perfect for tucking everything, plus socks on top, into.
5. Foot Paintings
Matisse Posey Bootie, $129.95, DSW.com
Hoo-hoo, yes. These are giving me the Clinton shimmies.
6. Blue Velvet
Report Allex Bootie, $79.95, DSW.com
We're gonna need an update on Blue Suede Shoes for 2016. Blue velvet is a worthy successor.
7. To The Batcave
Aerosoles Trustworthy Bootie, $99.95, DSW.com
Not your mom's Aerosoles, clearly. Sleek and sculptural, they'll go equally well with jeans or black tights for the months ahead.
To repeat: A bookmark, or seven, never hurt anyone.
Images: Courtesy of Brands