Violet Grey's Gift Sets Are So Good This Year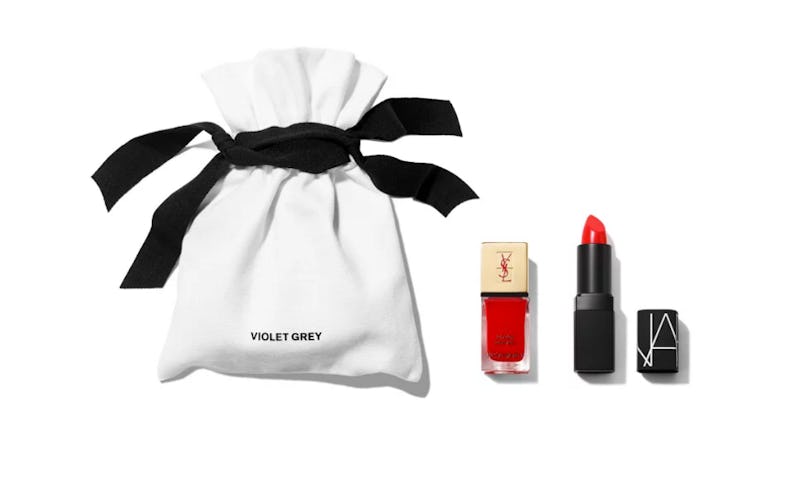 Fans of object d'art gifts and beautiful packaging, take note: luxury beauty curator and purveyor Violet Grey has their own line of holiday gift sets, and the product selection is both on point and makes for a deeply chic picture. Trust, they'd be a joy to Insta. Alone, that perhaps wouldn't justify the price tags on these nine sets — but combine that with products picked out per theme and put together by beauty industry experts and, well, it wouldn't be fair to write them off without taking a look. Violet Grey's Holiday 2016 gift sets nail it on both the product and packaging fronts. Luxury makeup at it's finest.
The No-Makeup Makeup Set originally caught my eye given its uncanny resemblance to Glossier's Black Tie Set, and just look at the evidence: Highlighter? Check! Milky pink, black, and white color way? Check! Eye definer? Check! Black ribbon... you get the idea. But where the Glossier goes it alone with new additions to their own line, the Violet Grey sets draw on existing favorites from many brands. They're splurges — no bones about it — but the value is there.
Given the thematic element, the kits are perfect if you're trying to look super thoughtful while putting in basically none. Have they worn red lipstick? Do they have a bathtub? There's a kit for that. What's more, it's dang beautiful.
1. The No-Makeup Makeup Set
Violet Grey The No-Makeup Makeup Gift Set, $136, VioletGrey.com
Eyes, lips, and cheeks are covered with RMS Beauty's cult-classic Living Luminizer, Serge Lutens' Comb Mascara, and Dior Addict's Lip Glow Pink for a rosy lip tint. If you bought the Glossier for yourself, this would be a similar version for your chicest aunt.
2. The Bathtime Beauty Set
The Bathtime Beauty Set, $74, VioletGrey.com
Heaven in a bag. Combining a Diptyque Baies travel candle, muscle-soothing Susanne Kaufmann Witch Hazel Bath, and travel-size Tatcha Indigo Soothing Silk Body Butter, this set is relaxation central.
3. The Blush Nude Matching Lips & Tips Set
The Blush Nude Matching Lips & Tips Set, $70, VioletGrey.com
Super understated, and yet chic to the bone. This set was made for the minimalist, with Tom Ford's Nail Lacquer in Mink Brule and Chantecaille's Brilliant Gloss in Modern.
4. The Bedside Table Set
The Bedside Table Set, $177, VioletGrey.com
I don't know if there's a mom alive who wouldn't love this set — or actually anyone, period. La Mer hand cream, Dior's cult Abricot Nail Crème, By Terry's even more cult Baume de Rose. A "child of the year" award is basically included.
5. The French Pharmacy Set: Petit
The French Pharmacy Set: Petit, $50, VioletGrey.com
This starter pack of French staples pulls the best of pharmacy culture, no plane ticket required. Caudalie's Beauty Elixir, Embryolisse Lait Crème Concentré, Avéne Cold Cream Lip Cream — everything Violet Grey chooses is cult.
6. The French Pharmacy Set: Deluxe
The French Pharmacy Set: Deluxe, $76.90, VioletGrey.com
For the "moars" in the room, this deluxe version adds Bioderma Sensibio H20 and Klorane Dry Shampoo with Oat Milk on top of the above. Download Duolingo and you're on your way to coveted "French woman chic" status.
7. The Gentleman's Kit
The Gentleman's Kit, $96.90, VioletGrey.com
Gentleman Floris Shaving Cream and Aftershave Balm, plus Bioderma Atoderm Crème body lotion. If you have someone who wears wingtips in your life (or at least knows what they are) they'll want this.
8. The Crimson Red Matching Lips & Tips Set
The Crimson Red Matching Lips & Tips Set, $56, VioletGrey.com
Scarlet lipstick and lacquer never looked so good. Nars Lipstick in Jungle Red, Yves Saint Laurent Nail Lacquer in 1 Rouge Pop Art, and the kind of aesthetic no one can turn away.
9. The Utowa Brush Set
The Utowa Brush Set, $380, VioletGrey.com
The big kahuna. Described as the "ultimate set of Japanese makeup tools," Violet Grey has the Stateside exclusive on the brand, which "marries modern innovation with Japanese craftsmanship in this set." Nine hand-cut brushes, and eyelash curler, unbleached cotton pads, and "precision Cotton Swabs" are yours, along with a Violet Grey makeup bag.
This is makeup as art.
Images: Courtesy of Brand