7 Alternatives To Celebrating Thanksgiving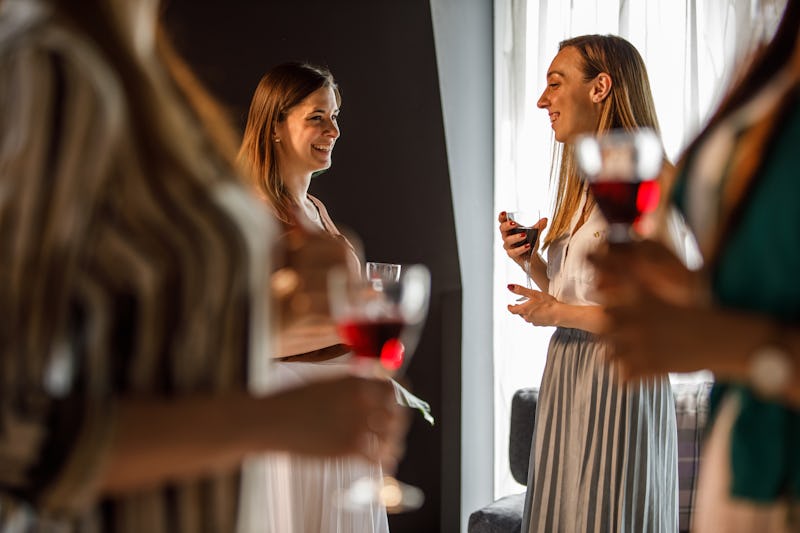 fotostorm/E+/Getty Images
Just not feeling the usual family gathering this Thanksgiving? If that's the case, read through these seven alternatives to celebrating Thanksgiving for a little November 24th inspiration. It's always nice to think outside of the box, and when you're in need of a break from the turkey and stuffing, it's perfectly fine to acknowledge that and come up with an alternative plan for the day. In fact, it's better than fine... it's sometimes necessary. These seven alternatives listed below cover a wide range of options. Whether you're looking to just shake your festivities up a little or take a full-on break from the holiday of Thanksgiving, they've got you covered.
When it comes down to it, what is Thanksgiving really about, anyway? While it's based on the original colonist's feast in 1621, the holiday has come to more generally represent an attitude of thanks and generosity in recent decades. As great as the sweet potatoes and turkey leftovers are, they're not what's important about the day, so you shouldn't feel bad about nixing them. So long as you're finding something to appreciate on November 24th, I think you're doing it right. Now take a scroll below and see if anything stands out to you. There's always next year to go back to the traditional celebration, so don't be shy.
1. Enjoy a "Friendsgiving"
Can't be with family this year? Don't sweat it. Find all those "Thanksgiving orphans" in your friend group that don't have plans for November 24th and get together. A Friendsgiving can be as simple as getting takeout and playing a few rounds of Cards Against Humanity. Urban Dictionary defines "Friendsgiving" as "the celebration of Thanksgiving dinner with your friends". Simple and wonderful.
2. Have a Potluck
Honestly, I don't think any one person should be left to do all of the Thanksgiving cooking and cleaning on their own, ever. A great way to prevent this from happening? Have a potluck Thanksgiving! Let your friends and family bring whatever entree or side dish they excel at making (and that doesn't have to be the usual suspects). This way, you can all spend more time enjoying each other's company and less time sweating it out in the kitchen.
3. Pick a Non-Traditional Food Theme
I have a friend that's going this route this year, and I think it's absolutely brilliant. Instead of turkey, she's doing turkey tacos. Instead of mashed potatoes, she's doing guacamole. Instead of green bean casserole, she's doing a nacho casserole. Genius, am I right? Mix things up a bit by picking an ethnic food type to inspire you. From Indian and Ethiopian to Mexican and Italian, your options are close to limitless.
4. Go to a Restaurant
Believe it or not, quite a few restaurants are open on Thanksgiving Day, and their menus often range from the classic turkey and stuffing plate to steaks, salmons, and everything in between. Thanksgiving cooking can be overwhelming, and if such is the case for you, then there's really no reason to put yourself through it all. Making reservations at a nice restaurant is a wonderful alternative for those looking to celebrate without having to put in all of the unnecessary efforts.
5. Take a Trip
Feeling extra rebellious? Good for you. Take advantage of that adventurous spirit and get out of town. There's nothing quite like vacationing on a warm beach in the middle of November when the rest of the world is having the typical, family feast. Seriously, it's utterly refreshing and can give you that breather you need that perhaps going to a relative-filled house couldn't. There's no shame in that.
6. Run A Race
Fondly known as "turkey trots", many cities across the U.S. plan for 5K marathon runs on Thanksgiving every year. I'm not exaggerating either. Daily Burn lists 30 different cities that participate in the tradition, including San Jose, Sacramento, San Francisco, Denver, Atlanta, New Orleans, Detroit, Charlotte, Las Vegas, Cincinnati, and Dallas... to name a few. Go on, get your endorphins going.
7. Start Your Black Friday Shopping Early
More and more stores are beginning their Black Friday shopping deals on Thursday in recent years. J.C. Penney, Kohl's, Kmart, Macy's, Michael's, Office Depot, Sears, Walgreens, Target, and Walmart all start their "Black Fridays" on Thanksgiving Day according to iDigitalTimes. Since you won't have the tryptophan making you lethargic, you really have no excuse (plus, you'll probably beat most of the rush that's going to be coming on Friday).
Images: fotostorm/E+/Getty Images; Giphy