This City Kills It On Tinder During Thanksgiving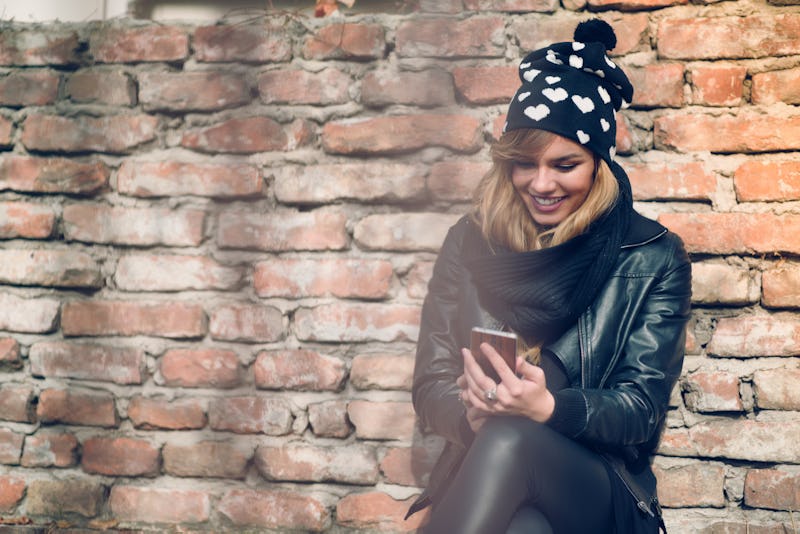 If you're heading home for the Thanksgiving, it may actually be the perfect time to get on Tinder. A lot of us like to do some voyeuristic Tinder-ing when we're home to see who from high school is kicking around and what they're up to now. That guy you like in high school but the timing was always wrong? The girl who's suddenly become your type? Going home for the holidays can totally mean getting those old flings out of your system.
And people are definitely up for it: Tinder found that last year, over Thanksgiving weekend there were more than 2.3 billion swipes in the U.S. Not only that, but over 17 million matches were made, which is 23 percent more than on a normal weekend. So turkey apparently makes us sleepy and horny. And Tinder took a look at last year's swiping patters to see which cities were the most popular around Turkey day. So it's easy to see if your home made the cut.
"Hometowns and cities tend to be places where most people know each other's friends and families, so finding a date is likely the objective for Tinder users during the Thanksgiving holiday," Tinder Sociologist Dr. Jess Carbino tells Bustle. "I would recommend that those are thinking about reconnecting with old flames keep an open mind. Naturally, we all change in different ways overtime so when potentially giving someone a second chance, think of it as a first impression. And if you're seeing a true blast from the past – an ex – remember that the past is the past for a reason."
Want to get a head start on your Thanksgiving swiping? You can use the Passport function to swipe anywhere, so you can start your hometown swiping whenever you want. Here's where they found the largest increases over Thanksgiving weekend:
1. Detroit
Detroit was the largest, with a whopping 54 percent more swiping over the holiday weekend on average.
2. Houston
People in Texas like to go big, especially on Thanksgiving, apparently. They had 43 percent more swipes than normal.
3. Washington D.C.
Our capitol is a swiping hotbed, with a 41 percent increase.
4. Dallas
Another Texan city in the top , this one with a 38 percent increase. They take their swiping seriously down south.
5. Baltimore
With over a third— 37 percent— more swiping than usual, if you're from Maryland you might want to log on.
6. Philadelphia
Heading home to Philly? You have a 34 more chance of a match than usual.
7. Los Angeles
The city of swipes and dream. Enjoy the balmy temperatures and a 32 percent increase in Thanksgiving swipes.
8. Minneapolis
Tied with LA, Minneapolis also saw a 32 jump.
9. Charlotte
Thirty-two percent might be the lucky number, with Charlotte also seeing that increase.
10. Portland
Finally, Portland rounded out the top 10. They had a 30 percent shift from a normal weekend.
Your city didn't make the list? Don't worry, there are still plenty of swiping opportunities. Remember, there was a 23 percent jump country-wide last year, so your chances of a match are sky high. Plus, don't you just want to have a look around?
Images: chika_milan/Fotolia; Giphy (10)