The Kylie Cosmetics Holiday Stocking Is Adorable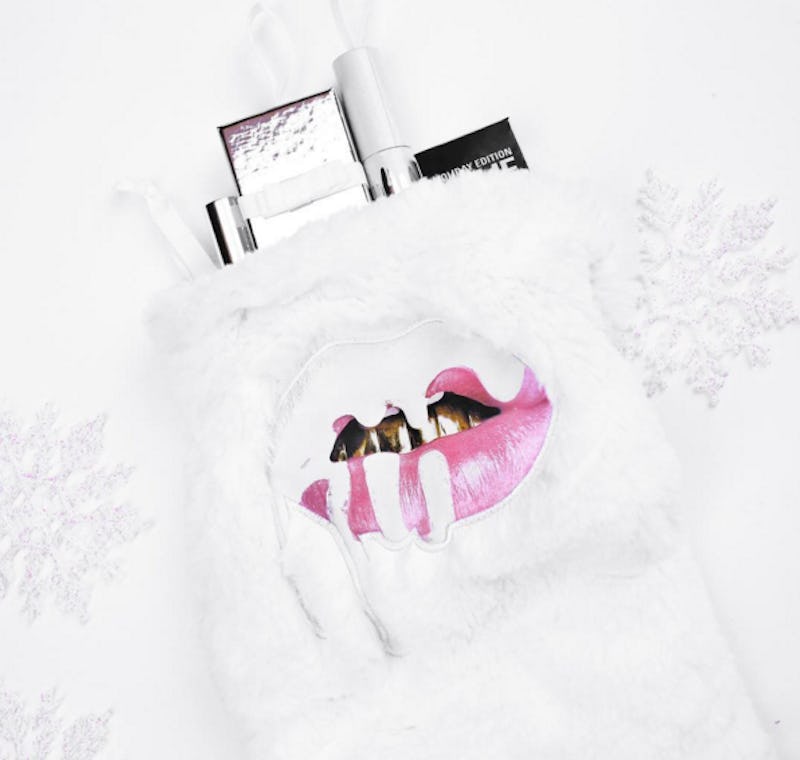 Kylie Cosmetics fans are in for the ultimate treat this holiday season. The brand has recently unveiled its Holiday 2016 collection, and it's literally the gift that keeps on giving. If you have been keeping up with Jenner on social media, you know this is the most extensive holiday makeup collection, possibly ever. Just when you thought it can't get any better, we find out that the Kylie Cosmetics Holiday Collection comes with a free gift with purchase — but only on Black Friday. Is Kylie Jenner good to her fans or what?!
In typical Kylie fashion, the 19-year-old took to Snapchat to flaunt all of the new goodies that will be hitting her online store for the holidays. The collection is enormous, including a brand new KyShadow palette, a mini matte lipstick set, new metal and matte lip kits, single glosses that you can hang as ornaments on your christmas tree, three new creme shadows, full-size liquid matte and gloss set, a metallic silver makeup bag, and a limited-edition white Kyliner. Not to mention, the new shiny silver and white packaging is so festive. If all that wasn't enough, Jenner has just announced that with any purchase, customers will receive a furry white stocking complete with the signature lip emblem.
There's a tiny catch though — you have to order on Black Friday in order to receive this adorable freebie.
The luxurious stocking perfectly ties the collection together. Plus, it would look totally adorable over your fireplace.
If you're planning on shopping the Holiday Collection anyway, you may as well do so on Black Friday and score this fuzzy little beauty.
I know what I'll be asking for this holiday season.
Image: KylieCosmetics/Instagram