'Fantastic Beasts' Sequel Is Coming Soon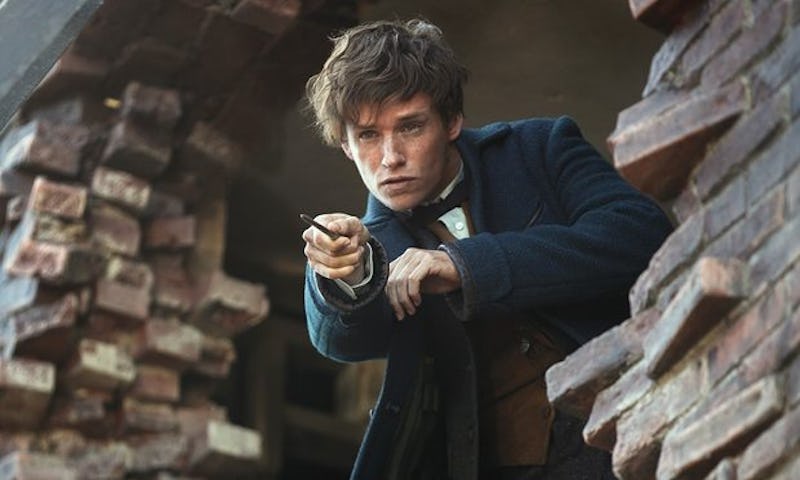 The newest movie set in J.K. Rowling's expansive Wizarding World universe, Fantastic Beasts and Where to Find Them has fans just as eager to know the latest morsels of information about bumbling magizoologist Newt Scamandar as they were when the stories were about heroic Harry Potter himself. Now that the film is coming to theaters, people are already looking ahead to the next entries in the series. So just when does the Fantastic Beasts sequel come out? It'll be here before you know it.
It looks like those behind the scenes are just as excited as fans are to keep up the momentum and creativity, as there has already been major progress on the next film in the series. In fact, the release date for Fantastic Beasts and Where to Find Them 2 has been settled since 2014, according to Cinemablend, when the studio announced the release dates for the first three films in the five-movie series. Fantastic Beasts and Where to Find Them 2 will come out on Nov. 16, 2018, which means fans will have to wait just under two years after the release of the first movie for more adventures from Newt Scamandar and crew. The third film will be an equally brisk two years after that one, coming out on Nov. 20, 2020.
That's a pretty impressive production pace for films as high-profile and presumably special-effects-heavy as the Fantastic Beasts films, but Rowling has always been a planner — remember how she had the entire seven-book Harry Potter series planned out practically from the beginning? — and director David Yates confirmed to GSN News that Rowling has already finished writing the script for Fantastic Beasts 2. Rowling has also been taking to Twitter to confirm and deny various rumors about the sequel. Though there was speculation that the plot for Fantastic Beasts 2 would pick up just days after the ending of the first film, Rowling says that's not true, according to TIME. Rowling did throw fans a bone in the same tweet, though, confirming that the sequel will take place in Paris as fans suspected.
It's not surprising that the Fantastic Beasts sequel won't be starting up right after the first one left off, given that, as Slashfilm has reported, Rowling told Variety that the five movies in the series will take place over a period of time spanning 19 years. That longer timeframe within the story is exciting though, because it means that familiar Harry Potter characters like Albus Dumbledore and Gellert Grindelwald (confirmed to be played by Johnny Depp) will be showing up, albeit in their much younger days.
So, if the first Fantastic Beasts movie leaves you antsy to rejoin the Wizarding World, fear not, because Rowling, Yates, and the rest of the crew are sticking to a detailed timeline for the sequels, and more information about movies two-five is likely to keep rolling in.
Images: Warner Bros. Pictures