Here Are Some Cheap Gift Ideas For Guys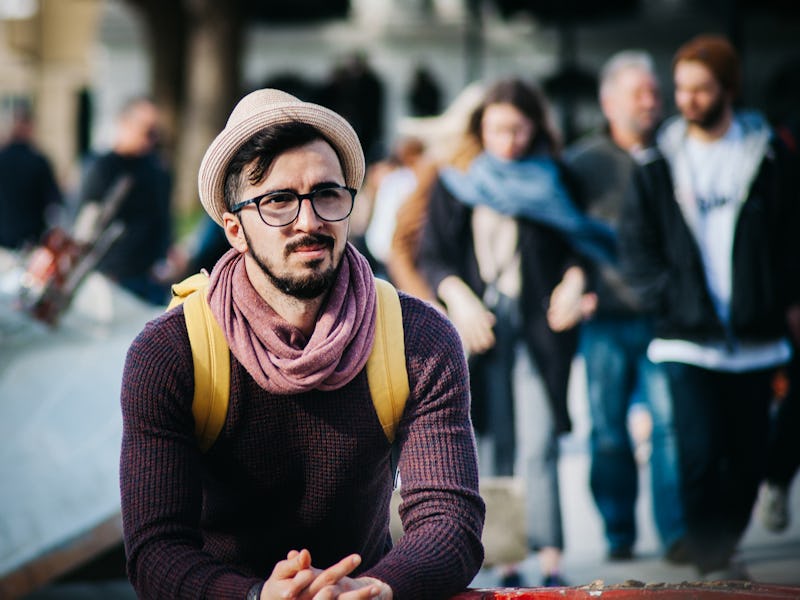 Getting the perfect gift for a guy is not only complicated, but nerve-wracking. The things you probably want to get them (like a vintage record player, first edition book or weekend trip to the caribbean) are totally out of your price range. And yet anything less can feel like too little. Luckily, there are plenty of cheap gifts for guys in 2016 that will still seem personal without breaking the bank.
And a lot of times, it seems like there's not a lot in between a single guitar pick and that expensive cocktail making kit when you look through gift guides. So what do you do when you're buying gift for a friend or a brother or a dad or an uncle or someone you just started dating? How do you show them that you're thinking of them and you care about them without spending too much or going through the trouble of wrapping a pen that you know they'll never use or maybe even regift?
To ease this confusion, I've done some research and pulled together some super affordable gifts that don't feel half-assed and will make the gift-receiver feel appreciated and warm. Becasue no one wants you to go into debt over a gift and no one wants you to stress out over finding the perfect gift that's personal and meaningful and creative and unique and unlike anything they've every received — gift-giving doesn't always have to be that intense. Here are some cheap gift ideas for the men in your life:
Vintage Men's Robe
Get him something that he hasn't already stolen from a hotel. A vintage robe has tons of character and he'll be happy to have it on cold winter mornings.
Vintage Men's Robe, $10, Etsy
Pocket Square
A super classy gift that spiff up their typical suit and tie game. Get it monogrammed for an extra special touch.
Men's Handkerchief, $12, Land's End
Portable Water Purifier
For the adventurous man who likes to hike and travel internationally, he'll totally appreciate this amazing portable water purifier that's 99 percent effective.
Life Straw, $20, Amazon
Fire Starter
If your guy is big into the wilderness this will be the perfect gift that he never knew he needed.
True Utility Fire-Starter, $9, Amazon
Coasters
They're a little funky and they're totally functional, perfect for the music lover.
Vintage Record Coasters, $16, Amazon
Computer Lamp
Quite possibly the most creative use of a USB port, use this as a reading light or a night light when you close your laptop at night.
Slippers
No one's going to be disappointed to get a fresh pair of cozy slippers and the memory foam is a nice chic touch.
Memory Foam Slippers, $14, Amazon
Shaving Tonic
Essential oils and sweet smells, this is both a great shaving tool and skincare staple for anyone who shaves.
Shave Tonic , $18, Baxter California
Drink Tumblers
These shatter-proof tumblers are perfect for the guy who likes to host parties.
Tumbler Set of 4, $15, Amazon
Flannel Scarf
This is a safe bet for the person who you don't know what to get. You can never have enough warm scarves.
Geoffrey Beene Scarf , $15, Amazon
Coffee Thermos
For the guy who likes to brew his own coffee, or for the guy who's green and prefers to avoid making trash, this is the perfect gift. Good for hot and cold drinks alike.
Morex Coffee Thermos, $18, Amazon
For the mechanic, farmer or factory worker in your life, get them a gift that they actually need. This special hand cleanser cuts through grease in a jiffy.
Good Clean Mud, $14, Amazon
For the day hiker, for the bike-rider, or for the guy who's tired of carrying around a briefcase, this bag is perfect.
Bagerly Canvas Backpack, $19, Amazon
Wireless Earbuds
Wireless earbuds are all the rage right now, and because they're not plugged into our phones, they're super easy to lose. This is a perfect gift for anyone, because we're all always losing our earbuds.
SoundPEATS Bluetooth Headphones, $20, Amazon
Flask
A classy gift for the sophisticated spirits fan in your life.
Coleman Tailgater Flask and Funnel , $12, Amazon
Sports Team Throw
You can never have enough blankets, so get your guy a throw with his favor sports team on it. It's easy, it's thoughtful, and it's warm.
Fleece Throw, $20, Northwest Company
An Award Winning Book
Books might have been lame gifts to recieve when we were kids, but they're totally cool now. Get him a book that's critically acclaimed like this National Book Award winner by Colson Whitehead, The Underground Railroad.
The Underground Railroad, $14, iTunes
A Magazine Subscription
Find a magazine that you think this person would like and get them a year digital and print subscription — it's a great value, and it's a gift that keeps giving.
Esquire Magazine, $8, Hearst Mags
Cocktail Kit
This portable carry-on cocktail kit can fit into his back pocket. He'd never ask for it, but he'll be happy to have it! While there are many options, this kit is for making Old Fashioneds.
The Carry On Cocktail Kit, $24, Amazon
Classic White T-Shirt
Why not get him something he actually needs? Go for a three pack. He'll be grateful to have some fresh tees.
Hanes Men's 3 Pack, $11, Amazon
Image: Pexels