'Moonlight' Deals With A Taboo Topic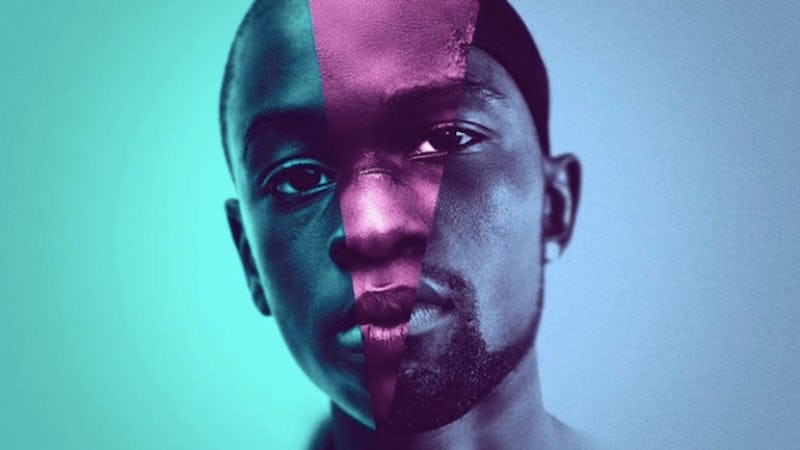 In the Black community, talking about male sexuality — especially homosexuality — is taboo, with the virility of a man determined by his sexual preference. That's why Barry Jenkins' Moonlight is so important, as the acclaimed film has a fearlessness when it comes to the topic of Black men's sexualities. The movie explores the coming-of-age of a gay Black man, and it tackles the subjects of masculinity, sexuality, race, and self-worth in a way that few movies ever dare to do. And after the 2016 election, in which race and sexuality were hot-button issues, the movie is apparently resonating with audiences even more than it originally did.
According to Jenkins, Moonlight reportedly experienced a jump in movie viewership after the election of Donald Trump. "Wednesday [Nov. 9] morning, this film, on the same amount of screens it was on Tuesday, went up like 40 percent because people felt this film was a place they could go to assuage or address whatever it was they are feeling in response to Tuesday," the director said at a conversation about the movie during AFI Fest in Los Angeles. "I couldn't have anticipated that."
On Nov. 9, Moonlight grossed $108,142, up 37.3 percent from the previous day, according to figures from Box Office Mojo. Its upward trend continued in the following days, as on Nov. 11, the film expanded to a 176-theater market and saw a 230 percent increase in its gross. It's not certain that the growth in the movie's viewership came directly from post-election stress, of course, but it'd make sense, considering Moonlight's themes. It seems as though the rampant racism and sexism in our country is causing everyone to evaluate their own acts of indignity to others, and to explore the ideas of identity and tolerance on-screen.
It's great to see Moonlight affecting audiences in this way, especially in its depiction of LGBT Black men. Denying or ignoring the existence of sexuality within the Black male community just makes it harder for those who are struggling with their identities, but hopefully, Moonlight will shine a needed light on the subject. The film, based on the play Magic in the Making by Tarell McCraney, chronicles the life of Chiron, who struggles to find his sexuality and place in the world while growing up in Miami. The story of Chiron is shown in three different stages of his life — as a young boy (Alex Hibbert), as a teen (Ashton Sanders) and as an adult (Trevante Rhodes).
Every day of Chiron's life is a fight for survival in a environment that seems to be fighting against who he is becoming. Matters get worse for him as more and more people realize that he is gay before he is fully aware of his own identity. Chiron's struggle to embrace his identity while conforming to standards of masculinity is heartbreaking, and all too real. "It's almost taboo to be a black American man who is homosexual, or a black man who is homosexual because growing up you're told that you have to be that much more imposing, that much bigger, that much better ... than your counterparts," said Rhodes, who plays adult Chiron, in an interview with Reuters. "It's kind of oxymoronic to be homosexual and have those same attributes."
The fabric of our community counts on upholding the value and strength of the Black male. Moonlight doesn't hesitate in showing how the power of an environment can influence Black boys trying to find their identities, and how ideas of male identity and socialization within the African American community are central to the way men navigate their own self-realizations. Moonlight's depiction of human struggle and identification is universal, but what makes it truly stand out is how it's forcing the Black community to talk about a subject that we often find uncomfortable to talk about.
Images: A24, Giphy