Shop Kylie Jenner's Affordable Underwear Set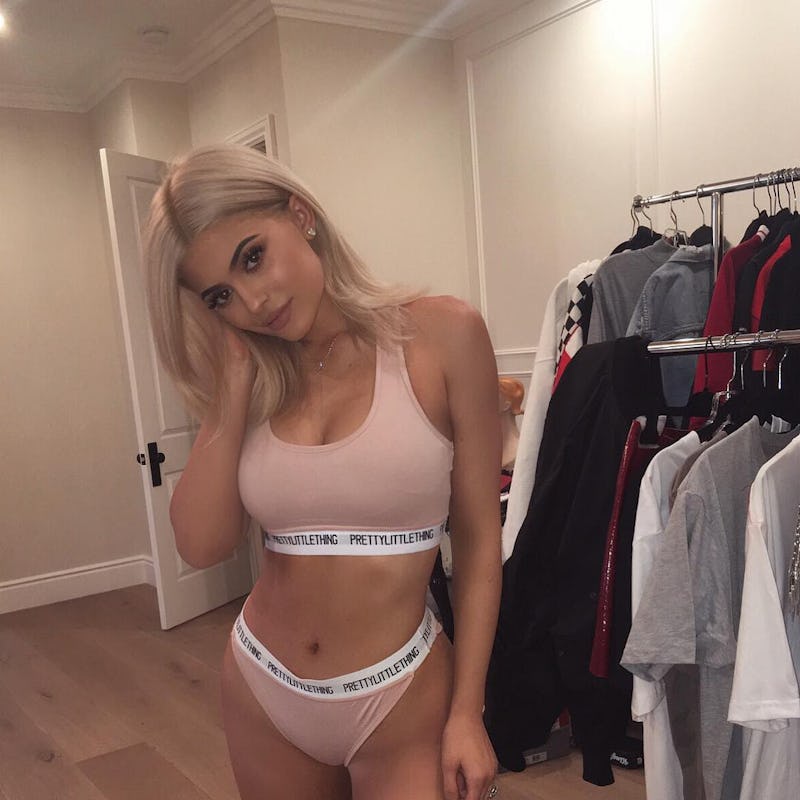 Kylie Jenner is having a big week — like a huge week. On Wednesday night, she debuted a plethora of new products for Kylie Cosmetics sending fans into a tailspin. On Thursday, a KoKo Kollection restock is slated, and now, Kylie Jenner's pink underwear set is making a splash. The good news, though, is that you can totally shop the brief and sports bra set for an affordable price.
While Jenner's usual social media posts feature her rocking some crazy expensive pieces, she's definitely been known to switch things up and give fans affordable options to cop her style. In fact, she does it on her website regularly. From rocking PUMA gear accessible to everyone to killing it in the Quay x Desi Perkins High Keys, she knows that fans love her looks. Now, she's letting them know that they can shop her co-ord over at Pretty Little Thing for less than $40.
This isn't the first time that Jenner has rocked merchandise from the brand, though. She attended the Pretty Little Thing party only a few months ago and rocked a gorgeous and sexy orange frock from the brand. Clearly, she's a fan of their goods, and she's letting fans know that they can snag the same wares.
The co-ord set is totally Jenner's style. She been seen rocking similar high banded briefs in the past — mostly in swimwear — and she's definitely a fan of rocking sports bras. She's seen in them often on her Instagram.
The biggest difference now, though, is that the pieces are totally affordable. The sports bra and the brief retail for $18.50 and $17.50 respectively.
Nude Knickers, $17.50, Pretty Little Thing
Total bargain, right?
Nude Sports Bra, $18.50, Pretty Little Thing
In a surprising twist, the items are still available. While Jenner's orange dress for the Pretty Little Thing party sold out incredibly quickly, it looks like fans haven't discovered this set quite yet. It's only a matter of time, however.
To snag the co-ords before they're gone, head over the Pretty Little Thing. Also, be sure to shop their other selections because this affordable brand is right up Jenner's style alley. If you're a fan of Jenner's, my guess is you'll adore the rest of goods. Happy shopping, Kylie fans.
Images: Courtesy of Pretty Little Thing