Some Of The Holiday Kylie Lip Kits Are Brand-New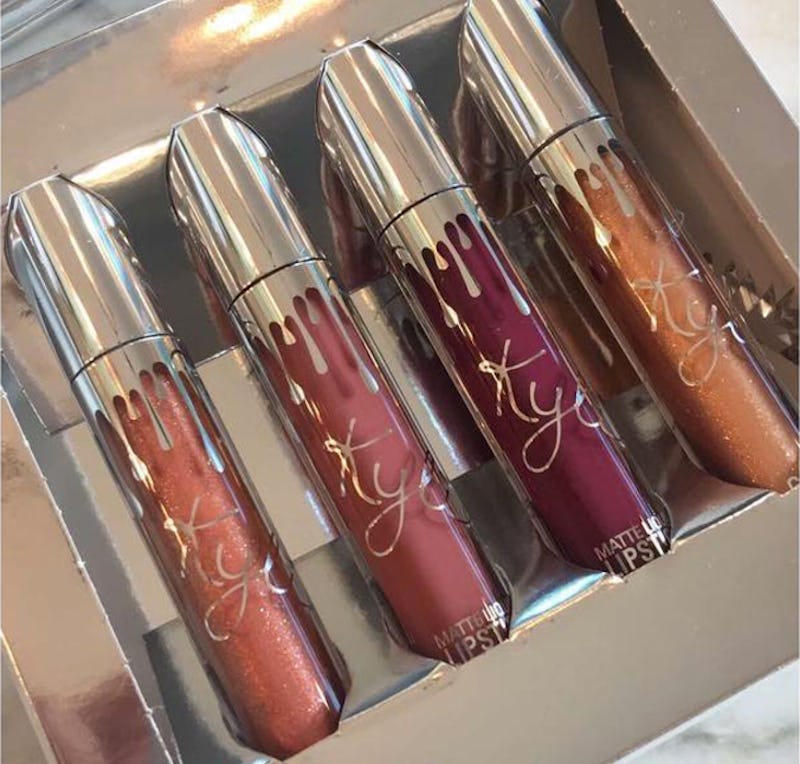 Not sure if you've heard, but there's this thing called the Kylie Cosmetics' holiday collection? No big deal, kind of a non-event. Just a wee, small, tiny holiday blip. Nothing to pay attention to. Just kidding — it's a huge deal. Dropped in a trademark blitz on Kylie Jenner's Snapchat, the Holiday Edition collection is freakin' enormous. And if you're wondering how many of the holiday edition Kylie Lip Kits are exclusive shades, hold on to your reindeer. Four of the lip colors — Angel, Vixen, Noel and Cupid — are new to the holiday collection.
The holiday kit boasts a mix of old and new faves to keep your holiday look fresh. Some returning faves include the greige nude Moon, terracotta brown Ginger, warm brown berry Kristen, and the distinct purple-brown of Love Bite. Angel, a deep dusty pink, and Vixen, a dark purple-y brown, are both her signature matte liquid lipstick formula, while the two other exclusives, Jolly and Naughty are both glosses.
Angel and Vixen are both available in the mini kit, which is $36 dollars and includes six shades total, and the four-piece full-set will be $45 dollars. A Gloss Ornament is the cheapest option at $15 dollars, and then a Metal Ornament at $18 dollars. The "Big box" is $290 dollars, for the aficionados among us.
Blitzen is available in the four-piece set with Angel and glosses Cupid and Noel.
Standalone versions of the new lip glosses Naughty and Jolly will also be on the list to grab.
Uber-shiny, the cherry Jolly and plum Naughty are apparently packed with color — Jenner mentioned that they're way more pigmented than her other glosses.
The collection launched on Nov. 21 at 1 p.m. PST and many of the products are currently sold out, but I'm keeping my fingers crossed for a restock soon.
Images: via Kylizzlesnapchats/Instagram.