Steve Bannon's 'South Park' Debut Is Too Real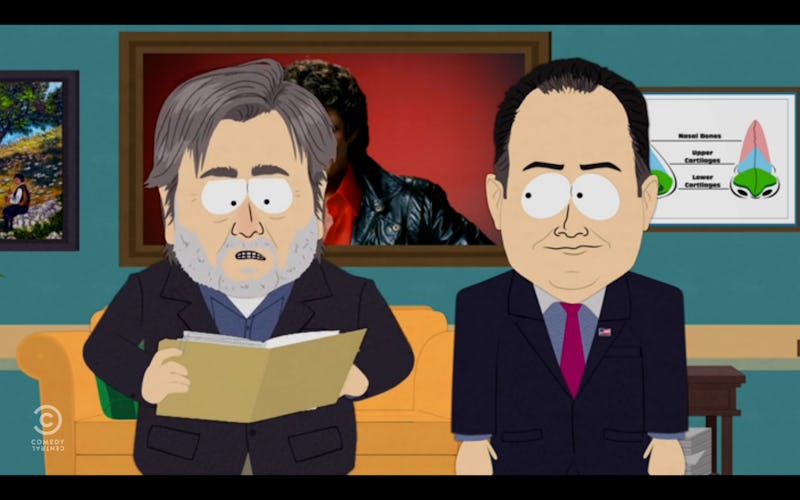 A fictionalized version of Donald Trump's chief strategist, Steve Bannon, appeared on South Park Nov. 16, during a season dedicated to the U.S. presidential election. South Park's Bannon makes a brief appearance at the beginning of Season 20's eighth episode, "Members Only," and speaks to fictionalized White House Chief of Staff Reince Priebus about the show's version of Trump, President-elect Garrison. "All indications are that his transition is going to be fine," Bannon tells Priebus in the episode. What transition is Bannon referring to? Garrison has received a hair transplant, tanned himself orange, and now looks eerily similar to Trump.
But what is South Park hoping to accomplish by including fictionalized versions of Bannon, Trump and his chosen team? "We don't try to make social commentary," Trey Parker, one of the show's creators along with Matt Stone, told Variety earlier this year. "We get into a room six days before we go on the air, and that's why it ends up being somewhat relevant." Still, South Park has begun to look more and more like reality over the course of the presidential campaign and election. While Bannon himself doesn't do much during this episode, his presence itself is chilling considering Bannon's association with white nationalism and xenophobia. The former chief executive of alt-right website Breitbart has made troubling statements about race, including suggesting that there are too many Asian CEOs in Silicon Valley. And that's not counting the types of headlines Bannon has approved.
Xenophobia is a topic broached during the episode; Garrison — who, let me remind you, now looks a lot like Trump, and who was once fired by an elementary school principal — approaches the principal as president-elect and threatens him. "I was upset because a bunch of immigrants were changing my class, and I believe your response was that I needed to go and learn their language, be more open-minded," Garrison says. Is this a response to Bannon's background, Trump's planned wall with Mexico, and a Trump surrogate's recent support for a Muslim registry? Well, Parker said they don't try to do social commentary, but maybe the social commentary happened anyway.
Over the course of the episode, Garrison begins to realize that being president is different from what he imagined, much like many news outlets have reported about Trump. The president-elect was reportedly not aware his team would have to hire new White House policy staffers, according to the Wall Street Journal. Trump also didn't realize his quick meeting with President Obama would cover so much material about the scope of the presidency, Vox reported. President-elect Garrison on South Park, is similarly taken aback by how quickly things move along; when phoned about a foreign threat, Garrison proclaims that he's busy, despite merely being at a grocery store.
We'll have to wait for the next episode of South Park to see what Bannon's role in Garrison's administration is. For now, you can check out "Members Only," streaming free on the South Park website.
Image: Comedy Central (1)