'10 Things I Hate About You' Turns 15: What's the Cast Up to Today?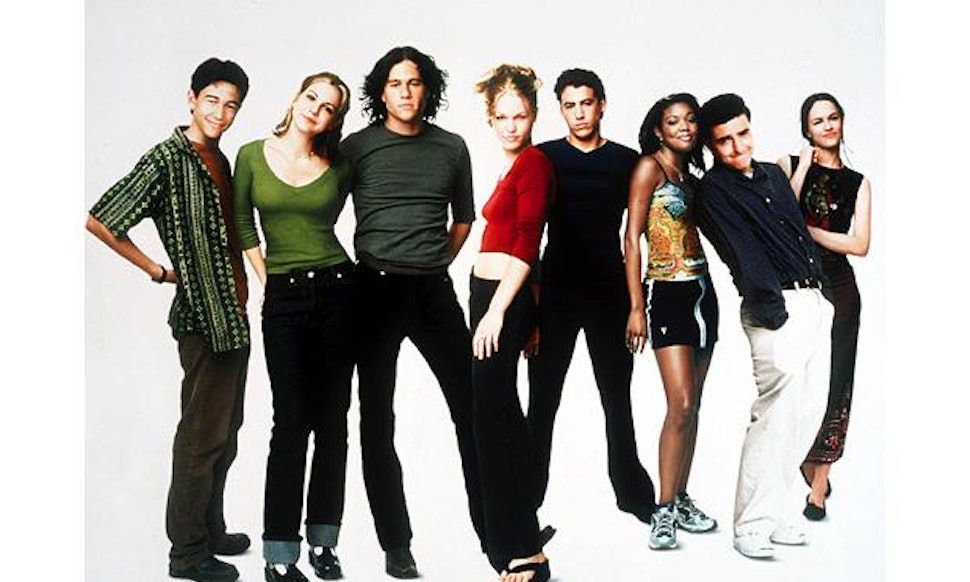 Generally, if a movie has anything at all to do with Shakespeare, I'm out the door. I'm not a fan of West Side Story, never liked Romeo & Juliet, and, despite my love for all things Joss Whedon, couldn't bring myself to see Much Ado About Nothing last summer. So when 10 Things I Hate About You, a movie I'd resisted seeing for years, came on TV one afternoon, my first instinct was to change the channel — but then Joseph Gordon-Levitt appeared on the screen, and suddenly, the whole Taming of the Shrew thing didn't matter so much. In the years since, I've rewatched the Julia Stiles-Heath Ledger dramedy more times than I can count, and for good reason: even in 2014, 10 Things is still one of the smartest, funniest teen movies ever made. And today, March 31st, the 15th anniversary of 10 Things I Hate About You, let's all take a moment to remember why.
From Julia Stiles' snark to Heath Ledger's curls to Joseph Gordon-Levitt's teenage dorkiness, everything about 10 Things was perfect. In honor of the film's 15th anniversary (and because we just want an excuse to revisit Gordon-Levitt's '90s hair), let's see what the cast is up to today.
Image: Buena Vista
Julia Stiles: Then
Stiles, then a Sundance darling for Wicked, broke out into the mainstream with 10 Things. Her role as proud, sardonic Kat earned her an MTV Movie Award and made her a star, and her celebrity only grew with a lead role in Save the Last Dance two years later.
Image: Buena Vista
Julia Stiles: Now
Stiles is in need of a serious comeback. For a few years in the '00s, it seemed like she was on her way to superstardom, thanks to roles in the Bourne movies and dramas like Mona Lisa Smile. Yet Stiles' recent works have been sporadic, with the most prominent one being a small role in 2012's Silver Linings Playbook and a recurring turn on Dexter. The latter part earned Stiles an Emmy nomination, though, so perhaps TV is the best route for the actress to find success once more.
Heath Ledger
Then: Ledger was a rising star when 10 Things came out, and his role as Patrick established him as one of Hollywood's biggest new talents.
Now: Ledger's success only grew as the years went by, thanks to roles in films like A Knight's Tale and Brokeback Mountain, for which he was nominated for an Oscar. In 2008, Ledger tragically passed away from an accidental overdose, and though he won a posthumous Oscar for The Dark Knight, we'll always remember him best as the guy who melted our hearts with this song.
Image: Buena Vista
Joseph Gordon-Levitt: Then
Known best for his role in NBC's 3rd Rock from the Sun, Gordon-Levitt celebrity grew greater upon 10 Things' release.
Image: Buena Vista
Joseph Gordon-Levitt: Now
He's freakin' Joseph Gordon-Levitt, the Golden Globe-nominated actor who starred in Inception, (500) Days of Summer, and The Dark Knight Rises, among other hugely successful films. Few people have made the child star to respected actor transition as smoothly (and adorably) as Gordon-Levitt.
Larisa Oleynik: Then
Oleynik was Alex Mack, the telekinetic lead character of Nickelodeon's super-successful The Secret World of Alex Mack. She also appeared in The Baby-Sitters Club (she played Dawn!), The Adventures of Pete & Pete, and Boy Meets World. Basically, Oleynik WAS the 1990s.
Image: Buena Vista
Larisa Oleynik: Now
After 10 Things, Oleynik starred alongside former co-star Gordon-Levitt in 3rd Rock from the Sun, playing his girlfriend (!). In later years, she had roles in Mad Men, Hawaii Five-0, and, most recently, Pretty Little Liars, but hasn't regained the superstardom that she held back in the '90s.
Image: ABC Family
David Krumholtz: Then
Before 10 Things, Krumholtz starred on Broadway and acted in a handful of dramas, but unfortunately for the actor, his most memorable role was as the head elf in 1994's The Santa Clause.
Image: Buena Vista
David Krumholtz: Now
Despite supporting roles in movies like Harold and Kumar Go to White Castle and Superbad, Krumholtz never made it big as a film star. He did, however, find major success in TV, where he starred on CBS' Numbers for six seasons. He now appears on TBS' Men at Work.
Andrew Keegan: Then
Keegan had a recurring role on Party of Five, as well as guest spots on Full House and Boy Meets World. His biggest part was on 7th Heaven, where he appeared for two dozen episodes over the course of the series' run.
Image: Buena Vista
Andrew Keegan: Now
He's nowhere to be found. His last TV stint was on a 2012 episode of CSI, and his movie career consists of direct-to-video horror flicks.
Larry Miller: Then
Miller was a recognized comedic actor for his roles in films like Pretty Woman and The Nutty Professor.
Image: Buena Vista
Larry Miller: Now
He's a regular supporting character in hit movies, from Paolo in The Princess Diaries ("I love your eyebrows! We'll call them Frida and Kahlo.") to Harley in New Year's Eve. Next up is Road Hard, a David Koechner comedy about a stand-up comedian.
Susan May Pratt: Then
10 Things was Pratt's first major role, but just a year later, she'd star in cult classic Center Stage.
Image: Buena Vista
Susan May Pratt: Now
She's had guest spots in several shows, including Charmed and Private Practice, but hasn't had a hit in far too long.
Gabrielle Union: Then
Union's biggest pre-10 Things roles were an arc in 7th Heaven and a supporting part in She's All That.
Image: Buena Vista
Gabrielle Union: Now
Daryl Mitchell: Then
Mitchell was a regular on both The John Larroquette Show and Veronica's Closet.
Image: Buena Vista
Daryl Mitchell: Now
The same years as 10 Things, Mitchell starred in the equally-beloved Galaxy Quest. In 2001, a motorcycle accident paralyzed him from the waist down, and since then, his acting career has been limited to appearances on shows like Ed and Desperate Housewives.
Allison Janney: Then
Janney was just an aspiring actress when she scored the 10 Things role, plus a meatier part in American Beauty that same year.
Image: Buena Vista
Allison Janney: Now
The woman forever known as C.J. Cregg has had a remarkable career, appearing in films ranging from Hairspray to Juno. This year alone, she has roles in Bad Words, Mr. Peabody and Sherman, the CBS show Mom, and the upcoming Melissa McCarthy-led Tammy, and that's barely over half the list.
David Leisure: Then
Leisure had a supporting role on the NBC sitcom Empty Nest, and also appeared in dozens of other films and shows pre-10 Things.
Image: Buena Vista
David Leisure: Now
He's a soap star from both The Young and the Restless and Days of Our Lives, but hasn't done much since his role on the latter show ended in 2011.