Taryn Baker From 'The O.C.' Has Disappeared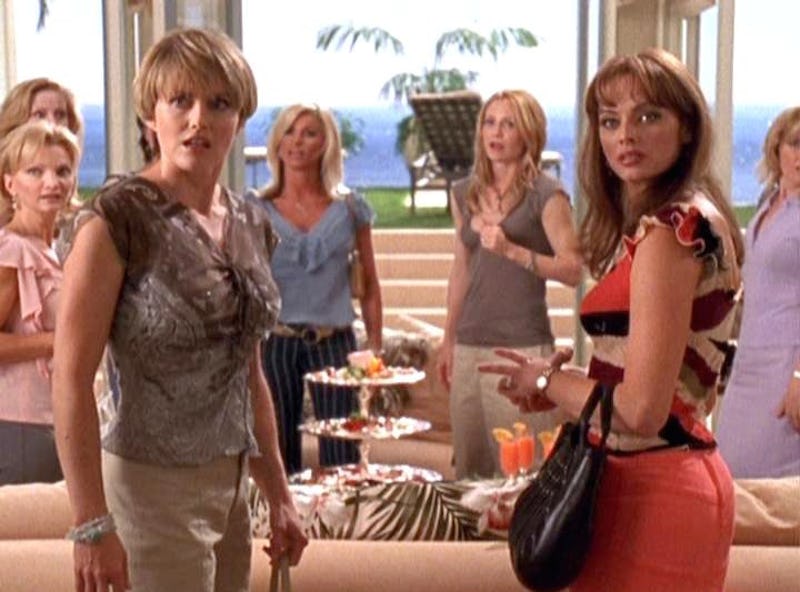 If you're a die-hard The O.C. fan, the name "Taryn Baker" will be a familiar one. You'll remember this charismatic lady as one of the few women of Newport who could give Julie Cooper a run for her money when it came to her dating life. Whether she was swinging or cougar-ing, Baker rarely seemed short of company of an evening, which meant it was a shame that she wasn't in more episodes (she appeared in just nine). But, while the post-O.C. lives of the likes of Mischa Barton and Rachel Bilson are common knowledge, there's a definite lack of details for the minor roles. Where is Taryn Baker from The O.C . now?
Baker was played by Kimberly Oja, who appeared to have a busy schedule up until shooting The O.C. She'd previously starred as one of the main cast members on Baywatch spoof Son Of The Beach for two years and even acted alongside LL Cool J and Gabrielle Union (head rival cheerleader from Bring It On) on Deliver Us From Eva . Given the fact that she made a minor role on The O.C. so memorable and she clearly had no trouble finding work, what happened after The O.C.? She appears to have quit acting entirely.
But before that, Oja won the leading role in the 2008 film Channels. Channels centers on a Hollywood film producer who becomes obsessed with a soap opera character, Katherine (Oja) who emerges from his television set and encourages him to try living life on his own terms. Which sounds poetic and lovely, and it got a 78 percent positive audience rating on Rotten Tomatoes, so presumably it's an entertaining film. However, no critics have reviewed it — implying, I guess, that it was a low-profile indie movie. That was in 2008, and there have been no other entries recorded on Oja's IMDb profile since.
She's also absent from all the social media channels you might expect to see her on, which is a travesty. She was so charismatic and smart with so few lines: do we really have to continue our Kimberly Oja-less existences from here on out? And how, in the age of the internet, has she managed to swerve being documented anywhere? The good news is that her back catalogue prior to The O.C. was more extensive — she starred in an episode of Two And A Half Men in 2005 and in 1998 she appeared in both The Jamie Foxx Show and Beverly Hills 902010 (admittedly as an unnamed minor character).
Still, if you're really craving more Oja in your life, I'd suggest you take to Youtube. Her stint on Son Of The Beach is well documented on the platform, and you get to see her play the character Kimberlee just three minutes into the above. The humor is a little cheesy, but hey, if you're looking for a dash more Oja in your day, it's exactly what the doctor ordered.
She was one of the most memorable extra characters on The O.C. and, whatever she's doing now, I hope she's having as much fun as Taryn Baker always had.
Images: Warner Bros. Television; Giphy