Authors Share The Books They're Most Thankful For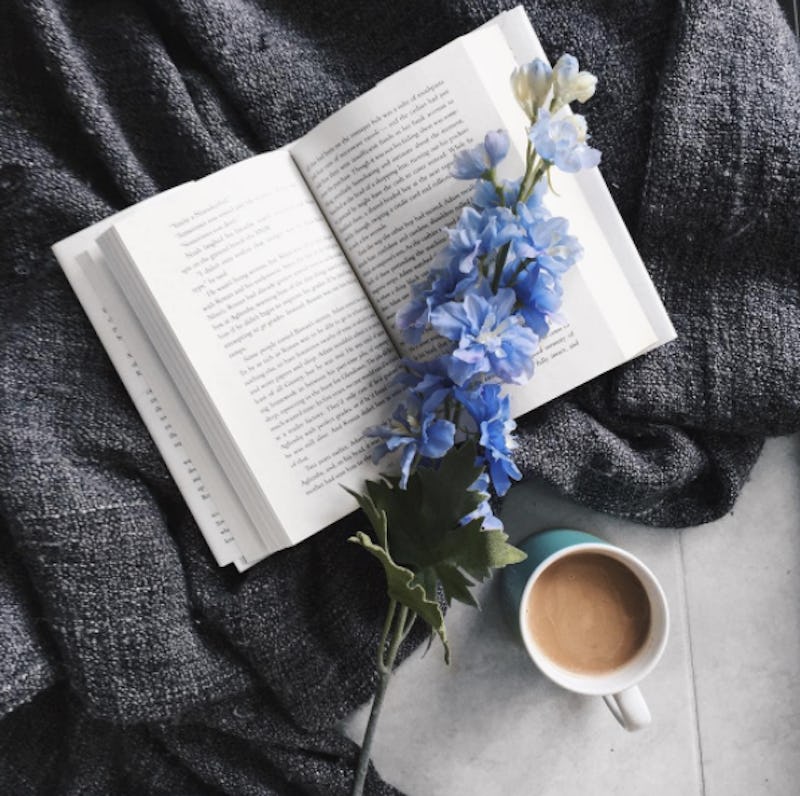 Here's the thing about authors: writers are readers, first and foremost. Words have shaped us from a young age, triggered a passion for paper and ink, and perhaps a book hoarding habit. (Or maybe that's just me!) They've helped us form a deep respect for craft and story, one that hopefully translates to the page when we tackle our own work.
There comes a time in every writer's life where she cracks open the one tome that will profoundly change the way she sees the world – the one book the author is most thankful for. Not so shockingly, most of the time, we're teenagers when we discover these life-changing reads – the ones that will stick to us and shape us, and bend and change with us as we grow. I still have that tattered, dog-eared and signed copy of the book I'm most thankful for, Ameena Meer's swirling, trippy Bombay Talkie, and every time I go back to it, I learn something new, about the world and about myself.
Given the spirit of the season, we decided to ask 11 amazing young adult writers about the books that made the greatest impact on them – as readers, and as writers.
So this Thanksgiving, while you're chowing down and taking stock, spend a minute or two considering the book that has made the deepest impact on your life – and while you're at, add some of these amazing reads to your holiday shopping list. You won't regret it.
1. Sabaa Tahir, author of A Torch Against The Night, is grateful for...
Between the World And Me, by Ta-Nahesi Coates
"I read Ta-Nahesi Coates' Between the World and Me a few months after it came out, in 2015. I finished it in a day, then reread it more slowly. As I read it I found myself raging, nodding, crying, agreeing. It was as if someone had taken all the things I'd been afraid to think, and finally had the courage to say them openly and out loud. I cannot summarize the book effectively, other than to say that it's an open letter that Coates writes to his son about what it means to be black in America, both in the past and in modern times. Every single American, no matter their race, should read it. It is harsh and scary and tragic, but most of all, it is true."
2. Kim Liggett, author of The Last Harvest, is grateful for...
The Handmaid's Tale, by Margaret Atwood
"I can't even count the number of times I've read this book, and if you're an audiobook person, there's a great narration by Claire Danes. I've come to understand this book in layers — every time I read it, I get something different.
Yes, it's about feminism, but it's also a profound story of friendship, love, loss, and above all, survival. With the recent election, I believe the message is more important than ever. God bless, Margaret Atwood. This book changed the way I see the world... the way I see myself."
3. Gretchen McNeil, author of I'm Not Your Manic Pixie Dream Girl, is grateful for...
Anne of Green Gables, by L. M. Montgomery
"I was a weird kid. I was a singer, a dancer, an extrovert, a performer. I was an only child of a single parent, which meant I spent a lot of time alone. Reading, imagining, feeling all the feels and wanting to share them with anyone who would listen. The other kids at school knew I was weird. And trust me, they let me know it.
Then when I was eight, my mom handed me a book about a redheaded orphan girl with a wild imagination and fierce intelligence. Highly competitive, headstrong, always in trouble, and with so much love to give it literally ached inside of her, Anne Shirley wasn't like other heroines. She was flawed and perfect at the same time. She had huge dreams, and the courage to go after them."
4. Stephanie Tromly, author of Trouble Makes a Comeback, is grateful for...
A Moveable Feast, by Ernest Hemingway
"I was raised Catholic and just as we're taught that there's a perfect saint to pray to for every problem, I have a range of go-to books for my various troubles. Fight with my parents? Woolf's To the Lighthouse. The world is corrupt and I can't deal? Chandler's The Big Sleep.
Recently, though, I've been wrestling with work and for that, I turn to Hemingway's A Moveable Feast. It's nominally a memoir about being young in Paris but it's full of great advice on how to apply discipline to something as out-of-control as creative writing. I particularly love how he'd dealt with getting stuck and the panic that brought on.
Whenever he didn't know what to write, Hemingway would tell himself, 'Do not worry. You have always written before and you will write now. All you have to do it write one true sentence. Write the truest sentence that you know.' This seems like a pretty obvious first step to take but I can't think clearly when I'm thrashing around in panic so I say, Thank you, Hemingway."
5. Barry Lyga, author of I Hunt Killers, is grateful for...
Born to Run, by Bruce Springsteen
"Picking one book from a lifetime of them seems an insurmountable task, but fortunately, I recently finished a book that had an enormous impact on me. The book I am most thankful for is Born to Run, by Bruce Springsteen. When I was a kid desperate to escape his small town, his school, his upbringing, Bruce's music formed the downbeat and upbeat anthems of my childhood, a yin-yang of heart-wide-open optimism and eyes-wide-open realism. More than that, though, his storytelling skills imbued me with a desire to write more and better, to tell bigger, grander tales with true depth. I wanted to be a writer long before I discovered Bruce — he made me want to be a great writer.
And his memoir, which could have been a hacked-out, ghostwritten opportunity to wallow in his own success, takes a scalpel (and, at times, a hatchet) to his own legacy and his own soul, laying himself bare in ways he resisted artistically for his entire career.
It is a balm for an artist's soul, as well as a welcome and much-needed vaccine against an epidemic of toxic masculinity. It is a guide for me as a writer, an artist, a father, a husband, a man, an American, and — most important of all — a human being. In short, it gives me hope and shows me where to find more of it."
6. Jenn Marie Thorne, author of The Inside of Out, is grateful for...
Jane Eyre, by Charlotte Brontë
"A gothic romance culminating in the line, 'Reader, I married him,' might not be the first novel you think of when referencing feminist literature, but Jane Eyre will always be the strong female protagonist of my heart. Weathering the cruelest of fates — cast aside by family, abused, left alone by the death of her sole friend, left heartbroken by a twist of romantic fate — Jane gets back up again. She reinvents herself over and over but never loses the iron core within herself, remaining throughout a young woman who knows her own mind and heart and who will not bend for anyone. There have been plenty of moments in my own life in which I've found myself donning a new identity — moving to the city for college, changing coasts and careers in my twenties, becoming a somewhat hapless new mother. But whenever I've felt I'm losing myself, Jane has always been there to remind me who I am: 'A free human being with an independent will.' For that, I am very thankful."
7. Marie Rutkoski, author of the Winner's Curse trilogy, is grateful for...
Bridge to Terabithia, by Katherine Paterson
"Bridge to Terabithia was the first book to break my heart. Maybe it seems strange to be thankful for that. But Bridge to Terabithia is also beautiful. Its prose is simple and limpid. Its story is one of courage and kindness. Jess, a boy who longs to be the fastest runner in fifth grade, meets a girl who has just moved to their hardscrabble town. Leslie is different: she dresses differently, talks differently....and beats all the boys who don't want to let her run in the fifth grade race. And Jess and Leslie become best friends. He is her friend even when it is hard.
Now more than ever, I am thankful for books that remind us to be true to our best selves. Be true to your friends. Be brave."
8. Erin Summerhill, author of Ever the Hunted, is grateful for...
The King of Attolia, by Megan Whalen Turner
"I'm most thankful for the author, Megan Whalen Turner, and her genius that is The Thief series. In a time when I was struggling to write, and needed inspiration, I came across the third book in the Thief series: The King of Attolia.
Ironically, I almost didn't read it because I saw it was the third book in a series, and I hadn't read it's two predecessors. But the premise seemed interesting, I was feeling too lazy to read the first two, and I was up for a steep learning curve into a new world.
I had been on a fantasy book binge, and everything on the library shelves was starting to stale. I needed something new. Something thought-provoking. Something that would inspire my own writing.
The King of Attolia did that for me. Whalen crafted an unforgettable cast of characters that were pawns to an unreliable narrator. Not only was the story clever and consuming, it kicked me square in the emotions. Whenever I need writing inspiration, I pull open the masterpiece that is The King of Attolia."
9. Stacey Lee, author of The Secret of a Heart Note, is grateful for...
The Book Thief, by Markus Zusak
"I keep this book on my desk not only to inspire me with its powerful and lyrical prose, but because it helps me grapple with the complexities of human nature. The narrator is Death, a strangely compassionate figure who struggles to understand the humans he takes, and whose greatest teacher is an unwitting child in Nazi-occupied Germany.
'I wanted to tell the book thief many things, about beauty and brutality. But what could I tell her about those things that she didn't already know? I wanted to explain that I am constantly overestimating and underestimating the human race—that rarely do I ever simply estimate it. I wanted to ask her how the same thing could be so ugly and so glorious, and its words and stories so damning and brilliant.
None of those things, however, came out of my mouth.
All I was able to do was turn to Liesel Meminger and tell her the only truth I truly know. I said it to the book thief and I say it now to you. I am haunted by humans.'
As a writer, it is my job to explain the human condition through story, though like Death, I don't always understand it myself. The best I can do is struggle with it, in all of its terrifying beauty, and hope for a bit of truth along the way."
9. Gayle Forman, author of If I Stay and Leave Me, is grateful for...
The Warmth of Other Suns, by Isabel Wilkerson
"Right now I'm thankful for two books, Between The World and Me by Ta-Nehisi Coates, which I read last summer, and The Warmth of Other Suns, by Isabel Wilkerson, which I'm reading now.
Both of these books make me feel deeply uneasy. Both of these books reveal experiences/truths I have never known before. Both of these books help me see current events in a historical perspective. And not just race but economic forces that have always shaped the country. Both books make me feel hopeless and both make me feel hopeful if only because they provide a clearer understanding of how we got here, which is the necessary precursor to figuring out how we inch toward where we need to go."
11. Dahlia Adler, author of Out On Good Behavior, is grateful for...
Outrun the Moon, by Stacey Lee
"There's such an amazing collection of Middle Grade and Young Adult novels available for tweens and teens now, but as any author in their *mumbles* knows, we didn't have quite as awesome a collection of books that felt like they were for us, especially since they never seemed to be set in the now. I clung desperately to the ones with main characters close to my age, and A Tree Grows in Brooklyn by Betty Smith was a particular favorite.
Now, as an adult, I read all the things I know I would've loved as a kid, but I realize there was a special magic to reading those classic-feeling historical novels that I took for granted. And I realize this because this year I Outrun the Moon by Stacey Lee, and never since the rise of modern YA has a book transported me to the reading experience of my teens like this fabulous one about an ambitious, business-minded Chinese American girl who pushes her way into an all-white boarding school, only to have the 1906 San Francisco earthquake tear her new life apart.
Lee had already easily become one of my favorite authors to watch after her incredible 19th-century Western YA debut, but in Mercy Wong, she gave me a fiery teen heroine who reminded me of the characters that inspired me as a child. She gave me a reading experience with her sophomore novel that took me back to ones I thought I'd never have again, ones I didn't even realize I missed. And she made it better by giving me an entirely different worldview than the ones I got from books with all-too-frequently all-white casts. So I am extremely thankful for Outrun the Moon by Stacey Lee, and I can't wait until it's considered a classic in its own right."
Images: SammyReadsBooks/Instagram