11 Books To Be Thankful For This Year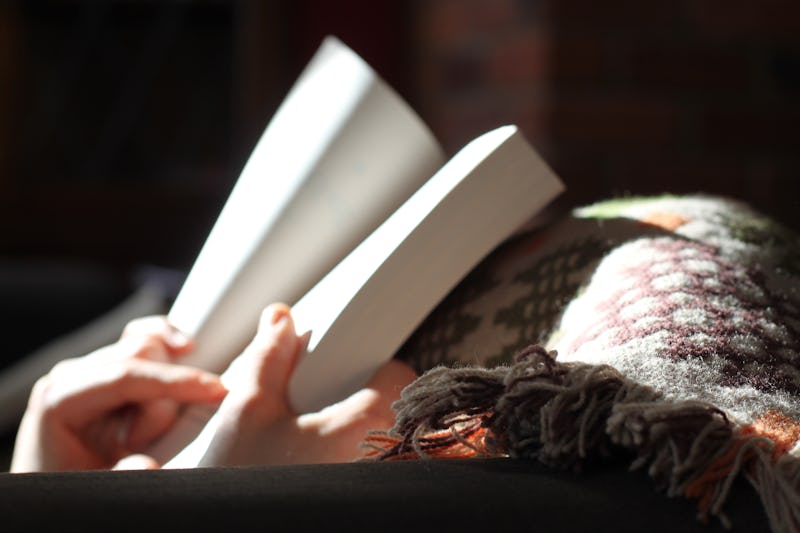 There's good reason that the practice of celebrating gratitude is so necessary these days. Given the world we live in, where our lives can feel both invisible and on-display, our voices trampled over and yet sometimes totally grating, a just-for-you thankfulness inventory can help you stay optimistic, grounded, and just aware. And gratitude has a lot of perks, especially on the cerebral level. Being thankful affects your brain, hitting up your reward center and mediating anxiety, quelling depression and charging up your hypothalamus, not to mention helping you handle stress and get better ZZZs.
Despite all this, personally, I'm always a little cynical about gratitude. I feel like I overthink the whole thing. Should I really be grateful for, say, oh, I don't know, the ice cream in my fridge? Doesn't that just make me a sugar addict with shallow priorities? Frankly, I have a tough time not judging the things I'm grateful for, and that just throws me down a narcissistic loop.
All right, so there's my baggage. Fortunately, I've figured out something all of us can be wholly, unapologetically grateful for: books. And especially books that tell stories that need to be told and books by writers we sycophantically adore (doesn't everyone girl-crush on Zadie?). These 11 fit the bill.
1. Moonglow by Michael Chabon
Michael Chabon, who won a Pulitzer Prize in 2000 for The Amazing Adventures of Kavalier & Clay, is back with what he calls a "faux-memoir," that is dizzyingly, gorgeously personal and marked by his signature coruscating prose.
2. Swing Time by Zadie Smith
Smith's first foray into first-person is the story of two friends, both dancers. Who isn't thankful for her take on the politics of girlhood?
3. Lincoln In The Bardo by George Saunders
Even though it doesn't come out until February, Lincoln in the Bardo is in any George Saunders fan's gratitude journal. After all, it's the master fiction writer's first novel.
4. Today Will Be Different by Maria Semple
It's pretty much impossible to read Maria Semple without wanting to give the author a fist-bump. She holds up the coolest, cruelest mirror to today's farm-to-tech society.
5. The Terranauts by T.C. Boyle
With parallels to the experiment that was Biosphere II, Boyle's latest, The Terranauts, takes a group of people and sets them to form a micro-civilization inside a self-sustaining dome. If you're a fan of Ray Bradbury, you'll be thankful for this book.
6. The Watermark by Alice Anderson
Get ready for Alice Anderson's memoir, Some Bright Morning, I'll Fly Away, which is garnering comparisons to The Liar's Club, with her latest volume of poetry, that's both shattering and empowering.
7. The Risen by Ron Rash
No one writes the South like Ron Rash, and in The Risen, which has a cover you'll be displaying face out on your bookshelf, is filled with hauntings, history, and an otherworldly eroticism.
8. Shirley Jackson: A Rather Haunted Life by Ruth Franklin
A good biography of a writer is worth... well, a lot. Motivating and engrossing and bound to inspire you to reread "The Lottery," Ruth Franklin's Shirley Jackson: A Rather Haunted Life is a fascinating investigation of the one of the twentieth century's greats.
9. The Crown Ain't Worth Much by Hanif Willis-Abdurraqib
Willis-Abdurraqib is a poet to watch. In The Crown Ain't Worth Much, his dexterity with form and music is on full display. Get a feel for his work here.
10. Walk Through Walls: A Memoir by Marina Abramović
The Observer calls the performance artist's memoir "rawly intimate and weirdly mesmeric memoir." You're going to want to clear out a weekend for this one, which will have you thinking about creation, process, practice, and everything in between.
11. Another Day In The Death Of America: A Chronicle Of Ten Short Lives by Gary Younge
With a chapter devoted to each killing that occurred between November 23 and November 24 in 2010, Another Day in the Death of America is going to change the way you process the news — and that, readers, is something to be grateful for. As Jennifer Senior writes in The New York Times , "It is exactingly argued, fluidly written and extremely upsetting. This is your country on guns."
Images: Alice Hampson/Unsplash