7 Cookbooks That Will Help You Host An Unconventi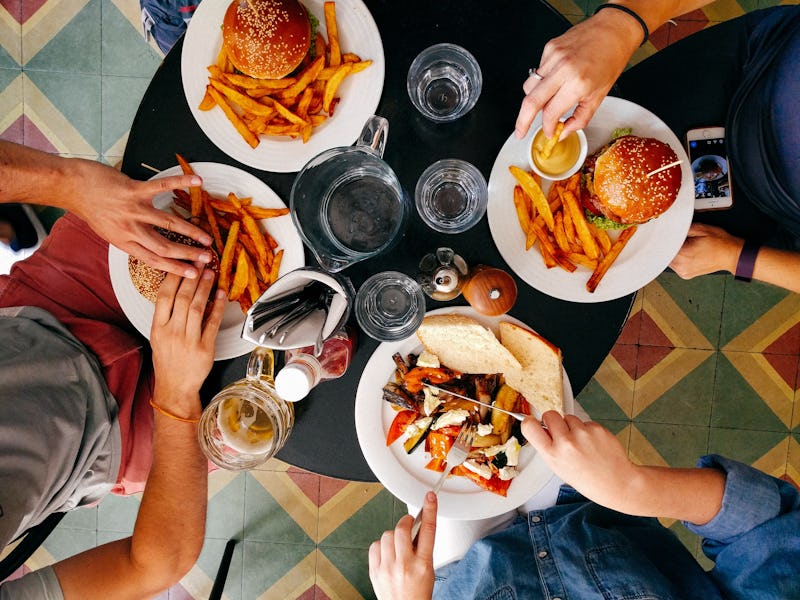 There's no two ways about it: Celebrating Friendsgiving is the best recent holiday invention. Think about it: none of the squabbling of traditional Thanksgiving meals, none of those relatives you'd rather not see — let alone share a big meal with. Friendsgiving is the best because our friends are the people in our lives who, hopefully, appreciate us for our unique qualities, the quirks and particularities that make us ... well, us — and not just a part of a larger clan.
If you're celebrating Friendsgiving this year, you probably know you're in for an eclectic menu. Personally, I think that's something to celebrate. I mean, think of all those staples at family Thanksgivings. Who actually likes the boiled Brussels sprouts? No one, but they're there, year after year, taking up valuable room at the table. With Friendsgiving, all bets are off. Yes, your friends' Thanksgiving traditions look like may be totally different than your own, but there's also the fact that at Friendsgiving, no one feels that same obligation to eat the same-old turkey-stuffing standby. In other words, it's the perfect time to innovate.
Want to take your Friendsgiving to the next level with some truly mind-blowing cuisine? Be grateful for these 7 cookbooks.
1. Oh She Glows Everyday: Simply Satisfying Plant-Based Recipes To Keep You Glowing From The Inside Out by Angela Liddon
A good vegetarian entree is a must at any Friendsgiving, and the options in Angela Liddon's highly anticipated follow-up to her Oh She Glows Cookbook are perfect--impressive without being intimidating (because we all know the point of Friendsgiving is relaxing with your squad and not stressing in the kitchen). "Comforting Red Lentil and Chickpea Curry" sounds yum.
2. Appetites: A Cookbook by Anthony Bourdain
Bourdain describes himself, these days, as having "morphed into a psychotic, anally retentive, bad-tempered Ina Garten." In Appetites, you'll find an entire Thanksgiving section. Try the "Mashed Potatoes, Kind of Robuchon Style" if you want to change the potato game forever.
3. Damn Delicious: 100 Super Easy, Super Fast Recipes by Chungah Rhee
Blogger Chungah Rhee's first cookbook may contain only 100 recipes — but, boy, is it exhaustive! Everything from "Kahlúa Hot Chocolate" to "Garlic-Parmesan Roasted Broccoli" sounds crowd-pleasing.
4. The Red Rooster Cookbook: The Story of Food and Hustle in Harlem by Marcus Samuelson
Samuelsson is one of my favorite chef writers (check out Yes, Chef or the James Beard Award-winning Soul of a New Cuisine), and the essays in his latest book are as delectable as his recipes. Like Bourdain's book, Samuelsson's also features a Thanksgiving section. You know you've got friends who'll go gaga for "Squash Salad with Crunchy Quinoa and Pumpkin Seed Vinaigrette."
5. Danielle Walker's Against All Grain Celebrations: A Year of Gluten-Free, Dairy-Free, and Paleo Recipes for Every Occasion by Danielle Walker
Even your most bread-head friends won't miss the gluten in Walker's "Herb Drop Biscuits," part of her gluten-free, dairy-free, and paleo Thanksgiving menu.
6. The Adventures of Fat Rice: Recipes from the Chicago Restaurant Inspired by Macau by Abraham Conlon, Adrienne Lo, and Hugh Amano
Your cartoon-loving chums will love this book's stunning illustrations. A celebration of the Macau cuisine (that's Malaysian, Portuguese, and American) and ingredients like tamarind, burdock, and salt cod, The Adventures of Fat Rice also features a stellar "Sweet Potato Batatada"— what author Abraham Conlon compares to "a poundcake crossed with a pumpkin pie."
7. Thug Kitchen 101: Fast as F*ck by Thug Kitchen
Because you probably don't wanna bring this one out around Grandma (unless she's way chill). The "Creamy Squash Mac and Cheese with Hot Sauce Bread Crumbs" is about to become your new secret weapon.
Images: Dan Gold/Unsplash