Netflix's '3%' Features Brazil's Up-And-Comers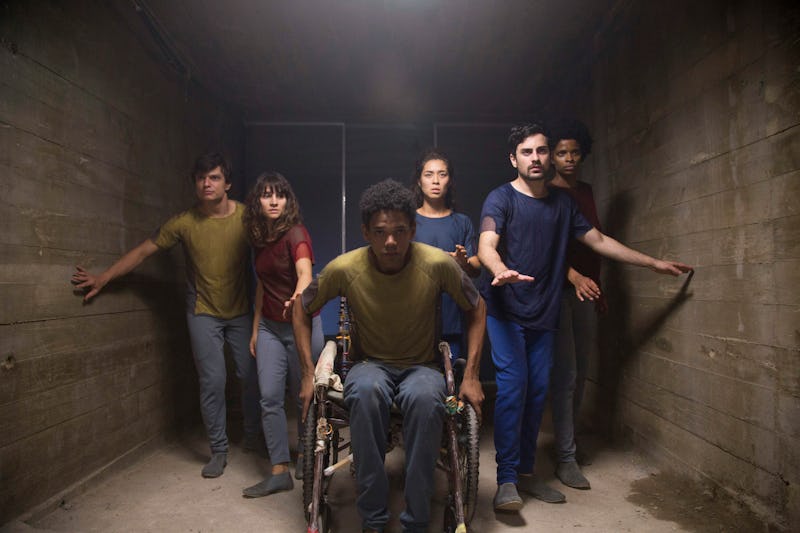 Netflix has long been a champion of international programming — allowing users to be exposed to foreign television that they may otherwise never get the chance to see. While the language barrier may have prevented it from finding a home on traditional network television, the Brazilian sci-fi series 3% fits with the rest of Netflix's vast output. While the streaming site has showcased little-known actors before, Americans will likely not recognize many of the Brazilian performers that make up the cast of 3%. But, now that the stars are making their American-television debut through Netflix, their faces might become a bit more familiar.
The story of 3% may be set in Brazil, but it's a relatable vision to anyone familiar with dystopian fiction. It tells the tale of five ambitious young adults with the same goal — to become one of the three percent of citizens that get to escape their unfortunate life and be sent to "The Offshore." These five are put through a series of trials – competing against each other for the coveted few spots that mark the difference between living in a perfect world or going back to their old lives. The stars that make up the five competitors will be delivering the performances of their lives as their characters are dragged through the mud and back for the chance at a better life. Here's who you'll see when you tune in.
Bianca Comparato As Michele
Michele is described by Variety as "a young idealistic girl candidate that [has a] hidden agenda." One of the five main competitors followed throughout 3%, Michele is played by Biana Comparato who is most known for her starring role as Ana on MTV Brazil's A Menina Sem Qualidades.
Michel Gomes As Fernando
Michel Gomes plays Fernando, a wheelchair-bound competitor who believes that if he passes the trials required to get to The Offshore, that the doctors there will be able to make him walk. His faith, however, will get tested as the trials continue and as others attempt to tell him that he doesn't stand a chance.
Rafael Lozano As Marco
Marco is "a natural-born leader, but turns nasty if his leadership is questioned." Marco is played by Rafael Losango, a rising talent in Brazil who could make a major splash with his performance in 3%.
Veneza Oliveira As Joana
Competitor Joana believes in the "survival of the fittest," and relentlessly works to ensure her ticket to The Offshore. Joana is played by Veneza Oliveira, another newcomer who finds herself on an international stage thanks to 3%'s distribution via Netflix.
Rodolfo Valente As Rafael
While all the other competitors are trying their best to play by the rules to get through, Rafael is willing to lie, cheat, and steal his way to salvation. The role of the conniving Rafael is played by Rodolfo Valente, who has appeared in a variety of Brazilian television series before, but never a show released on the same scale as 3%.
This show is a Brazilian story through and through, but that doesn't mean that the message of the characters' struggles won't be relatable to any of Netflix's wide viewing audience. Combining Brazilian acting veterans with new, exciting talent is sure to make 3% a must-watch for anyone interested in dystopian fiction. All eight episodes of Season 1 of 3% debut on Nov. 25, and you won't want to miss it.
Images: Pedro Saad (6) /Netflix