Rory & Lorelai Have A Very Important PSA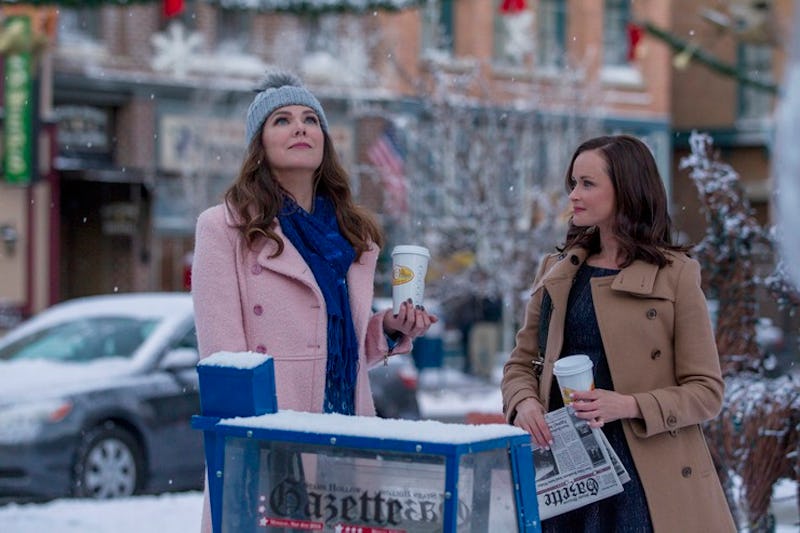 Fans are literally one glorious week away from marathoning the Gilmore Girls revival on Netflix, and the anticipation is at a fever pitch. Who will Rory's endgame romantic match be? Are Luke and Lorelai going to survive their marital rough patch? What big life changes will Emily make in the wake of Richard's passing? How will the many stories of Stars Hollow finally finish? So many questions, so little time. But whatever the four final words of the series end up being — and if you trust creator Amy Sherman-Palladino, the final four words are going to be major — the Gilmore girls are imploring you to not tell your friends what they are.
The latest post on the Gilmore Girls Instagram is a firm but loving PSA from none other than Rory and Lorelai, asking you to take a pledge to not spill the beans on the final four words. I'm in agreement with these queens and you should be, too. Seriously, you guys: Don't tell anyone the final four words. As Lorelai puts it: "You may want to shout them from the rooftops as the sun rises, calling an end to your shameless binge-watching. But don't do it." Aptly put, Lorelei. Very aptly put.
First of all, spoilers are fun. Don't get me wrong. I love a good spoiler, fan theory, and even a good, strong plot twist. But in a revival of this magnitude, on a show this seminal to so many people's lives, shouting out those last four words is just bad, bad form. Why rain on everyone's parade? Especially if you get to watch all of Gilmore Girls, while your friends — some of whom may be too turkey-stuffed from Thanksgiving or scooping up Black Friday deals — are unable to indulge when it drops on Netflix. C'mon now.
And with that, it's time to get hyped once again, because yes, I need to remind you that there are only seven days before we can take a trip to Stars Hollow, Connecticut once more. Copper. Boom.
Image: Saeed Adyani/Netflix