Lancome's Custom Foundation Is Total Perfection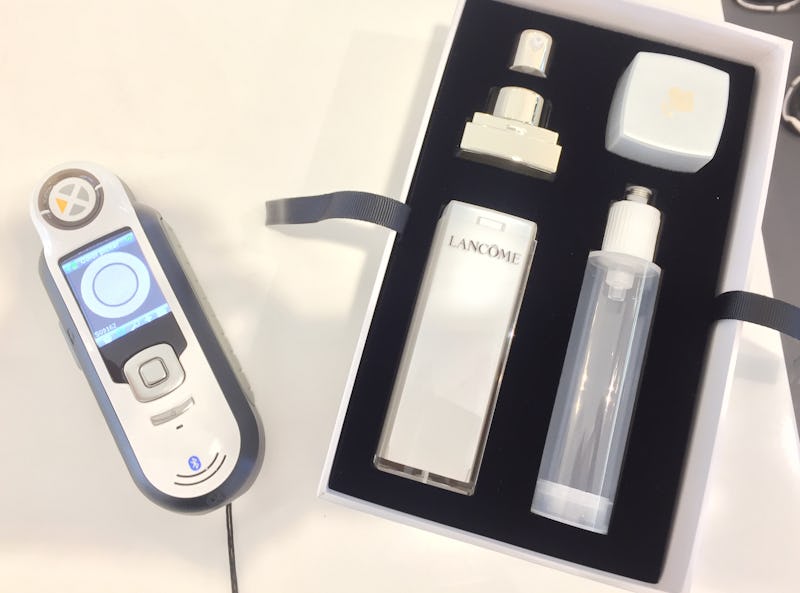 In a world of talking robots and driverless cars, it was only a matter of time that science would use its powers for an even greater good and give us the gift of custom foundation. I know that sounds dramatic, but beauty junkies understand just how difficult it really is to find that perfect shade. Thankfully, Lancome's Le Teint Particulier Custom Foundation is here to solve all of our mismatching woes. Never again will you have to walk out of the house wondering if your face is too light or spend hours trying to create your own blend at home.
So how does it work exactly? Science geeks, prepare to be wowed — this is as high tech as makeup gets. First, you'll get your skin scanned on a few places of your face with a tiny gadget that looks a lot like a small remote. It'll use an algorithm to measure your skin tone as accurately as possible. It'll then create a report that'll tell you a handful of things about your skin that you may not have known already, like whether you're cool or warm-toned, and just how much yellow or red is in your skin. You'll then determine how moisturizing you want the formula to be and whether you want sheer, medium, or full coverage.
Once that's all set, it'll create a custom Complexion ID for you (so you can refill your bottle easily once you run out).
The real wizardry happens next. Your Lancome adviser will send your custom information to an all-glass machine that's equipped with eight peristaltic heart pumps for a blending and dispensing process that's totally airtight. I watched the machine as it dispensed a few pumps of yellow, a pump of red, some moisturizer, and a couple other good-for-your-skin foundation ingredients.
Next, the bottle is placed in another machine that shakes up your formula until it's completely blended to perfection.
After a few minutes, the customized foundation was ready! Now, it was time to test the results. I applied the foundation using my fingers, which the Lancome adviser suggested. Since the formula is meant to be hydrating and go on "like skin," it absorbs pretty quickly into your face. For this reason, brushes and beauty sponges are not necessary for application.
I walked over to the window to see how it looked in direct sunlight and found that I was really impressed with how accurately the foundation matched my skin. Not only was the color perfect, the formula was also so sheer and blendable that it looked like my own skin — a double win. It also felt really lightweight and hydrating, which are two things that I always look for in face makeup products.
The foundation is perfect for those who are looking for a reliable, everyday foundation that's not too heavy and is also super moisturizing. While it is buildable and you can choose full coverage, this is not your night-out-on-the-town, super glam foundation. It's meant to enhance and emulate your skin — not cover it up.
Lancome's Le Teint Particulier Custom Made Makeup comes in a 0.7 oz. bottle and retails for $80. While it's a steep price for foundation, it does save you the trouble of having to buy multiple bottles of face makeup to create your own blend at home. Plus, it's a really cool experience that I highly suggest makeup lovers see for themselves.
For now, the foundation is only offered at the following Nordstrom locations across the country:
Nordstrom Del Amo – Torrence, CA
Nordstrom Downtown Seattle – Seattle, WA
Nordstrom The Shoppes at Mission Viejo – Mission Viejo, CA
Nordstrom The Village at Corte Madera – Corte Madera, CA
Nordstrom South Coast Plaza – Costa Mesa, CA
Nordstrom Valley Fair – San Jose, CA
Nordstrom International Plaza – Tampa, FL
Nordstrom Michigan Avenue – Chicago, IL
Nordstrom Oakbrook Center – Oak Brook, IL
Nordstrom Tysons Corner Center – McLean, VA
Nordstrom Southcenter – Tukwila, WA
To learn more about Lancome's Le Teint Particulier Custom Foundation or to see what other products they have, check out their website here.
Images: Sara Tan