These Are The Heels You Need For NYE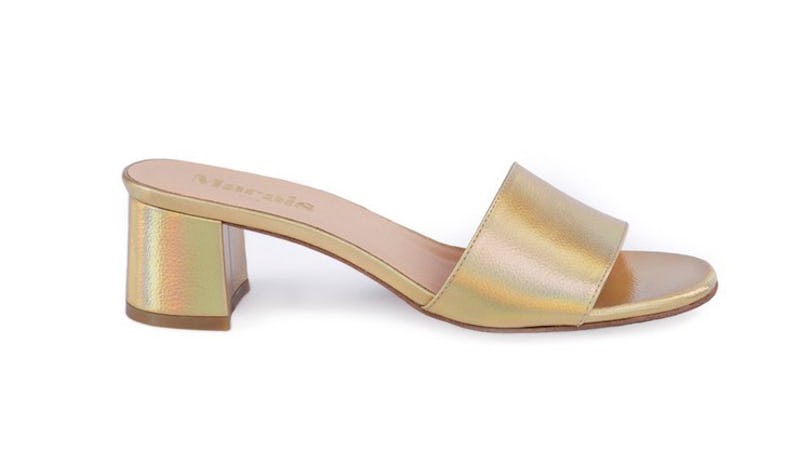 Just like that, the end of the year is upon us. Time flies when you're slaying 2016, I guess! While I could go on and on being sentimental about 2016, with the New Year comes New Year's Eve, and with New Year's Eve come parties and social gatherings like no other, which means you're going to need a comfortable pair of heels to get you through the night (and day!)
I don't know about you, but I have definitely spent one too many New Year's Eves dressing for style rather than comfort — which, to my dismay, has never been a good decision. From making the rounds at a party to trekking through the snow and ice, if there's one thing you should do on NYE, it's wear sensible shoes. I'm not saying you have to wear snow boots, but who said you can't be smart and stylish?
So in the event that you have a party (or a few!) coming up as this year comes to an end, I've rounded up some of the perfect shoes that'll keep you comfortable while maintaining your NYE fashion throughout the entire night, no matter what kind of event you're going to. Your feet will thank you.
Madewell Lainy Sandal, $158, M adewell
Nothing says "Hello New Year" like these shiny gold sandals.
FP Collection Flash Dance Heel, $100, Free People
You'll want to dance the night away in these shoes, and you'll be able to.
Topshop Royal Glitter Sandals, $92, Top Shop
If these don't say "PARTY," I don't know what does.
H&M Slip-on Shoes, $18, H&M
Slip these on and off when you're going to house parties.
Jeffrey Campbell Candice Platform Heel, $100, Urban Outfitters
Funky fresh ta death.
Aldo Falia Leather Block Mid Heeled Shoes, $91, Asos
These mid-heel shoes will keep your look
Forever 21 Faux Suede Wedge Sandals, $20, Forever 21
With this wedged platform, you don't be on your toes all night.
Steve Madden Patina Bootie in Taupe Nubuck, $65, Steve Madden
Now these boots were made for walking.
Converse Holiday Party Hi Top Chucks, $80, Free People
If you're going to wear sneakers to a party, they might as well have sequins.
Daisy Street Black Heeled Over The Knee Boots, $41, Asos
Pair these boots with a party dress or a skirt.
Forever 21 Pointed Metallic Flats, $25, Forever 21
These flats were meant for parties.
J. Crew Ankle Wrap Heels in Suede, $150, J. Crew
Low heel, ankle straps — could you ask for any more?
Adidas Original Superstar, $76, Foot Locker
Take athleisure into 2017. It's not going anywhere.
Marais USA Classic Mule in Gold, $225, Marais
Comfortable, shiny, gold. All you need!
Eliza Flat in Electric Purple Velvet, $169, Intentionally Blank
Flat shoes and velvet will keep you on trend and going all night long.
Images: Courtesy of brands