The Best Thanksgiving Potluck Recipe Ideas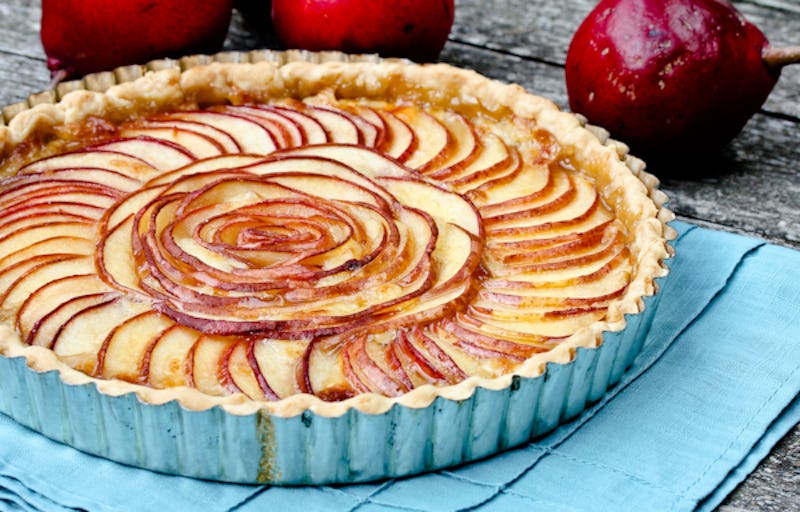 Planning on attending a Thanksgiving potluck this Nov. 24 and in dire need of a few potluck-appropriate recipes? Good news: Below, you'll find 13 potluck recipe ideas perfect for Thanksgiving that have got you covered. These recipes all work well for large gatherings, either for being served as "finger foods" or easy-to-scoop dishes. Potlucks are all about sharing, so there's no point in bringing a dish unless everybody is going to get to try it.
These recipes cover all of the basics, from veggies and stuffings to casseroles and desserts. I also think it's fairly safe too say that if you choose to bring one of these dishes to your Thanksgiving Day potluck, you won't run into any duplicates. Unique, delicious, and ideal for large groups, you can't go wrong with any one of these 13 recipes.
Thanksgiving only rolls around once a year, so take advantage of the holiday and go above and beyond with your cooking this year. Don't you secretly want to be the one everyone's complimenting at the end of the potluck dinner? If so, then these 13 recipes will make that dream come true for you. Make one, make two, make as many as your heart desires... just make sure you don't devour it all before you show up at your potluck.
1. Roasted Parsnips + Carrots With Bacon Vinaigrette
Bring some exciting veggies to the Thanksgiving table this year with A Better Happier St. Sebastian's recipe for Roasted Parsnips + Carrots with Bacon Vinaigrette. (And carrots are so affordable too!).
2. Pancetta And Sage Stuffing Muffins
These bite-sized Pancetta and Sage Stuffing Muffins by A Cozy Kitchen are perfect for a potluck, and you can make them without a turkey!
3. Green Bean Casserole With Back And Fried Shallots
You can't have Thanksgiving without a green bean casserole, and this Green Bean Casserole with Bacon and Fried Shallots from A Farmgirl's Dabbles hits it out of the park!
4. Sweet Potato Casserole
No Turkey Day is complete with out the Sweet Potato Casserole. This stellar recipe comes from A Pretty Life in the Suburbs.
5. Brie And Pear Tart
Want to impress everybody at this year's potluck? Make this Brie and Pear Tart by A Spicy Perspective.
6. Pumpkin Cornbread Stuffing With Bacon & Dates
You can never have too many stuffings at a Thanksgiving potluck, which is why Adventures in Cooking's Pumpkin Cornbread Stuffing with Bacon & Dates is an ideal contribution to make to the table.
7. Mini Vegan Pumpkin And Pistachio Pies
Pistachio crust and pumpkin filling? I know I'm sold on these Mini Vegan Pumpkin and Pistachio Pies from Apron and Sneakers.
8. Avocado Caprese Salad
Somebody's got to bring the salad, and if that person is you, this Avocado Caprese Salad by Wholefully will be just as impressive as everything else on the table.
9. Buffalo Cauliflower Gratin
Who needs potatoes au gratin when you can have Buffalo Cauliflower Gratin? This recipe from Big Girls Small Kitchen is as yummy as it looks.
10. Boiled And Broiled Brussels Sprouts
Branny Boils Over's recipe for Boiled and Broiled Brussels Sprouts coats the leafy green veggie with breadcrumbs. Brilliant!
11. Ginger Sweet Potato Soup With Toasted Curry Croutons
Nothing warms a body up quite like a bowl of soup. This Ginger Sweet Potato Soup with Toasted Curry Croutons recipe by Climbing Grier Mountain will go quickly at any potluck!
12. Pumpkin Butter Tarts With Pepitas And Cranberries
These Pumpkin Butter Tarts with Pepitas and Cranberries combine two of Thanksgiving's most beloved ingredients: pumpkins and cranberries. Genius, Closet Cooking!
13. Blue Cheese Stuffed Turkey Meatballs With Raspberry Balsamic Glaze
Finger foods are always the way to go with potluck dinners, so if you're going to bring these Blue Cheese Stuffed Turkey Meatballs with Raspberry Balsamic Glaze by Cooking For Keeps, make sure you bring some toothpicks as well.
Images: A Spicy Perspective; A Better Happier St. Sebastian; A Cozy Kitchen; A Farmgirl's Dabbles; A Pretty Life In The Suburbs; Adventures In Cooking; Apron and Sneakers; Wholefully; Big Girls Small Kitchen; Branny Boils Over; Climbing Grier Mountain; Closet Cooking; Cooking For Keeps