Kristen Wiig's 'SNL' Song Gets Factchecked
Former Saturday Night Live cast member Kristen Wiig returns to host the NBC series that helped launch her career as a movie star on Nov. 19. She began her second go-around as host of the show with — what else? — a song about next week's upcoming holiday. Kristen Wiig's SNL monologue song about Thanksgiving took viewers through supposed famous Thanksgivings throughout the years — and then former SNL cast members Steve Martin and Will Forte stopped by to check Wiig's facts.
Wiig opened her monologue by confessing how much she loves Thanksgiving — "I'm a real turkeyhead," she says — and with some indecision about which instrument to use for her Thanksgiving song. "Thanksgiving is the most magical Thursday of the year," Wiig says, before taking the audience on a lyrical journey of the first Thanksgiving, which she claims occured in Ancient Egypt. Wait, what? It's no the first of Wiig's facts about the holiday to be bizarre and wrong.
Her song claims that the first Thanksgiving included Native Americans, the Pilgrims, Ben Franklin, Paul Revere, and the Vikings, who declare "If we don't eat the turkey, then it's going to eat us." The next holiday, according to Wiig, happens in 1492 with Columbus, Napoleon, Nina, Pinta, Santa (yep, that Santa), Maria, and aliens.
At this point, Martin and Forte intervene with a lesson about facts. "You haven't gotten one fact correct," Martin tells Wiig. "You have to get the facts correct, or you're going to end up like..."
"Fake news?" Wiig asks.
"No. Something else," Martin says, but it's still a good lesson about the current news climate. But once that was covered, Martin and Forte joined Wiig for one last fabricated and fun Thanksgiving story, which takes place in 1969 and includes a high turkey, FDR, and Betsy Ross.
Wiig then declares, "Thanksgiving never really happened, it was in our hearts all along." And then an audience member's head explodes.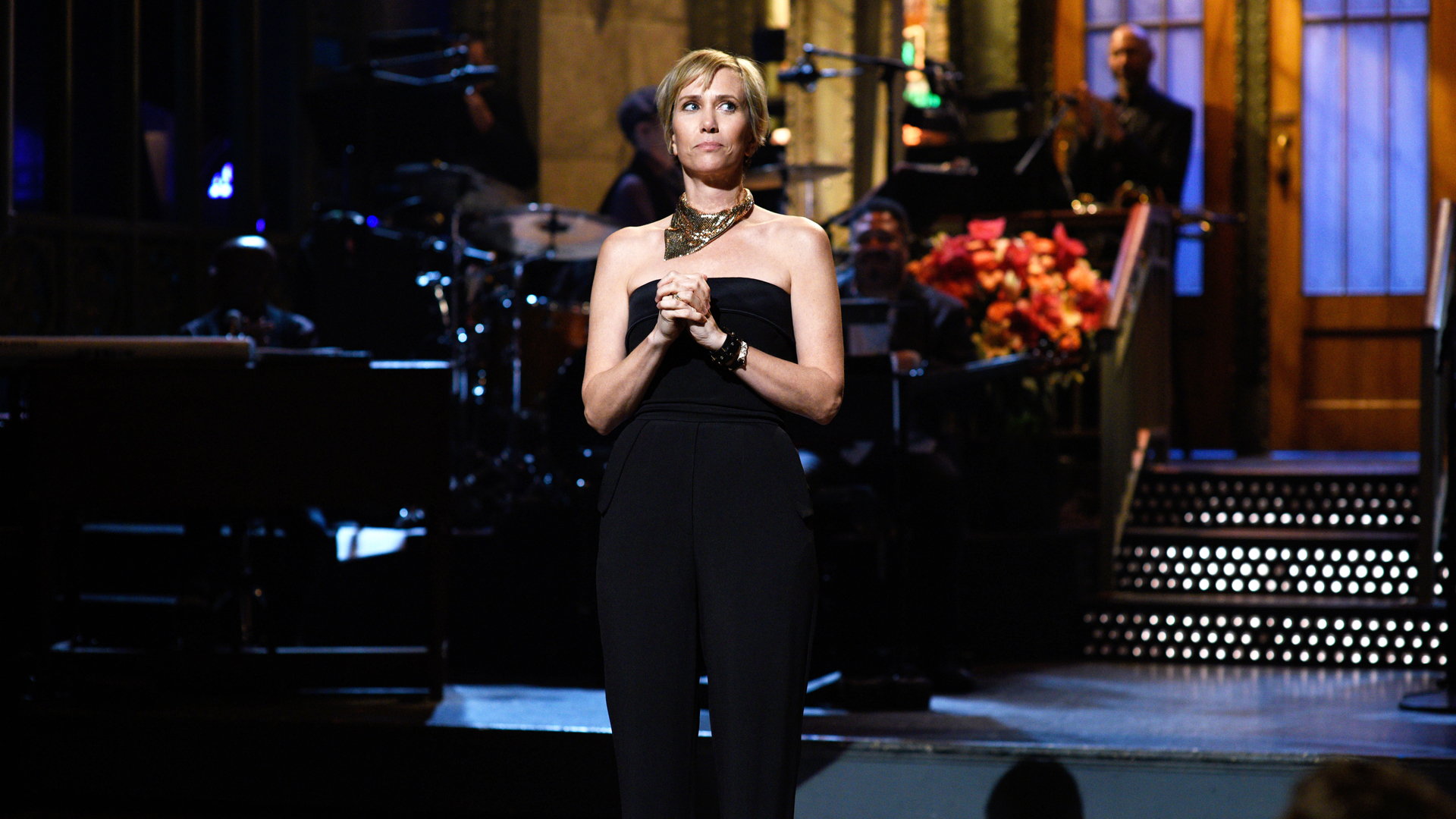 She has achieved much success on the big screen, but Wiig has been able to slip back into SNL without missing a beat.
Image: Giphy