'3%' Is Just One Amazing Foreign-Language TV Show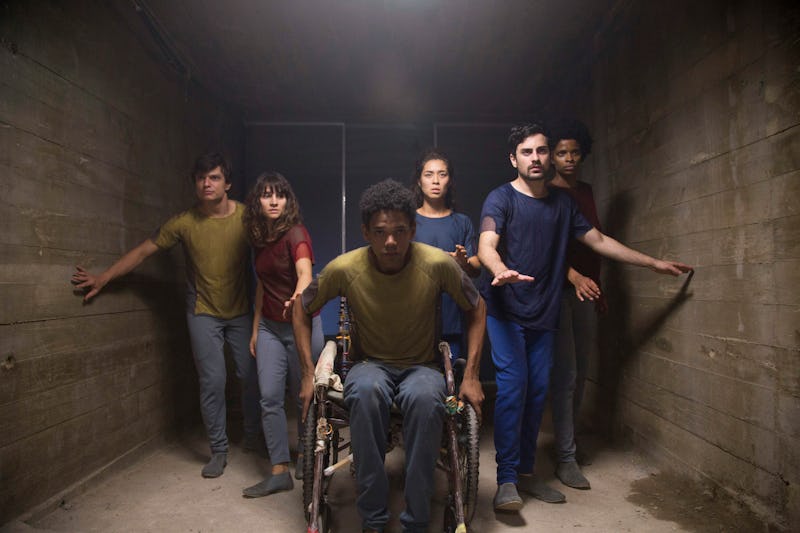 Friday, Nov. 25 will be a very special day for Netflix. The Gilmore Girls revival, Gilmore Girls: A Year in the Life, which you may have heard something about, is set to debut on the streaming platform. However, if you finish that early, don't feel like marathoning it all in one fell swoop, or have no interest in watching the highly-anticipated revival at all, you're in luck, because there's another new original series premiering on Netflix on the same day. That new show would be 3%, and if you're looking for quite a different TV experience than what Gilmore Girls: A Year in the Life will bring you, then look no further. You might like the new series so much, you might even want 3% to return for Season 2.
Well, right now it's unclear if that will happen. Netflix has yet to announce whether or not there will be a Season 2 of 3%. However, this post-apocalyptic thriller set in the near-future and featuring individuals vying for a chance to be one of the 3 percent taken out of the slums to live in a near-perfect island society, certainly has a lot going for it.
For one thing, 3% comes from Cesar Charlone, who was nominated for an Academy Award for the cinematography of internationally acclaimed Brazilian film City of God. So it seems likely that 3% to be similarly visually immersive. On a subjective level, from what I've heard about and seen of the series so far, it also looks like it has an intriguing premise, inspired performances, and heart-pounding action, which are all great signs for an expectional show that many Netflix users may enjoy.
This new show is also the first Netflix original series from Brazil. Not only is 3% in Portuguese, but it was also shot in São Paulo, the streaming service announced in March. "We support Brazilian talent, and we continue to recognize their appeal around the world. Our members globally will get to enjoy this incredible story with complex and rarely [sic] potrayed characters who have found a home at Netflix," the streaming platform's Vice President of International Originals Erik Barmack said in a statement. Since Brazil is an emerging market, Netflix might want to continue its quest to become a global brand by bringing more 3% in the future.
However, Netflix has already been hard at work at expanding its international presence with foreign-language TV shows. In addition to 3%, the streaming platform has given the green light to several others to come under the Netflix original series umbrella. Once you've finished watching the eight episodes of Season 1 of 3%, you might want to take a trip around the world with these fellow foreign-language Netflix original series next.
Club De Cuervos (Mexico)
Netflix's first Spanish-language original series was Club de Cuervos, a dramedy about siblings fighting for control over a Mexican soccer team after the death of their father. Club de Cuervos is fierce and funny and has a lot to say about family, society, and, of course, sports. Catch up on all 13 episodes of Season 1 on Netflix now before Season 2 arrives Dec. 9.
Atelier (Japan)
Atelier is like The Devil Wears Prada, but instead of the ingenue trying to navigate the world of fashion at a major magazine, she does so at a luxury lingerie company. And just like Miranda Preistly, the boss in Atelier, whose first season is available to stream on Netflix now, will definitely give you Anna Wintour vibes, right down to her bob haircut. In addition to the comedy of a fish-out-of-water story and the drama of satisfying this hard-to-please leader, Atelier explores what it truly means to be beautiful.
Case (Iceland)
There's definitely no shortage of crime dramas on TV today, but if all of the United States-based ones just aren't doing it for you, might I suggest Case? This series hails from Iceland and chronicles the investigation of a teenage girl's apparent suicide. The first season of Case, which is available to stream on Netflix now, appears to be especially dark and twisty.
Terrace House: Boys & Girls In The City (Japan)
Netflix revived the Japanese unscripted series Terrace House: Boys & Girls in the City, and when you watch this show, you'll be thankful that they did. The series is basically like the Japanese version of The Real World where six men and women who have never met before live together in a house. Love, drama, and even some hilarity ensues.
Marseille (France)
Marseille is all about power as the city's longtime mayor, played by the legendary Gerard Depardieu, and his protege and successor Lucas Barrès (Benoit Magimel) fight for supremacy in the politician's final days at the post. If you're a little tired of American politics, Marseille could be a juicy escape from reality.
Good Morning Call (Japan)
If you're looking for something on the campy side, Good Morning Call is right up your alley. Based on the manga series of the same name, Good Morning Call follows the misadventures of a teen who ends up rooming with her high school's heartthrob. Good Morning Call is romantic, cute, and funny, and it should leave you feeling all warm and fuzzy inside.
That's more than I can say for how 3% will probably make you feel, but the thing about there being so much great TV from around the world is that you get to experience a wide range of stories and emotions through your entertainment.
Images: Pedro Saad/Netflix; Netflix