Lush's Error 404 Bath Bomb Has A Secret Message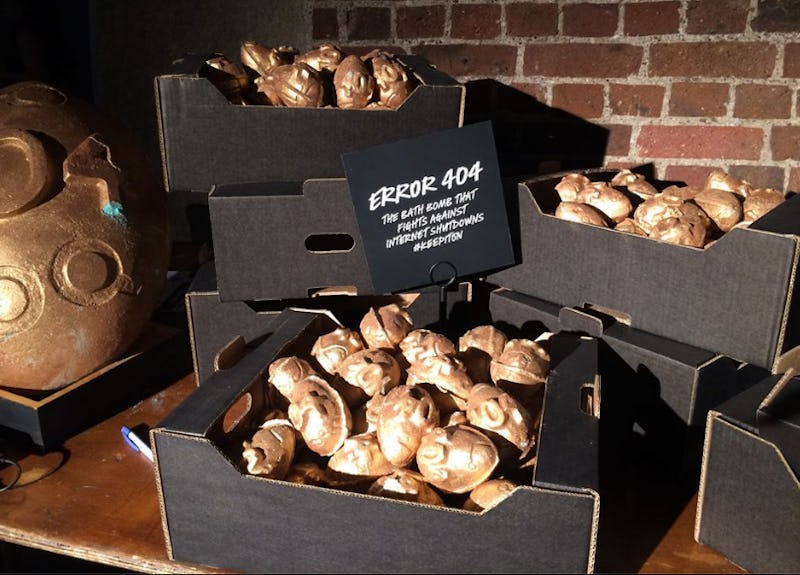 Lush is relaunching a bath bomb just in time for Black Friday, and it has the potential to not only keep you clean, but also inspire some activism. To produce the Lush Error 404 bath bomb, the company teamed up with AccessNow, an organization that defends digital rights, to create a product with a message — literally.
Lush collaborated with the organization to fight together against internet shutdowns enforced by the government, adding a political twist to your nightly pampering routine. "Lush hopes to raise over $300,000 for this global campaign (also running in 40 other countries), thanks to 100 percent of the proceeds (minus taxes) of Error 404 being donated to this cause," PopSugar reported.
According to their website, AccessNow fights to advance laws that protect digital rights and online security, fighting for the rights of communication in areas where it's not open, free, or safe. More specifically, they advocate for the right to demonstrate dissent, guarantee free press, fight for net neutrality, and offer technical assistance and advice to activists, independent media, and organizations.
And from Nov 25. through Nov. 30, you can support their mission and contributing to the cause by grabbing the bomb for yourself.
For 7 dollars you can enjoy a vanilla scented experience that turns your bath water into a sparkly shade of bright blue. As the bomb goes off different colors of rust, white, green, and blue come fizzing out, but once mixed together you get a bright sky-colored shade that shimmers gold. But the cool part isn't the color — it's the special effect that comes with the bath bomb.
"When you drop Error 404 in the bathtub, it fizzes up to reveal a secret message," PopSugar reported. Once it finishes belting into your warm water, a message comes floating up urging you to join the fight against internet censorship and shutdown.
At the very least, this pampering experience will give you something to think about as you unwind in the bath.
Images: AccessNow