Chanel's New Palette Pays Homage To Classic Tweed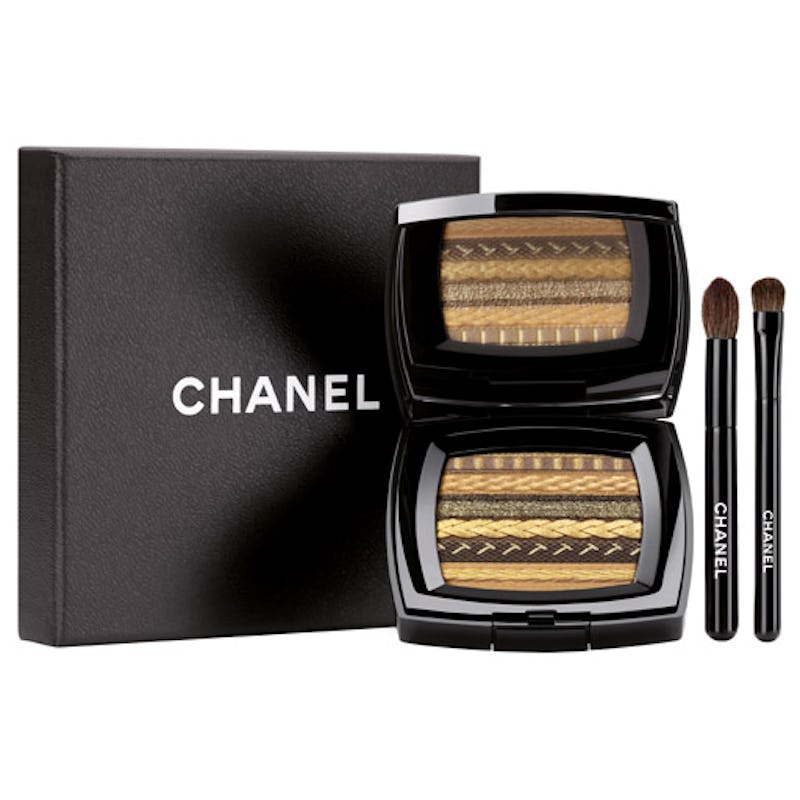 It's pretty hard for me to think of anything more iconic, or classically luxurious than Chanel. That's why the brand's Ombres Lamées De Chanel Eyeshadow Palette, designed with the classic Chanel tweed in mind, is particularly exciting for me. In my most fashionable dreams, I envision myself pairing one of the brand's iconic tweed jackets with a LBD that Audrey Hepburn would be proud of, and hitting up a super elegant dinner party complete with champs and caviar.
Due to lack of funds but not lack of taste, I thought I would be forced to rule out the possibility of ever getting my hands on one of the fashion house's ready-to-wear specialties, but thanks to Chanel's next holiday release, we'll all be able to snatch up a the next best thing to one of their jackets/purses/accessories that's equally as chic.
According to Refinery29, Chanel is set to release the Ombres Lamées De Chanel Eyeshadow Palette on Nov. 28. It mirrors the brand's craftsmanship and rich textures of their garments, and especially one of their most desired woven and knotted fabrics — tweed. Complete with a mix of earthy tones, each row of the palette is laced with an accent of gold for a dazzling and luminous finish. The limited edition collection is also bundled with two mini eye brushes for application and blending. This uber luxe palette holds all the magic of the holidays combined with the all elegance that defines the house of Chanel. Color me obsessed.
Chanel Ombres Lamées De Chanel Eyeshadow Palette, $105, Available Nov. 28, chanel.com
One of the best things about this palette aside from design alone, is its versatility. I have no doubt that women of every color will be able to successfully create mesmerizing eye looks that are perfect for the holidays and beyond. These colors have all the areas of your eyes covered, including transitional shades, lid colors, and even brow bone and inner corner highlights.
At $105, this holiday gift from the brand definitely does not come cheap, but for a little slice of luxury, I'm not complaining. Maybe if you put it on your wish list, the palette might just find itself under your tree this year—fingers crossed.
Images: Chanel