Super Easy Thanksgiving Dessert Recipes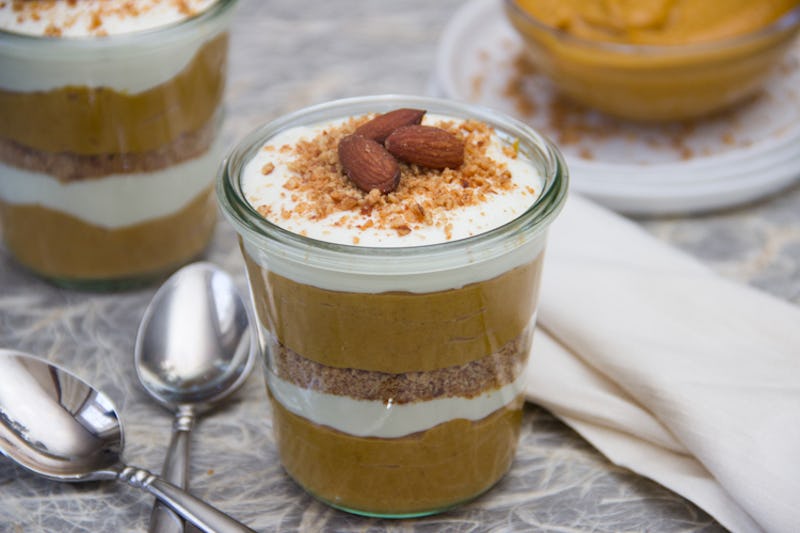 There's not much time left before the nation partakes in the great American tradition of eating turkey and cranberry sauce until we're pinned to the floor with the metaphorical weight of regret (and the literal weight of that second helping). If you're still getting the hang of anything involving the kitchen, you could probably use some easy Thanksgiving dessert recipes. Although being an adult at Thanksgiving means you're allowed to eat whatever you want in whatever potentially-inadvisable quantities you want (you do you, y'know?), it also means you're expected to actually contribute to the table. It's a tough trade-off.
Fortunately, much like a Thanksgiving turkey (or turkey substitute), the Internet is stuffed with recipes that turn out super delicious but take barely any effort to make. Even if your grasp of the culinary arts is tenuous at best — at what point does living off of peanut butter sandwiches and carrots become embarrassing? — the following 13 recipes are quick and easy, leaving you more time to spend with your family before dinner. (Or maybe they leave you more time to spend avoiding your family before dinner. The holidays are a trying time for everyone.)
And so, without further ado, here are some of the easiest Thanksgiving dessert recipes around, so nobody will know just how heavily you rely on takeout to survive — that's between you and your delivery driver.
1. Pumpkin Pie Cheesecake Parfait
On Thanksgiving, finding a spot in the oven is virtually impossible, and sometimes the destroyer of familial relationships. That's where this recipe for pumpkin pie cheesecake parfaits from the Scrumptious Pumpkin comes in: All you need is a food processor and some fancy glasses.
2. Fortune Cookies And Vanilla Ice Cream
Tired of pumpkin on pecan on pumpkin? If you feel like getting creative, this recipe for fortune cookies and vanilla ice cream (created by Chef Curtis Stone and Lindsay Price Stone for Breyers) promises to be the most unique dish at your Thanksgiving table.
3. Pumpkin Yummy Dessert
What makes the pumpkin in this recipe from Brown Eyed Baker so yummy? All you need to know is that it's covered in butter, and like all dump cakes, it's ridiculously easy to make. Get the recipe here.
4. Ice Cream Ornaments
I would say it's pretty much impossible to mess up this Breyers recipe for ice cream "ornaments," but as a complete and utter disaster in the kitchen myself, I understand if you're still concerned. Still, it's the easiest recipe on this list: Just ice cream covered in sprinkles with chocolate! Foolproof and delicious.
5. Turtle Pumpkin Pie Ice Cream Cake
Ice cream and pie are two of the most delicious culinary inventions known to man, and this recipe for turtle pumpkin pie ice cream cake, created by A Spicy Perspective, combines the two.
6. Vegan Banana Bread
This vegan banana bread from Oh She Glows can double as dessert on Thanksgiving day, then breakfast on Black Friday as you prepare to battle the teeming crowds.
7. No-Bake Bourbon Pecan Pie Cheesecakes
The pecan pie filling is the most complicated part of this recipe from How Sweet It Is, and even that's hard to mess up.
8. Cinnamon Maple Caramel Popcorn
Created by Cookie and Kate, cinnamon maple caramel popcorn is sure to be a hit when your family is slumped around watching the football game post-Thanksgiving dinner. Get the recipe here.
9. Pecan Pie Sundae Cups
Pecans make this sundae recipe from Breyers particularly appropriate for Thanksgiving. And look how delicious it looks!
10. Cinnamon Sugar Candied Nuts
Technically they're a great dessert, but nobody's going to blame you if you snack on these cinnamon sugar candied nuts by Damn Delicious before the turkey is even in the oven.
11. Stuffed Baked Apples
In this Oh She Glows creation, baked apples are stuffed with cinnamon date pecan oatmeal. You can find the recipe here.
12. Dessert Nachos
If you're in the mood for a lighter dessert after stuffing yourself with Thanksgiving turkey, try these dessert nachos — cinnamon tortilla chips topped with a strawberry, mango, and avocado salsa — from Foodie Crush.
13. Pumpkin Pie In A Jar
If you're having a small Thanksgiving, think about making these pumpkin pies in a jar for guests; once you've made the crust, the filling, and the topping, all that's left is layering them. Get the recipe at A Farm Girl's Dabbles.
Images: Scrumptious Pumpkin; Breyer's (3); Brown-Eyed Baker; A Spicy Perspective; Oh She Glows (2); How Sweet It Is; Cookie + Kate; Damn Delicious; Foodie Crush; A Farm Girl's Dabbles