These 'New Girl' Eps Are Perfect For Thanksgiving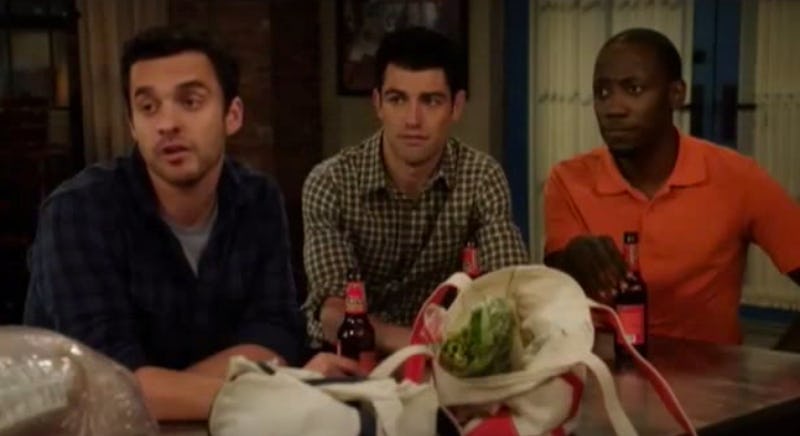 I'd be hard-pressed to find a day that I didn't want to do a New Girl marathon, but perhaps Thanksgiving is the best day of all to take on such a welcomed task. Between having awkward encounters with your step-cousin twice removed and trying to avoid any and all political talk, you're going to be in need of a distraction, and the show can be a bright spot on an otherwise stressful day. But, even though the series as a whole is a pretty exemplary pick-me-up, there are certain New Girl episodes you have to watch on Thanksgiving to make the marathon as festive as possible.
At the risk of making the most obvious statement ever, the New Girl episodes you need to watch on Thanksgiving, are the ones that are titled, "Thanksgiving," Thanksgiving II," "Thanksgiving III," "Thanksgiving IV." Names aside, they are so good that you'll definitely want to give them a watch. While we all know that Friends has kind of cornered the market on having the best Thanksgiving TV episodes of all time, New Girl gives the show a more modern run for its money. Besides, isn't it nice to switch things up after a while? I sure think so.
Here are the New Girl episodes you need to watch with your family on Thanksgiving to balance out your own dysfunction with that of the loft-mates' shenanigans:
"Thanksgiving"
Is there anything better than lamenting with Schmidt over how Thanksgiving is the "least sexy holiday of the year"? The answer is no, there isn't. Besides, watching Jess fail spectacularly at attempting to host the overwhelming holiday is reason enough to tune in.
"Thanksgiving II"
Here's the only thing you need to know about this episode as evidenced from the bloopers above: Nick and Jess's mom flirt and make sexual innuendos about Thanksgiving staples. Sold.
"Thanksgiving III"
The third New Girl Thanksgiving installment is perhaps the most action-packed one with the crew roughing it in the wild. Also, there's the whole thing where Nick inadvertently poisons Jess with a fish (as seen above), effectively turning her temporarily insane. So, if you're feeling stir crazy while sandwiched on your grandma's plastic covered couch between your brother's weird friend from college and your napping aunt, watch this one, as it'll be a ridiculous yet needed fictional escape.
"Thanksgiving IV"
"Thanksgiving IV" proves that Schmidt is a hypocrite in the best of ways. Because despite telling Jess it was the "least sexy holiday" in Season 1, he tries his hardest to make Thanksgiving sexy this particular year. But, more than that, there's an added romantic bonus between Jess and Ryan as seen above. And, yes, it's not the Nick and Jess scene most fans would've wanted, but there's no denying that it isn't entertaining to see them try and make it work with other people.
So, stuff your mouth with stuffing and put on New Girl this Thanksgiving to avoid getting into any heated familial arguments. You're welcome for the tip.
Image: FOX