The Best Vegetarian Thanksgiving Side Dish Recipes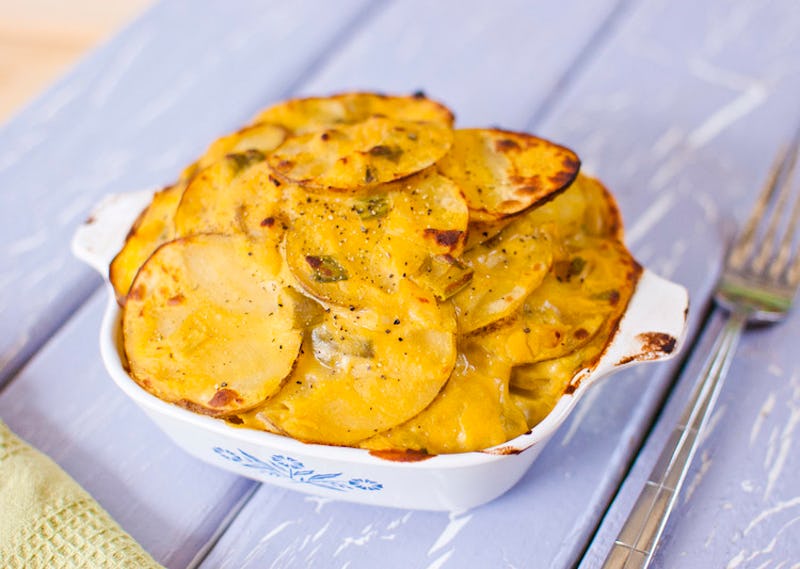 Whether you're a vegetarian yourself or inviting over some vegetarian friends and family this Thanksgiving, you'll want to be sure that there are some yummy options for Thanksgiving dinner that are meatless and made without animal products. Luckily, these vegetarian Thanksgiving side dish recipes are some of the best vegetarian recipes I've seen floating around online, and they'll appeal to everyone at the dinner table (vegetarian or not!). If you're vegetarian, there's no reason you can't enjoy some serious delicious eats on Thanksgiving, and if you try out any of these recipes on Nov. 24, you'll know exactly what I mean.
So many U.S. holidays have a traditional menu that is filled with meat-inspired main courses and dairy-product side dishes, and Thanksgiving is one of them. But you know what? Just because tradition calls for something doesn't mean you have to stick with it. After all, it's your celebration, you can do what you want! I would beg to argue that even meat-eaters would love any one of these 12 side dishes below. For some of them, including a vegetarian mac and cheese and cheesy scalloped potatoes, I bet many people wouldn't even realize that the dishes are dairy-free. Don't believe me? Try out some of these delicious recipes on Thanksgiving day.
1. Vegan Smokey Mac And Greens
This Vegan Smokey Mac and Greens by Fo Reals Life is completely dairy-free and even includes some yummy kale in the mix.
2. Autumn Kale Salad
Prefer your kale with a little crunch? Then this Autumn Kale Salad from Green Kitchen Stories should seal the deal for you.
3. Roasted Fennel And Cauliflower With Chickpeas
Naturally Ella's Roasted Fennel and Cauliflower with Chickpeas recipe can either be served alone, or as a topping for your favorite polenta recipe.
4. Sweet Potato Casserole With A Crunch Nut Crumble
Add a little crunch to your sweet potatoes this year with Oh She Glows' Sweet Potato Casserole with a Crunch Nut Crumble recipe.
5. Lemony Roasted Asparagus
Sometimes simplicity is the way to go, as these Lemony Roasted Asparagus from Cookie + Kate prove.
6. Rosemary Potato Biscuits
These Rosemary Potato Biscuits are perfect for accompanying any meal. Thank you, Fo Reals Life!
7. Vegan Meatballs
Who needs turkey on Thanksgiving when you have these amazing Vegan Meatballs by Green Kitchen Stories?
8. Roasted Red Pepper Soup
Having a warm soup on the table is never a bad idea on Thanksgiving. This Roasted Red Pepper Soup recipe from Naturally Ella is my top pick!
9. Roasted Fingerling Potatoes And Brussels Sprouts With Rosemary and Garlic
Potatoes and Brussels sprouts... who knew they'd make such a great combo? Oh She Glows did! Check out her Roasted Fingerling Potatoes and Brussels Sprouts with Rosemary and Garlic recipe.
10. Mediterranean Pasta Salad With Raw Squash And Feta
Looking for a filling side salad recipe? Cookie + Kate's Mediterranean Pasta Salad with Raw Squash and Feta is a must-try.
11. Cheesy Scalloped Potatoes
Cheesy potatoes are the best, and this Cheesy Scalloped Potatoes recipe from Fo Reals Life is so worth trying.
12. Romanesco Black Lentil Pilaf
This Romanesco Black Lentil Pilaf from Naturally Ella combines three key ingredients you might not think of putting together yourself... but I'll tell you what, it totally works.
Images: Fo Reals Life (4): Green Kitchen Stories (2); Naturally Ella (3); Oh She Glows (2); Cookie + Kate (2)