How To Use Live Video In Instagram Stories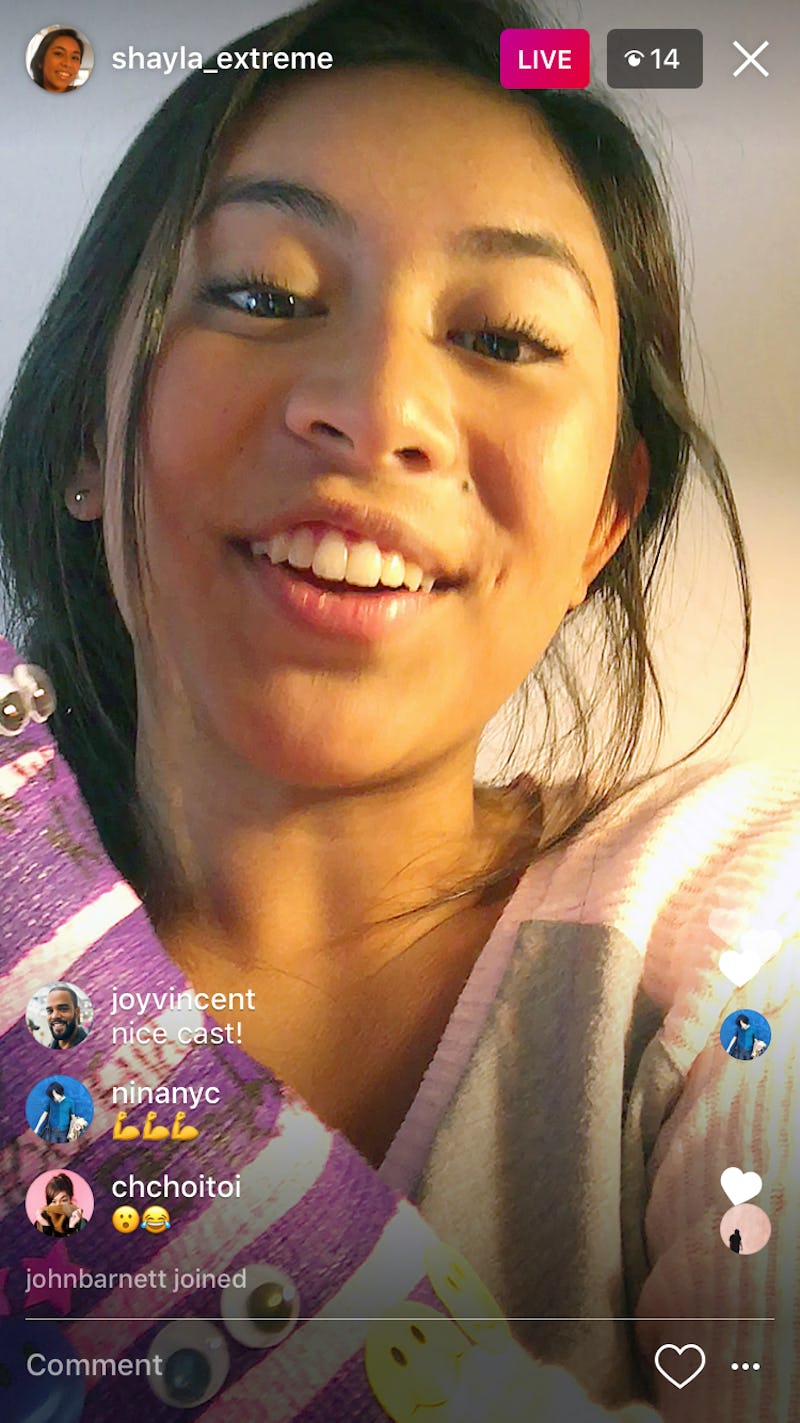 Instagram will be releasing its latest update in a few short weeks, and users can expect some exciting new features to join the Insta-party. Prepare yourself, faithful 'grammers — soon you'll able to broadcast video in real time! It's a good idea to learn how to use Live Video in Instagram Stories before the update hits, so you can be the very first on the app to show off your streaming skills. The Live video feature resembles that of Facebook Live and Periscope, but with a twist: The live video will only be viewable while streaming is in progress. Users can share anytime, anywhere with their friends and followers who will be alerted to tune in to watch the stream, but as soon the video ends the footage will disappear immediately — poof! — kinda like real life.
The fleeting nature of Insta's Live Video is meant to alleviate some of the pressure of being on camera. Instead of carefully curated and filtered shots, these streams might reveal something a little more, well, real. "We pivoted," Instagram's head of product Kevin Weil explained to TechCrunch. "Instagram should be all of your moments, not just your highlights."
You can feel free to stream whatever you wish — options are limitless. Pan over an amazing sunset, film your reaction to the latest blockbuster, show off one of your fave holiday traditions, be it frying up latkes or ripping open those Xmas presents. See what you're friends are doing at any given time by checking your stories bar at the top of the screen. The word "Live" will appear under their profile photo as soon as they start a stream, then simply click on the photo to tune in! You can even send some likes and comments their way. Want to expand your horizons? Go to the Explore page and select "Top Live" to peruse a list of the most popular live Instagram Stories streaming at that moment. Maybe someone's going cliff diving? That would be pretty fun/terrifying to watch.
So how does it work? Check out these simple instructions to get up to speed on streaming Live via Instagram Stories:
1. Update Your Instagram
If you want to get streamin', make sure to head on over to the iTunes App Store or Google Play Store to check for the latest update. Live Stories are currently in the testing phase, and will be rolling out globally over the next few weeks. Since no exact date has been released, it's a good idea to make sure you are using the newest version of the app.
2. Open The App And Swipe Right
When you are ready to start streaming, swiping right on your feed will automatically open the camera function. In addition to the "normal" and "boomerang" options, in the latest update users will see the addition of a "Start Live Video" button at the bottom of the screen.
3. Tap The "Start Live Video" Button And Express Your Awesomeness
Selecting the "Start Live Video" button, will begin your real-time broadcast. As you stream, you will be able to see the number of people viewing your stream, as well as any comments, questions, or likes that your video is generating! If you want all viewers to see a specific comment, you can pin it. Don't need the feedback? There is also the option to turn off comments entirely. Share for up to an hour, and once you're finished, the video will disappear forever.
4. Promote!
When you begin filming, you can choose to send a notification to friends and followers to alert them that you have gone live; the word "Live" will also appear under your Stories profile photo. If you video is among the most popular it will appear in the "Top Live" stories listed under the Explore tab.
Get ready to start streaming all your favorite winter moments!
Images: Courtesy of Instagram; Lily Feinn/Bustle