This Disney Animated Short Is About "Adulting"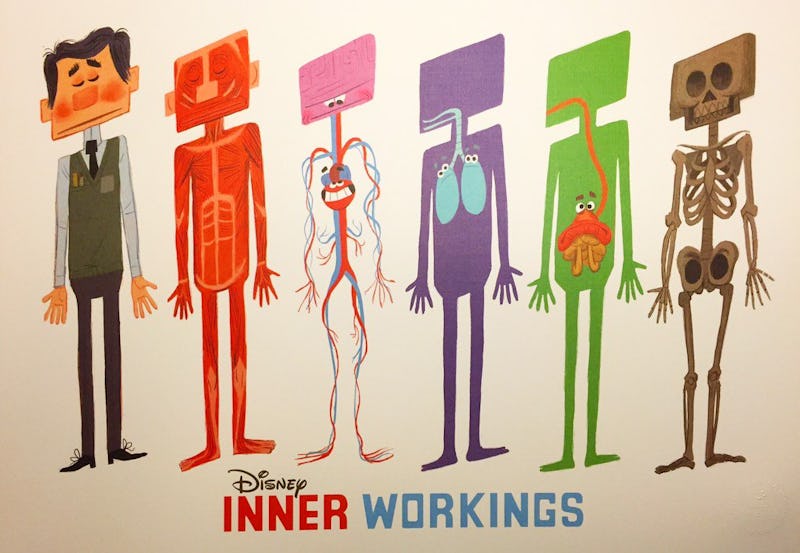 This Thanksgiving, audiences are getting two heartwarming Disney stories for the price of one. An original animated short called Inner Workings is accompanying Moana to theaters Nov. 23. Moana, of course, stars the voice talents of Dwayne "The Rock" Johnson and newcomer Auli'i Cravalho as demigod Maui and the spunky teen heroine, respectively. But before the unlikely pair set sail, moviegoers will meet Paul, the central character of Inner Workings. The short goes inside Paul's body to show the constant human battle between the head and everything else. The film has to be pretty remarkable to have gotten the Moana theaterical spot, so it's understandable if you want to watch Inner Workings right now. But if you're wondering where to watch the short Inner Workings, Moana is the only real answer, as it's currently only available before the film.
Inner Workings comes from the imagination of Leonardo Matsuda, who's worked as a story artist on movies like Big Hero 6, Wreck-It Ralph, and Zootopia. The filmmaker told USA Today he was inspired by his own struggle to maintain balance in his life. Every individual with free will has to be constantly deciding between what feels good and what's the right thing to do. That push-and-pull is represented in Inner Workings by the two most influential organs in Paul's body: his brain and his heart. (Along with some others.) Only in the best cases do those two directives match up. But it's also important not to let logic get all the wins. "You forget to appreciate your own life," Matsda said to USA Today. "It's something very real for a lot of people, with bills to pay and family and personal responsibilities."
I have no doubt that Moana will be as enjoyable for adults as it is for kids, but this short sounds like its target audience is mostly of the grown-up persuasion. "Adulting" is hard; it's not easy to choose saving money over a fragrant latte or a night of good sleep over time with friends. Even so, life happens in those moments when you let go of what you're supposed to do. "We have to really dream to have hope, but at the same time, we have to be realistic," Mastuda said in an interview with Entertainment Weekly. With realism can come abandonment of dreams, which Mastuda has found to be an unfortunate motivator for people he's met in Hollywood. "There's a tendency to lose track of what you wanted to do in the first place," the filmmaker says. "Or feeling like you live in this fearful mode where you don't want to take risks because fear dominates."
Of course, the visuals go hand-in-hand with the very sophisticated concept. (Sort of an adult version of Inside Out.) The design of Inner Workings is inspired in part by vintage anatomy charts that Mastuda remembers flipping through as a kid. "I remember going through the pages and seeing how the different systems of the human body work together: the nervous system, the circulatory system, the respiratory system, and how they all combine," he told Entertainment Weekly in the same interview. "It was fascinating to me and became one of my most enduring memories from my childhood."
Inner Workings will most likely be included in the release when Moana comes out on DVD and digital download. But for the time being, the only legal and HQ way to see the short is to buy a ticket for Moana's theatrical run.
Images: Walt Disney Studios