11 Easy Vegan Thanksgiving Recipes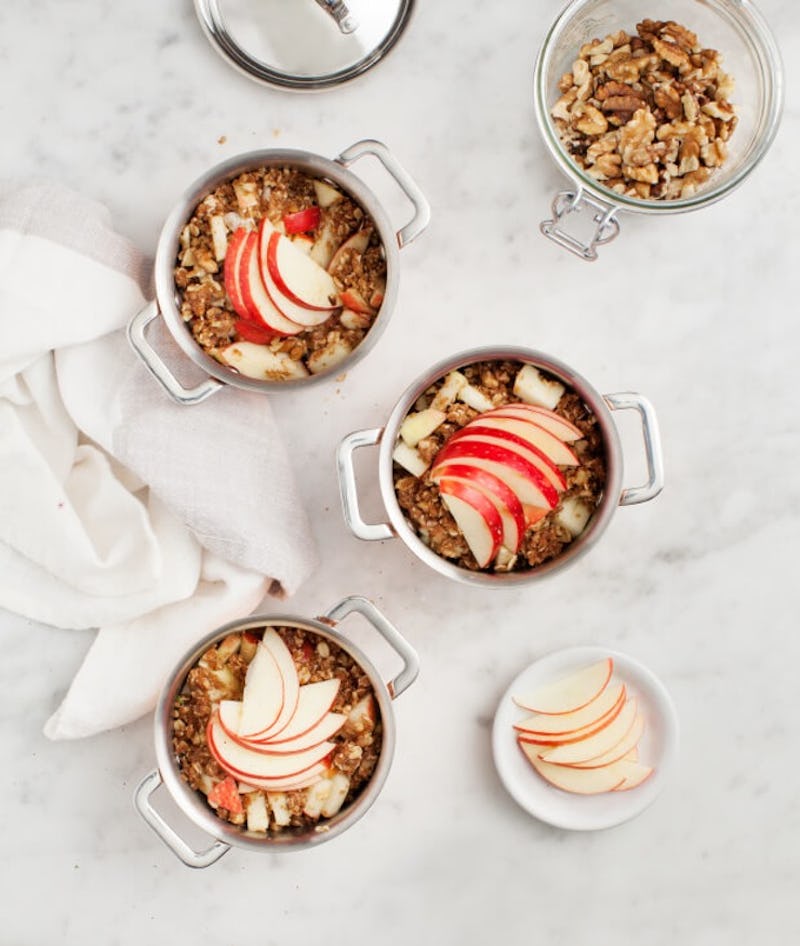 Thanksgiving is a holiday that almost entirely centers around food, but unfortunately not everyone's diets are reflected in the traditional dishes that make it to the party. When I was a kid, I despised the holiday because I was a picky eater that didn't like turkey or stuffing or really anything my parents served. While my eating habits were something I was able to grow out of, not everyone's diets change with time. If you're a vegan, it's possible that you've felt left out from this annual feast, but it doesn't have to be that way. There are tons of easy vegan dishes that you can make this Thanksgiving, so you can help save the animals, one turkey at a time.
No matter who you're celebrating this holiday with, incorporating vegan dishes into your Thanksgiving meal lineup can be a super easy way to make sure everyone has something to enjoy. From the starter salad to the dessert, there are plenty of tasty dishes to try that don't have any animal products in them. Whether you're a vegan who wants to ensure there is something you can eat at dinner or you're making a dish for your vegan pal's Friendsgiving, these 11 easy vegan recipes are definitely something to be thankful for this Thanksgiving.
1. Fig Cranberry Sauce
Not only is this dish from The Kitchn delicious, but it's super easy to make. Basically, all you have to do is boil all of the ingredients together. Get the recipe here.
2. Sweet Potato Casserole With A Crunchy Nut Crumble
According the Oh She Glows recipe, the nut crumble tastes "just like an oatmeal cookie." An easy vegan dish that also tastes like a dessert? Count me in.
3. Shredded Brussels Sprout And Apple Salad
Salads are already easy to make, but this Love and Lemons recipe even offers suggestions if you have difficulty finding one of the ingredients.
4. Lebanese Lemon-Parsley Bean Salad
Recipes can't get any easier than one for a bean salad. But, not only is this Cookie and Kate recipe super simple to make, it also packs a ton of great flavors.
5. Herb And Cheese Drop Biscuits
You may think that a vegan recipe with cheese in the name can't be that simple. But it is. This Oh She Glows drop biscuit recipe is very easy to follow, and produces incredible results.
6. Spiced Vegan Lentil Soup
Sure, this soup is harder to make than putting a pre-made one in the microwave, but this Cookie and Kate recipe is still pretty easy to make. And the fresh flavors will be well worth the extra time it takes to make it.
7. Crispy Smashed Potatoes With Avocado Garlic Aioli
This Oh She Glows recipe calls for smashing potatoes. You don't need to be a seasoned chef to press down on some spuds.
8. Kale And Shiitake Mushroom Stuffing
If you look at this Love and Lemons stuffing recipe, you'll see that 90 percent of the instructions begin with the word "Add." All you have to do to make this dish is put in the ingredients and bake it. It couldn't get any easier than that.
9. Roasted Fingerling Potatoes And Brussels Sprouts With Rosemary And Garlic
This recipe from Oh She Glows asks you to "give Brussels sprouts another shot." And with a dish so easy to make, why not? Hey, if you still don't like the little veggies, at least they're surrounded by a bed of potatoes.
10. Sinless Sticky Toffee Pecan Pudding
My favorite vegan recipes tend to be ones for desserts. Thanksgiving dessert is just as important as dinner, so try this sticky toffee pecan pudding recipe from Oh She Glows for a great ending to your Fall feast.
11. Vegan Apple Crisp
It isn't Thanksgiving without some sort of apple dessert. Try this easy vegan recipe for apple crisp from Love and Lemons for a sweet treat to end on a holiday high.
Being vegan shouldn't limit what you can and can't enjoy on Thanksgiving. These recipes prove that you can still have a festive feast — no turkey required.
Images: The Kitchn, Oh She Glows (5), Love and Lemons (3), Cookie and Kate (2),