11 Glittery Makeup Palettes For The Holiday Season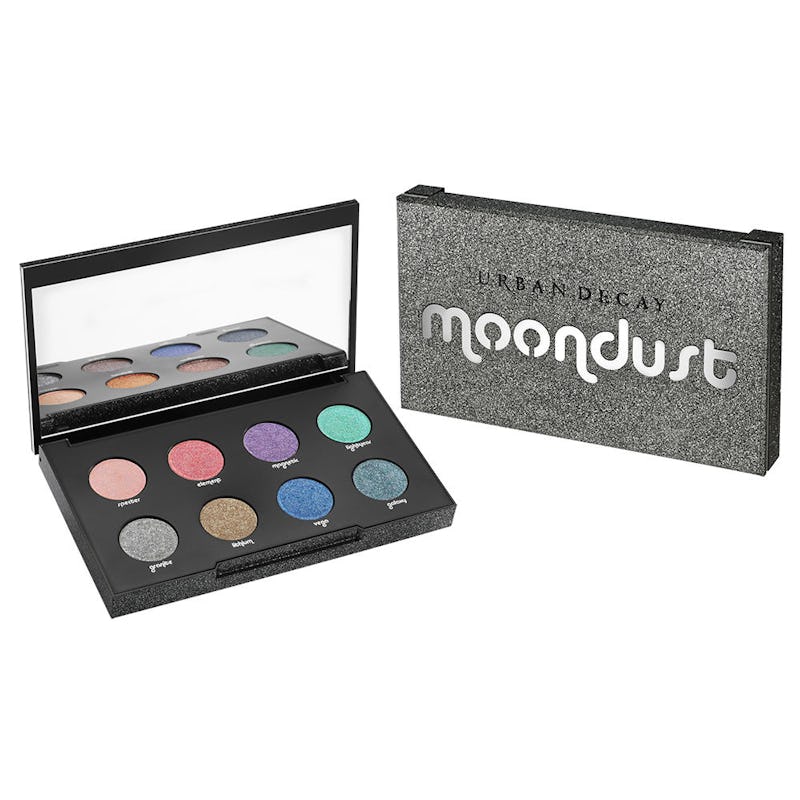 There doesn't need to be an excuse to rock glitter eye makeup. However, you might wait patiently until the holidays to rock a more shimmery look — and if you're one of these people, you're probably looking for the perfect glitter makeup palette to see you through this holiday season in style. That's not to say these palettes are unusable the rest of the year, but for those who only rock glitter in the winter, it's a good excuse to buy some new makeup. (That is, if you need an excuse to buy more makeup.)
The glittery combinations in these palettes are almost limitless and if you choose to follow glittery eyeshadow tutorials too, your makeup looks are guaranteed to slay. With a whole load more options than what one individual shadow will give you, see this glittery palette as an investment for the whole holiday season — and the next one. too.
While one palette may seem like any other to the untrained eye, these glitter palettes are all entirely different from each other, and offer the chance to tell a variety of different color stories. Ranging from shimmers to incredibly pigmented shades, bright colors to more muted metals, there's a glitter on this list for you.
1. Urban Decay Moondust Palette
Moondust Palette, $49, Urban Decay
With a name like that, this palette was always going to serve up some stunning shades — and that's exactly what it has done, covering almost every color glitter possible to mix and match for a vast number of looks.
2. Too Faced Cat Eyes Palette
Cat Eyes Palette, $36, Too Faced
This party palette doesn't just provide the shades you need for a perfect shimmery cat eye look, but also comes with instructions on how to do three different versions.
3. Huda Beauty Rose Gold Palette
Rose Gold Palette, $69, Cult Beauty
While this palette does include matte shades to glitter ones, those glitter colors certainly stand out and make this palette a worthwhile investment for a sparkle-lover.
4. Morphe Multi Color Shimmer Palette
Multi Color Shimmer Palette, $20, Morphe Brushes
Why settle for only a few shimmery shades when you can have 35 of them? This palette covers almost every color imaginable, which means almost infinite color combinations for your holiday looks.
5. Urban Decay Alice Through The Looking Glass Palette
Alice Through The Looking Glass Palette, $60, Sephora
In packaging that's almost as exciting as the eyeshadows underneath, this palette was always going to be spectacular — it's inspired by Disney and Tim Burton, after all.
6. Julie Hewett Breathless Palette
Julie Hewett Breathless Palette, $68, Julie Hewett
A little more toned down glitter eye shadow and blush shades, for those who aren't quite willing to let go of the nude look entirely for winter.
7. Kat Von D MetalMatte Palette
MetalMatte Palette, $60, Kat Von D Beauty
A palette that doesn't just throw glitters and mattes together, but pairs them to make your glitter looks a little easier to manage this season.
8. Too Faced Sugar Pop Palette
Sugar Pop Palette, $28, Too Faced
Again, this Too Faced palette comes with glamour cards to talk you through three looks you can achieve with this palette. But don't let them limit you — there are countless combinations to be made from these sickly sweet shades.
9. Urban Decay Shadow Box Palette
Shadow Box Palette, $10, Urban Decay
There's a trend here — Urban Decay know what they're doing when it comes to glittery shadows.
10. Kat Von D Innerstellar Palette
Innerstellar Palette, $46, Kat Von D Beauty
You can use Innerstellar as one big palette or it divides up into three quad palettes, with one big base shade and three smaller colors. Or if you're feeling adventurous, mix and match to your heart's content.
11. Morphe Zodiac Smokey Eye Palette
Zodiac Smokey Eye Palette, $15, Morphe Brushes
Combining basic shimmer shades with bolder glitter colors, this palette is all you need for any kind of glitter makeup look.
Between all these palettes, there's nothing stopping you coming up with a signature glitter holiday look for your face this season. Whether you're laying on the glitter thick or keeping that shimmer subtle, you're sure to shine at any seasonal events with these shades.
Images: Courtesy Brands