Here/Now's New Clothing Line Is So Instagrammable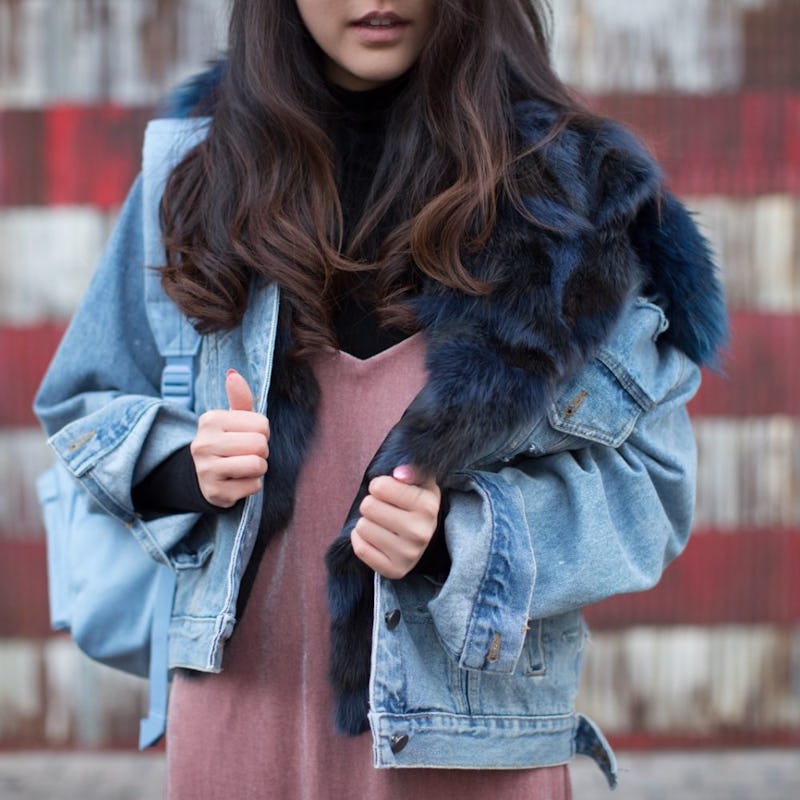 If you buy something cool and don't Instagram it, did it really even happen? If you ask Here/Now, the fashion brand for the social-media obsessed consumer, the answer is "probably not" The brand prides itself on being full of "fashion trophy pieces" that are totally insta-worthy — you probably know them because of the adorable pom-pom sneakers that have been all over your social media feeds these last few months. Now, the brand is expanding into Instagrammable clothing with their Here/Now "Good Jeans" collection, which signifies their launch into apparel for their third season.
As of November, Here/Now will add clothing to their collection. According to a statement from the brand, the new line is an "ode to denim," and includes four outerwear styles and two new denim and velvet pom-pom sneaker styles. The "Eugene" jacket is a denim bomber inspired by founder Eunice Kim's favorite childhood bomber, and each one will be handpainted by grafitti artist ByFlore to create a series of one-of-a-kind pieces. There is also a denim jacket with a fur collar, a denim coat with a leopard lining and shearling moto that comes in four colors.
1. Sasha Jacket
Sasha Jean Jacket, $740, HereNowShop.com
This is the perfect coat for those of us who cry every year when it's suddenly to cold to get away with rocking our summer jean jackets. Just add fur!
2. Chloe Coat
Chloe Coat, $340, HereNowShop.com
You had me at "Full length denim coat."
3. Hillary
Hillary Jacket, $440, HereNowShop.com
Who knew so many trends (tie-dye, shearling, denim, moto) could fit in the design of one jacket? Plus, it's called the Hillary, and we could all use more of that in our lives these days.
4. Emma
Emma Sneaker, $240, HereNowShop.com
Dream. Sneakers. Found. That's all.
The collection retails from $480 to $880, and is available at HereNowShop.com.
Images: Courtesy of Brand