How To Get Lady Gaga's AMA Performance Hair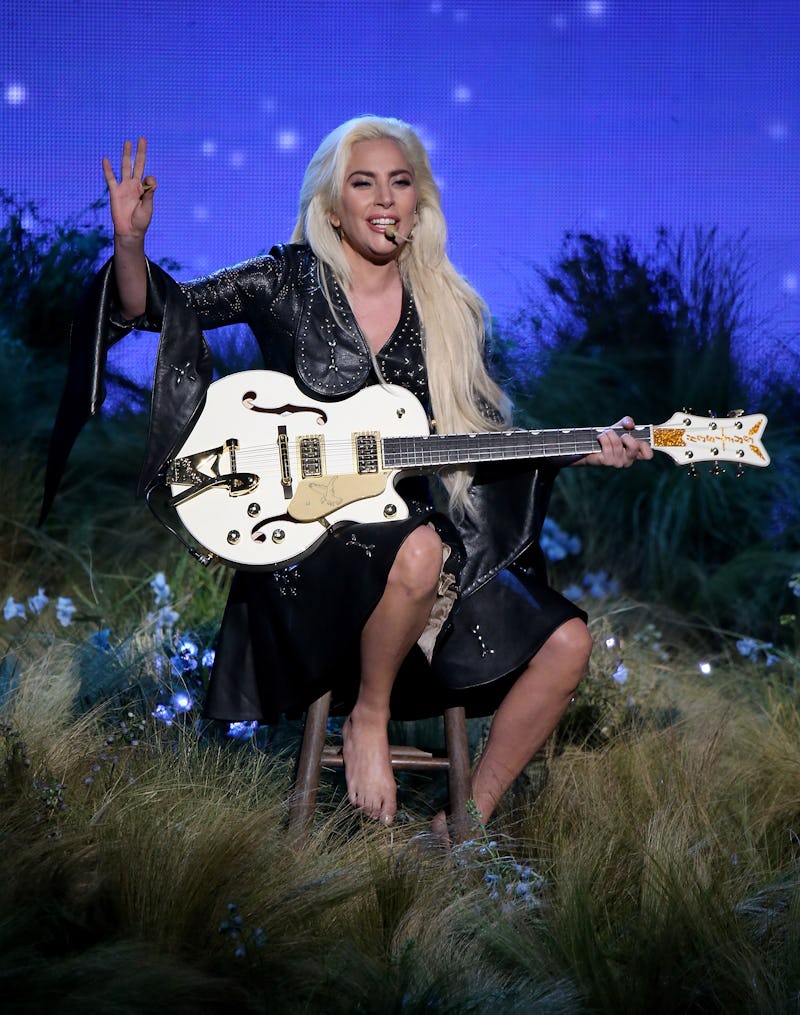 Lady Gaga's white "pantsuit at the rodeo" look at the AMAs was veritably iconic, (potentially) channeling political insinuations, androgyny and the cover of "Joanne" — a trifecta only she could meld. Plus an obligatory dash of "gives no f*cks," that good Gaga. Different but equally gorgeous was her performance look on-stage during the ceremony, complete with long, long locks for her rendition of "Million Reasons." If you were in awe of the glam, but low-key look, here's how to get Lady Gaga's gorgeous AMA performance hair.
The look was structured at the crown (wouldn't be country without some Dolly volume), but transitioned into a loose, flowing 'do to match Gaga's intimate vibe. Who needs shoes when you have the power of song, as the saying I just made up goes.
Lady Gaga's stylist, Frederic Aspiras, used products from Matrix's Biolage R.A.W. and Style Link lines to create the look: He got things off on the right note (music! eh!) with Matrix Biolage's R.A.W. Nourish Shampoo and Conditioner to cleanse and condition. Towel dry and section into five parts, one on top, two on the side, and two in back. Apply Matrix Style Link Blowout Skinny Queen to each section, before using a medium size brush to blow dry (Aspiras used Conair tools).
Once dry, curl each section backwards and set with a clip. Allow to cool for about ten minutes, then spread Matrix Style Link's Mineral Grip Definer in hands and run them through hair to separate the curls. To add some more volume, Aspiras used Infiniti Pro by Conair Tourmaline Ceramic Curling to curl pieces throughout, focusing on the face frame and crown of the head.
Maintain the volume, but keep things loose with this move: Aspiras sprayed a little Matrix Biolage R.A.W. Replenish Oil Mist on a boar bristle paddle brush, then brushed hair back and away from the face to smooth out curls. He finished with a light mist of Matrix Style Link Volume Fixer Hairspray to hold the style, but keep it soft and full.
Which might seem like a lot of work for a style so un-fussy at first glance. But the lioness mane upholds those inclusive Gaga principles, both strong and unstructured at once.
And given that Gaga's hat was the mainstay of her first look, her second hairstyle had high standards to uphold. Figuratively and literally. It was the AMAs, after all.
Images: via fredericaspiras/Instagram; Courtesy Brand