9 Magical Harry Potter Christmas Sweaters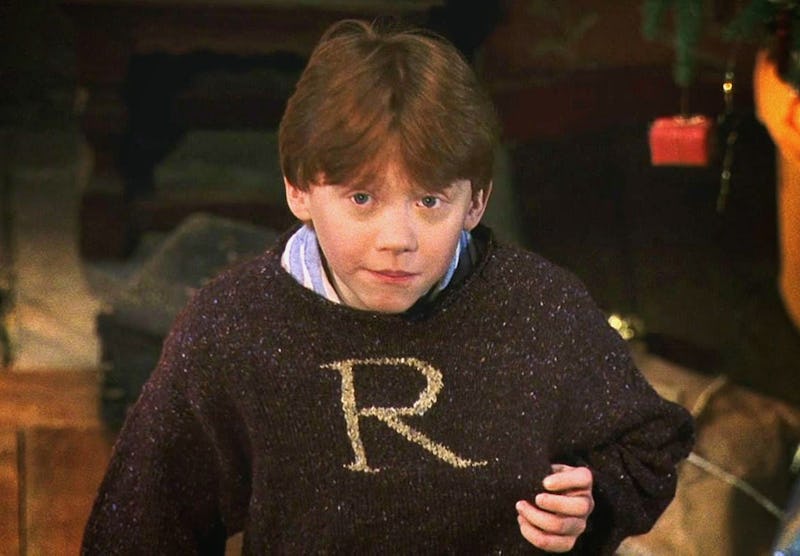 Before Ugly Christmas Sweaters were a thing, Molly Weasley was knitting sweaters for her family, Harry Potter was wearing Dudley's old clothes, and every Hogwarts student was sporting their house colors in various knits. They were ahead of the trend, and thanks to their style you can now incorporate your fandom into your holiday wear with some Harry Potter Christmas sweaters. Even if you can't knit yourself a Weasley sweater, you can buy one. That's the magic of this series: Hogwarts is always there to welcome you home, or in this case, Hogwarts Christmas sweaters are always there to infiltrate your wardrobe.
Harry Potter and Christmas go together like Mr. and Mrs. Claus. Something about the festive atmosphere of Hogwarts, Harry and Ron's epic gifts, and the magic in the air makes Harry Potter perfect for December. There's a reason these movies are always playing during the holidays: you just can't separate HP from Christmastime. So whether you're looking for an outfit to wear to an ugly Christmas sweater party, or you just want to show off your love of Hogwarts in general, here are some great options for Harry Potter-themed Christmas sweaters. Merry Christmas, ya filthy Muggle.
Best Trio Ever Sweater
This festive sweater features cartoons of the best trio every: Harry, Ron, and Hermione. It says "happy Christmas" and has festive designs relating back to the series, so you can celebrate both Harry Potter and Christmas at the same time.
Best Trio Sweater, $25.52, FannyBees on Etsy
Happy Christmas Sweater
This white sweatshirt offers another option with a design featuring snitches, Harry, Ron, and Hermione, and a "happy Christmas" message.
Happy Christmas Sweater, $17.99, TeesAndTankYouShop on Etsy
Personalized Weasley Jumper
Every Potter fan needs a Weasley sweater — after all, Mrs. Weasley always knits these as Christmas presents. Grab a personalized one with the first letter of your name, and you'll feel as if you're at the Hogwarts feast sitting right next to Fred and George (who are obviously also wearing their sweaters).
Personalized Weasley Jumper, $64, SweaterswithLetters on Etsy
Owl Sweater
Hedwig is a snowy owl, so she's the perfect icon for a Harry Potter Christmas sweater. This one also features Harry's iconic glasses and scar, as well as the Deathly Hallows and the stag Patronus. It's the perfect combination of Potter and the holidays.
Owl Sweater, $15.99, Xpression Tees on Etsy
Ravenclaw Pullover
This pullover is for all those who believe that wit beyond measure is man's greatest treasure. Look smart AND festive with this Ravenclaw sweater.
Ravenclaw Pullover, $29.99, Look Human
Hufflepuff Cardigan
You can stay warm and rep the house of loyalty when wearing this Hufflepuff cardigan. It has the classic Hufflepuff colors and the crest, so you can truly feel as if you're a Hogwarts alum this holiday.
Hufflepuff Cardigan, $37.82, Hot Topic
Gryffindor Varsity Jacket
Grab this great Gryffindor varsity jacket, complete with the Gryffindor crest and a "Hogwarts Alumni" graphic on the front. If you belong to the house of bravery and nerve, you'll have enough daring to make this bold fashion choice this Christmas.
Gryffindor Varsity Jacket, $44.47, WhateverTshirts on Etsy
Slytherin Quidditch Sweatshirt
For all those who are ambitious and cunning, and also probably would've played Quidditch had their Hogwarts letter not gotten lost, this is the sweater for you. The green color is perfect for Christmastime, because it fits in with the holiday color scheme and it reps Slytherin.
Slytherin Quidditch Sweatshirt, $21.69, WhateverTshirts on Etsy
Filthy Muggle Christmas Sweater
And a Happy New Year.
Filthy Muggle Christmas Sweater, $19.99, OldFashionedPrintShop on Etsy
Image: Warner Bros (1)