Woman Teaches Her Trolls To Make A Sandwich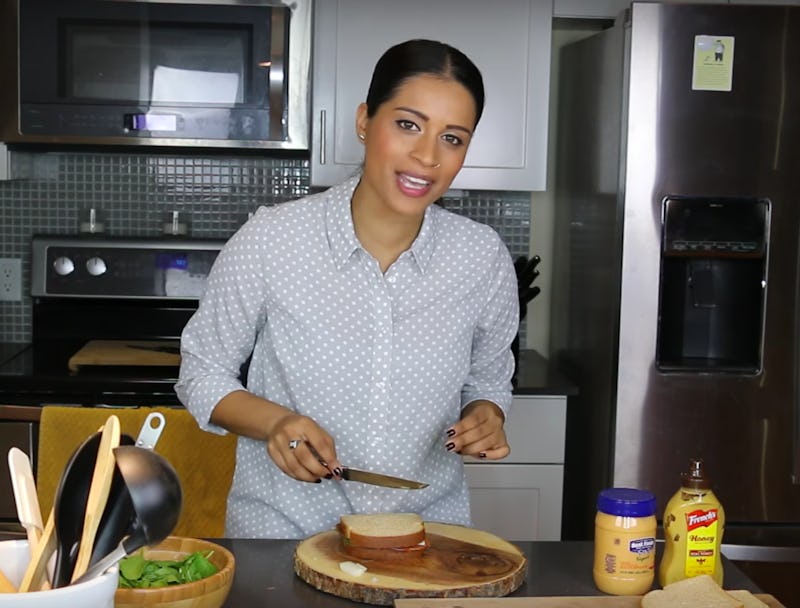 Lilly Singh, a Canadian comedian, actor, and rapper, recently posted a video responding to people who leave sexist comments on her YouTube channel. The takeaway message? This. Woman. Is. Not. Messing. Around. The YouTube star's savage "How To Make A Sandwich Tutorial" gloriously, brutally, shuts down sexist trolls. It'll pretty much fulfill every fantasy you've ever had about responding to people who go out of their way to be misogynist jerks on the internet. SLAY LADY. (Bustle has reached out to Lilly Singh for comment and will update upon reply.)
At the beginning of the "tutorial," Singh explains that she doesn't usually respond to negative comments because she usually only operates in two modes: "A nice, positive unicorn" or "a savage that will absolutely destroy you." Thankfully for us, she decides to let her savage out, just this once, to respond to comments like this: "woman arent funny. shouldnt u be in the kitching making me a sandwich." [sic, everywhere]
Um, yeah, that person sounds like a real winner.
Singh helpfully offers to show sexist trolls how to make their very own sandwiches. She lays out the ingredients, starts slicing onions, and begins to methodically shred the haters. "If you start to painfully tear up, don't worry," she says. "Now you know how your mother feels when she sees how you turned out." BOOM.
It gets better. On the proper treatment of spinach:
On the best choice of cheese:
Unsurprisingly, people are on board for Singh's slayage:
Singh ends her tutorial with one last piece of advice for the trolls: "Pour yourself a nice, cold glass of water, to help you with your newly acquired burns."
The savagery is MAJESTIC.
Images: YouTube (3)