Will Nikki Haley Defund Climate Change Research? The New U.N. Ambassadorship Comes With Strings Attached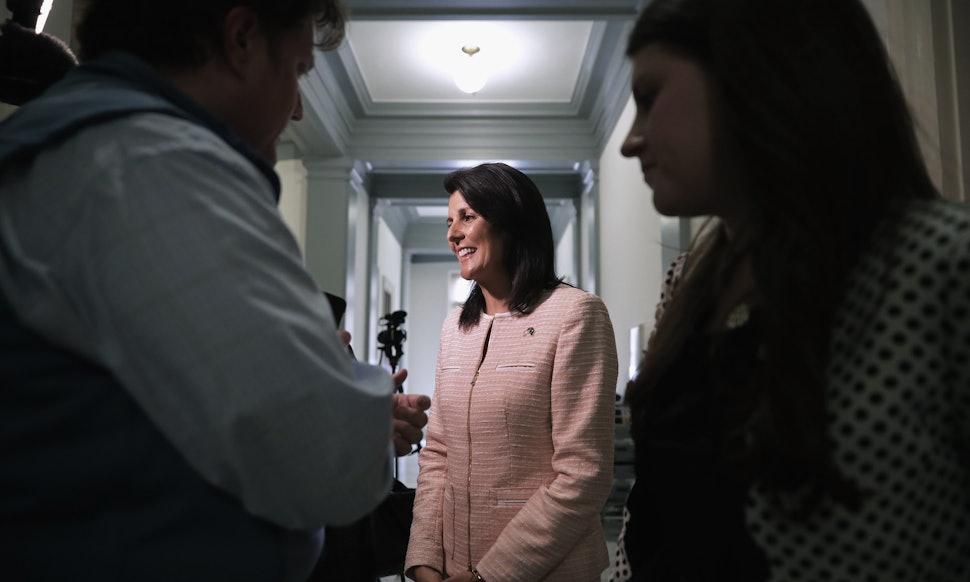 Chip Somodevilla/Getty Images News/Getty Images
Rising Republican party leader and South Carolina Governor Nikki Haley accepted Donald Trump's offer of United Nations ambassadorship early Wednesday, all but ensuring his campaign promise to stop the United States' payments to the international body aimed at climate change research. The U.S. was, until now, the largest promissory to the fund, which could fall apart without pressure to contribute from the nation's leaders.
Haley's own environmental policy is pretty squarely in line with the Republican party, and her acceptance of Trump's offer indicates that she's on board with the plan to stop payments to the U.N.'s Green Climate fund, one of Trump's most specific campaign promises. She's openly supported offshore drilling and pledged to never support raising the gas tax. The Conservation Voters of South Carolina, an environmental advocacy group in her home state, gave Haley a D rating for her environmental policy between 2011-2013.
The GOP expressed disapproval of the U.S. involvement in the U.N. climate change fund since its beginning. In 2014, President Obama pledged $3 billion to the fund to incentivize other wealthy nations to fight climate change, but the Republican legislature were quick to voice their disapproval. Thirty-seven GOP senators sent the president a letter detailing their outrage at Obama's "unilateral decision" following the first payment of $500 million, which equates to .0001 percent of the federal budget. "Congress will not be forthcoming with these funds in the future without a vote in the Senate on any final agreement as required in the U.S. Constitution," the letter read.
The money for the Green Climate fund came through the State Department's budget, which the executive branch has the discretion to direct where it chooses. Technically, this means Haley herself won't be eliminating the funds, but rather working with the future president and secretary of state (currently rumored to be former Trump opponent Mitt Romney) to see that the payments are stopped and there is no significant backlash from the U.N. Japan, Germany, and the United Kingdom pledged significantly higher portions of their gross domestic product to the fund, which may cause some international embarrassment for the U.S. as the country will now more than likely withdraw the relatively small proportion it had previously promised.
Though Haley won't be singlehandedly making the decision to end the climate change payments to the U.N., her record shows that she probably won't be standing in the way of Trump's decision either. Haley may take the brunt of the international concern over climate change for the president, who belongs to the only major political party in the world that denies the existence of climate change. Whether she can successfully navigate this tricky territory given her globally controversial new boss and her lack of foreign policy experience will be determined when she is confirmed by the Senate in the new year.