This Firefighter Calendar Just Lit Up The Internet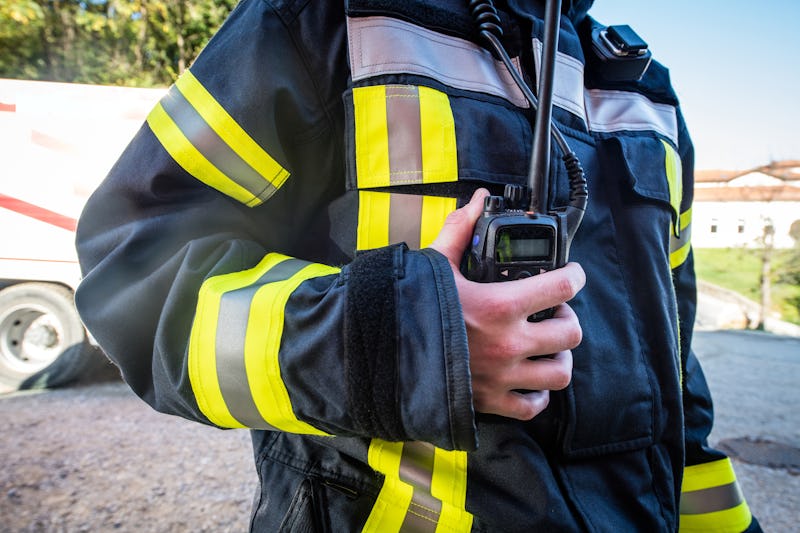 AlenaPaulus/E+/Getty Images
Is it just me, or is it getting a little warm in here? A calendar of Taiwanese firefighters from the New Taipei Fire Department is making its way around the internet, and it's, er, pretty hot. To say the least. And not just in the "dudes fighting actual fire" sense. Let me preface by saying that, everyday, firefighters perform essential, lifesaving services, risking their safety for the lives of others. Their bravery and hard work should always be appreciated and respected… and if they choose to do a sexy, sweaty calendar to raise money for charity, well, I'm not the monster that's going to stop them. (Bustle has reached out to the New Taipei Fire Department for comment and will update upon response.)
Last week, the NTFD announced the launch of its 2017 firefighter calendar, featuring images of shirtless firefighters posing with equipment used to fight fires and deal with other crises. It's the ninth year in a row that the department has made a calendar (Where is the backlog?!).
An NTFD spokesperson told BuzzFeed News that the calendar is intended to show "the professionalism, determination, and charm of the firefighters, who are dedicated to protecting citizens and their safety." The calendars are not available for sale, but it's possible to win one as a prize in exchange for donating to the Down Syndrome Foundation ROC and participating in competitions on the department's Facebook page.
According to BuzzFeed, Facebook responses to the calendar tend to boil down to variations of "I and/or my house is on fire (please save me, hot firefighter)." Here's a sampling of what all the fuss is about:
Um. Hello, sir.
(You can see the full photospread here.)
HAPPY THANKSGIVING EVERYONE.
Images: AlenaPaulus/E+/Getty Images; Giphy