This ColourPop Free Shipping Deal Ends Soon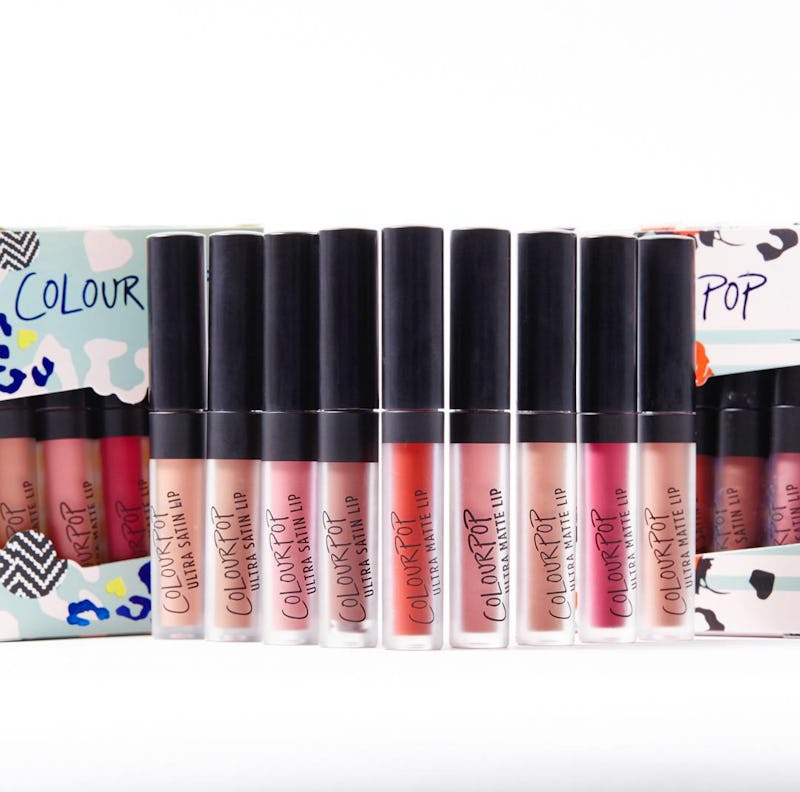 International ColourPop fans, your time is now. While shipping fees might have fans abroad languishing daily, ColourPop has singled them out for free shipping... for a minute. More accurately, 1,440 minutes — the number of minutes in 24 hours, so on your mark, get set, shop. Heart racing just thinking about it? Same. For those wondering when does ColourPop's free international shipping promo end, the brand posted that the free shipping began at 10 A.M. PST on Nov. 23, and will expire in exactly 24 hours. What does that mean for every time zone specifically? Find your nearest wall of international clocks.
The same offer sadly doesn't apply to ColourPop lovers domestically, with the bar at a $30 dollar minimum to qualify for free shipping within the U.S. But that shouldn't be too hard to reach if you need your fix, especially because coupons are disabled during the promo (womp womp. A double-edged sword). ColourPop's mini holiday kits just dropped for $18 dollars each, with five mini best-sellers in an Ultra Matte and Ultra Satin variety. A little simple math puts them at $36 dollars together, and $3.60 per shade — ideal for gifting to friends and family separately, if they're as invested in beautiful lip color as you are.
ColourPop has released a few swatch shots of the Ultra Satin Lip Minis, and they are true to form gorgeous — On a Whim features standouts like Stud, a warm brown terracotta, and Magic Wand, a Pop Art-esqe light nude. Strong Kylie vibes, minus the ordeal of actually getting Kylie's minis. An impossible dream.
If you're in a brighter frame of mind, matte The Good Times kit features a more varied set of colors, with Avenue, a deep yellow red, and Creeper, a blue red, balancing out the pinky nudes.
Or there's ColourPop's record-themed Now Playing collection, which likewise kills it on the kit front. No shortage of options to choose from to make that $30 dollar minimum if you live within the U.S., and if you're a lucky soul elsewhere in the world, go crazy. The day is yours, all 24 hours of it. Move quickly.
Images: ColourPop/Instagram.